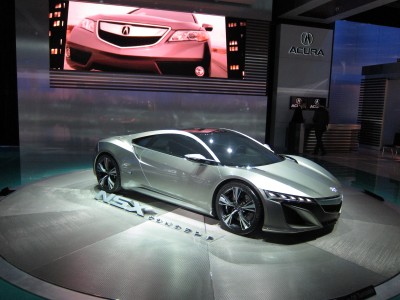 Last week, Richard Read gave his picks for the best of the 2012 Detroit Auto Show last week, and earlier today, Nick Kurczewski had his say. Now, Casey Williams is putting in his two cents. Hey, we're nothing if not opinionated. Be sure to check out the gallery at the bottom of the page.
Ford Fusion
Had to be the star of the show – a Jaguar for commoners. Euro styling, lane keep assist, forward collision warning, and an available 100 MPGe plug-in hybrid are difficult to top. Camry better watch its lunch.
Chevy 140S Concept
I shrieked like a schoolgirl and almost wet myself when it rolled out. Based on the Chevy Cruze, the exotic-looking 140S is one possibility for a $20,000, 40-MPG sport coupe. The rear-drive Camaro-inspired 130R is another, but not so much. Vanna, give me an S.
Acura NSX
Imagined as a mid-engine successor to the original NSX, this one will be V6- and hybrid-powered with electric AWD. Acura needs a car like this to regain traction. More surprising, it will be built in Ohio, circa 2015.
Buick Encore
Designed for China, built in S. Korea, and right for America, the 2014 Encore anticipates a trend towards compact luxury crossovers from non-pretentious automakers. Crafted interiors and an array of technology will make it desirable on any continent.
Dodge Dart
It looks like an Americanized Alfa Romeo (which, it is), comes with efficient engines, and praise Sergio, is not a Caliber. As the first Fiat-based Chrysler, it promises to be a winner and sweet justification for saving Chrysler.
Pleasant Surprise – Lincoln MKZ
Lincoln must find a style that works and stick with it for more than one iteration. MKZ, a close sibling of the new Fusion, has Lincoln's bow wake grille, but is sleek with a full glass roof, wide taillamps, and contemporary technology. If this is the shape of Lincolns to come, there's hope in saving the storied brand.
Ugly Dudling – Coda
The supposed 150-mile all-electric range is impressive, but it is cool tech in a throw-away wrapper. Mid-90s Slovakian chic won't cut it. Although cleverly assembled in CA with Chinese- and American-sourced components, nobody is going to choose this dud over a Nissan Leaf, Chevy Volt, Focus Energi, or any number of electrics on the way. DOA.