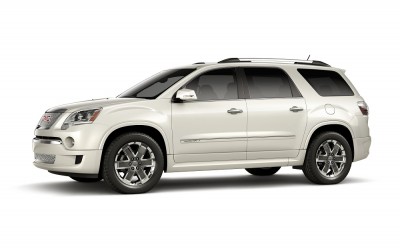 It's been a long time since I've driven anything as big or as badass as the 2012 GMC Acadia Denali.
After all, I live in New Orleans, in the middle of the Faubourg Marigny, a crowded gay ghetto full of single-family homes, double-shotgun condos, restaurants, warehouses, bars, and boutiques. Off-street parking is rare. Vehicles larger than a compact sedan are even rarer. Supersized rides like the Acadia are like unicorns, or gay-friendly Tea Partiers: nine times out of ten, a hallucination brought on by the heat.
And yet, there's no denying that the Acadia and I had a lot of fun during our time together.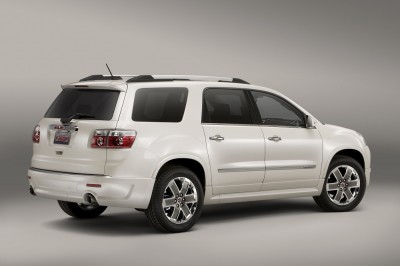 The test
Given the Acadia's status as a full-size SUV, I wanted to take it on a special test run. A leisurely drive out to City Park wouldn't cut the mustard; I wanted to see it in its natural habitat. So I took it to suburbia.
In fact, I went all the way to exurbia.
By sheer coincidence, I'd been meaning to venture out to Franklinton, Louisiana for weeks, hoping to pick up a special variety of bamboo that I can't get in the city. (I missed out on the design and decorating genes, but I make up for it with a double-dose of gardening chromosomes. Don't get between me and some aspidistra is all I'm saying.)
When I hit the causeway — the longest bridge in the world, FYI —  I knew I'd made a great decision. The weather was spectacular, and even though the Acadia's dark interior was trimmed in ebony leather, it felt open and airy thanks to the SUV's big windows, power sunroof, and second-row skylight.
On the other side of Lake Pontchartrain, the towns quickly faded away, and I found myself on a two-lane highway smack in the middle of BFE, en route to a nursery I'd never visited before. Thankfully, the Acadia's touchscreen navigation system (a $1,890 add-on) was easy to use and thoroughly accurate. I'd heard horror stories about folks getting lost in that neck of the woods, but the map and voice commands led me to my destination without a hitch. (And if I had gotten lost, I could've always asked for help using the built-in OnStar.)
Once the third-row seats had been laid flat, the Acadia had plenty of room to stash the plants I bought. And as an added bonus, the swarthy nursery workers were highly impressed with my sweet set of wheels. In fact, long after I was ready to head back to town, they kept trying to make conversation. It was flattering for the Acadia, if not for the guy driving it (i.e. me).
Despite its XXL size and the tight parking situation in my neighborhood, I developed quite a crush on the Acadia during our week-long hook-up. Here's a rundown of the good and the bad. (I'll get the bad out of the way first.)
THE CONS
Size: The 2012 GMC Acadia Denali is big. If you're a GMC fan but live in a downtown setting, you'd be better off with the Acadia's mid-size sibling, the Terrain. It won't be quite as intimidating, and parking will be much easier.
Engine lag: The Acadia comes with a 3.6-liter spark-ignition, direct-injection V6 that delivers 288 hp and 270 pound-feet of torque. That's loads of power, but when punching the gas, I noticed a fair bit of lag — almost as if the engine were turbocharged. I'm not sure what was causing the problem, but it might've had something to do with the front-wheel-drive Acadia's 4,720-pound weight. Heck, getting anything that heavy to go up and at 'em is bound to take a second or two. (FYI, the AWD Acadia is even chunkier, clocking in at 4,925 pounds.)
The Denali bling: This may or may not be a legitimate "con". After all, folks attracted to the Denali's top-of-the-line trim package probably want a little flash for their cash. Me, I found the 20″ chrome-clad wheels a little gaudy. And the blood-red lighting on the instrument cluster wasn't exactly my speed. However, I did like the glowing Denali logo on the door sill plates. Nice touch.
THE PROS
The ride: The independent suspension on the Acadia is amazingly smooth. You could drive over a cattle gap and not feel a thing. (In fact, I did so just to prove it.)
Handling: The Acadia is super responsive and easy to drive. It's big, but it moves as gracefully as your Lerner Plus-sized Aunt Betty, cutting a rug at Cousin Maybelle's wedding.
The view: Given the Acadia's height — it's about six feet to the top of the roof rails — you'd expect it to boast some commanding views, and it doesn't disappoint. The view is even good going backward, thanks to a rearview camera that comes with the touchscreen navigation package I mentioned above.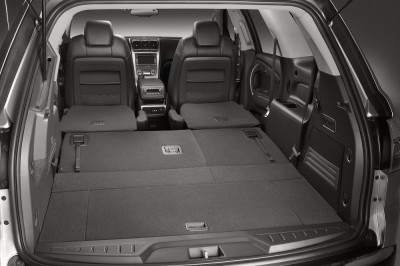 Loads of room: Need to haul stuff around? The Acadia has you covered, whether you're lugging cargo or crew. Thanks to its third-row seat, you can even take a basketball team out for dinner, and they'll still have plenty of legroom.
Center stack: The Acadia comes with a full complement of infotainment bells and whistles, but thanks to the size of the vehicle and its center stack, it's easy to find what you're looking for — even at 60 miles an hour.
Luxury feel: It probably goes without saying that a vehicle starting just under $45,000 has lots of deluxe touches — touches not found on the Acadia's non-Denali sibling, which is priced $12,000 lower. Combined, those elements create a luxurious vehicle that can easily hold its own against more expensive SUVs.
Check out the stats on the 2012 GMC Acadia Denali below, and scroll down for a few more pics
2012 GMC Acadia Denali
Pricing: From $44,660
As-tested price: $49,615 (including destination)
Fuel economy: 17 mpg city/ 24 mpg hwy
Engine: 3.6-liter  spark-ignition, direct-injection V6
Transmission: Front-wheel drive, six-speed automatic (AWD available)
Passenger capacity: seven
Comparable vehicles: Honda Pilot, Mazda CX-9, Toyota Highlander