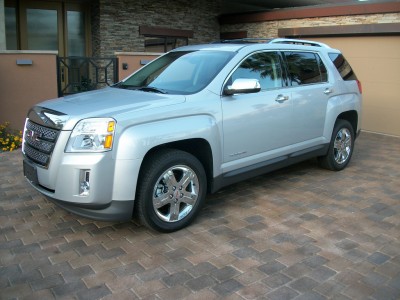 I have a long history with mid-sized GMC utilities. I had a first-year four-door Jimmy back in 1993, another Jimmy in 2000, and a 360-based Envoy in 2002. All were built on a truck frame and powered by some version of a six-cylinder engine. The GMC Terrain replaced the Envoy in 2009 as a crossover vehicle based on the GM Theta platform, and while I've had extensive experience with the Theta-derived Cadillac SRX, I'd never actually driven the Terrain.
Until now.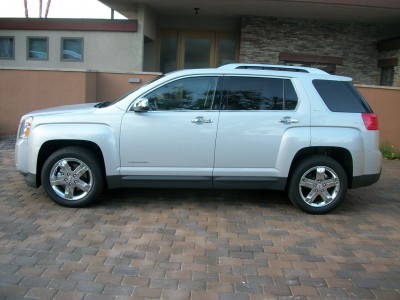 The first thing that stands out about the GMC Terrain is the styling. Love it or hate it, you're unlikely to ignore it. I think its massive, angular design theme is masculine and distinctive. It's a Tonka truck come to life — or maybe the Brave Little Toaster as a Transformer. A massive grille with red GMC lettering, exaggerated wheel openings, and slab-sided body panels, combined with a very squarish roofline, give the Terrain a highly distinctive silhouette. Detailed headlamp assemblies and chunky chrome door handles, mirrors, and roof rails add to the look. It's certainly a car whose design statement is unapologetic. And the market seems to like it: sales have steadily increased each year since it was introduced. No one in the parking lot will mistake it for a Lexus RX.
The styling theme continues on the inside. My test car had a jet black interior, which was just that: black leather-trimmed seats with subtle red stitching, a few silver painted accents on the dash, but otherwise an ocean of black leather, vinyl, and plastics. While some of the textures didn't seem totally premium to me (are you listening, dash pad?), the overall effect was sleek and masculine, not overdone in any way. The seats were comfortable and supportive to boot, and having driven several of these over the years, I will say that the interior, while not luxurious, is far superior to what was offered a couple of generations back. And a shout-out for the rear seat, which benefits from the most generous rear-seat leg room I've experienced in a mid-sized crossover.
My Terrain was an SLE Level 2 (base price $31,260), which benefited from the long list of interior features included in the Level 2 package: tastefully stitched, leather-trimmed bucket seats, split-folding rear seat, leather-wrapped steering wheel, eight-speaker upgraded audio with Bluetooth and XM Radio, memory driver's seat, and even front-seat heaters. Of course, the usual gaggle of power conveniences were included, too, as well as a power sunroof and a power tailgate.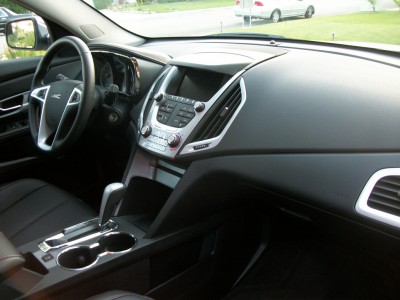 The standard engine on the Terrain is a 2.4-liter four-cylinder, producing 182 hp, but our test car was equipped with the upgraded 3.0 litre DOHC V6 engine ($1500). It also came with the Cargo Package ($350), Trailering Package ($350), and GMC's Intellilink — a seven-inch color touch screen that GMC describes as "Hands free smartphone integration with Bluetooth, streaming audio, and voice activated audio controls." Intellilink was easy to use, and it even had Pandora Streaming audio; at $100, it's clearly the best bargain on the entire option list. Including freight, the Terrain listed at $34,255, and the only major option missing was navigation.
Behind the wheel, I was immediately familiar with the 3.0-liter "high feature" V6 from driving the 2011 Cadillac SRX. The engine produces 264 hp and 222 lb-ft of torque, so it's powerful without being a rocket ship. It's paired to a six-speed automatic transmission, and EPA rated at 17 mpg city/24 mpg highway. I made a run to Orange County and back, and I got 24 on the way down, and a very satisfying 27 on the way back. In fact, my average for the week was just over 20 mpg, which I consider very acceptable.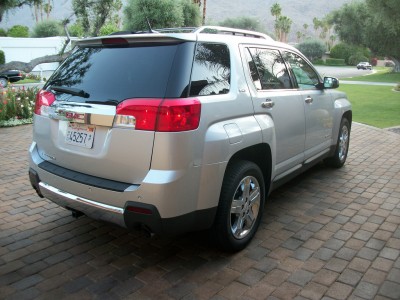 If I had to choose one term to describe the Terrain's overall driving experience, it would have to be "smooth". The engine idles imperceptibly, the transmission shifts are silky, the ride is boulevard soft. The unitized platform and the four-wheel independent suspension help see to that. It's not a performance car, nor did I enter any autocross competitions, but overall it's a comfortable cruiser. I certainly found nothing to object to in the ride and handling department, and I was especially pleased by the amount of road feel in the steering. It wasn't a typical Novocain feel, nor did it feel like a truck: a nice smooth balance was achieved.
All in all, I think GMC made the transition to a crossover quite nicely with the Terrain. The lowered center of gravity and improved handling and ride make for a better overall vehicle for passenger use. So, if you're looking for a mid-size crossover that's smooth, capable, and comfortable that won't break the bank — something to set you apart from the Soccer Mom set — you might check out the GMC Terrain. It's got a lot to offer.