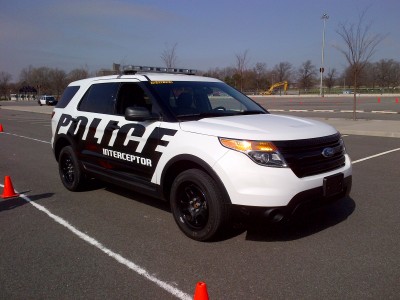 I'm gunning it out of corners and dodging construction cones in Queens, New York, when I realize this is the first, and hopefully last, time I'll spend with Ford's brand new range of Police Interceptors. After decades of loyal service, the Crown Victoria sedan, a staple of police forces and taxicab fleets around the country, is headed for a long-overdue retirement. Its two-pronged replacements are based on either the Ford Explorer SUV, or the Taurus sedan. To prove the merits of both models, Ford invited journalists to CitiField, home of the New York Mets, to simulate hot pursuits in several coned course layouts in the stadium's parking lot.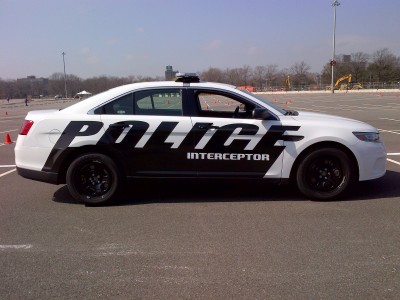 Ford also brought along the outgoing Crown Victoria for back-to-back comparisons between the old and new squad cars. Now I've been lucky enough to drive some pretty exotic machinery, but there is something that makes you seriously giddy when you slide behind the wheel of a police car. Full disclosure: This marked my first time on the other side of the partition, that thick plate of plastic separating good from bad. Or in my case, a patient Brooklyn cop who took a hapless sap (i.e. me) for a cruise of my neighborhood after my car had been stolen. The shell was discovered, months later, in the Bronx.
Whether you're in the Explorer or Taurus-based Interceptor, the cabin is a sea of black plastic and easy-to-clean rubber surfaces. Since these were demo models, the vehicles weren't fully equipped with all the necessary crime fighting gear, such as computers and riot guns. Most car companies don't trust journalists with a working cigarette lighter, so the lack of a loaded shotgun on the dash didn't come as much of a surprise. What did shock me was how nimble and punchy the Police Interceptors proved to be. Even on the tightest of the three courses, the Explorer and Taurus dodged and darted their way through around the cones.
The comparison to the Crown Victoria was dramatic, though I couldn't help but enjoy the retro feel of the old girl as she leaned and wallowed her way through corners. If your silver-screen police idols include Gene Hackman and Clint Eastwood, you might actually favor the Vic. It's the hard drinking and chain-smoking grizzled veteran, the one who doesn't get the girl, but always bags the bad guys. In comparison, the latest Police Interceptors feel like quick-thinking rookies who can run faster and scale obstacles with vastly more grace and ease.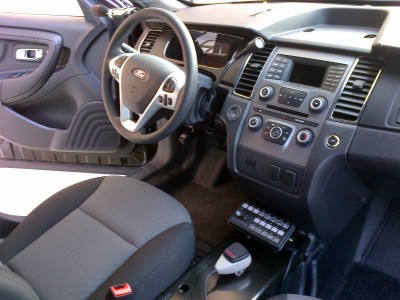 They also drink a lot less. According to Ford, the base 288 horsepower 3.5-liter V-6 in the Police Interceptor sedan delivers an EPA-certified fuel economy of 18 mpg city, 26 mpg highway – an improvement of 4 mpg city and 5 mpg highway (plus 38 additional horsepower) over the Crown Victoria. The Interceptor sedan is also offered in hot rod format, with all-wheel-drive and a seriously potent 365-hp turbocharged 3.5-liter V-6 under the hood. Not to be left out, the Interceptor sport-utility features a 3.7-liter V-6 that delivers 304 horsepower. Even the SUV manages to drink less fuel than the outgoing Crown Victoria, while still delivering a solid 0-60 mph time of 8.4 seconds.
There is no doubt the latest Police Interceptors are better in every way. They even look cool, though you might disagree if one suddenly shows up in your rearview mirror with its lights flashing. Before you ask, neither the Interceptor sedan nor the sport-utility is available to the general public. If you want one, you'll need a career in fighting crime. For that reason, I decided to put the Interceptor sedan to one final and, for many of us, much more relatable test. With the passenger's side rear door open, I placed my hands behind my back and ducked my head, before sliding backwards onto the rear seat.
I can't say there was much in the way of luxury or, for that matter, any means of escape after one smart-ass colleague decided to shut the door. Once you're in, it's clear you're meant to stay inside. Yet it was reasonably comfy and spacious, even if ergonomics are unlikely to be a top priority for most rear occupants.