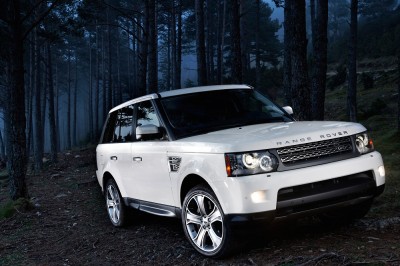 Driving the Land Rover Range Rover puts you among queens of all hair heights, but the big gal's size can make you wince at the idea of hustling her through curves and tight city streets — even if the SUV's off-road capability and all-road luxury are legendary. What Land Rover needed was a vehicle that combined all of the Range Rover's excellence in a slightly compressed package. Shimmy up to the Range Rover Sport.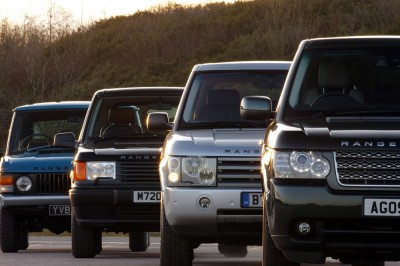 Its size is an illusion. Parked next to most SUVs, the RR Sport looks titanic. It's only when you roll up next to an Escalade or Navigator that you sense its more maneuverable proportions. Even so, the Sport was much easier on tight city streets and parking near my inner-city house. A long hood, elevated ride height, and sloping rear window comply with tradition, but aero-affected edges succumb to style trends and fuel prices. Nineteen-inch alloys looked hot under the slab of body.
Of course, saving fuel is relative. You can option the RR Sport with a 510hp supercharged engine that will blast the hubs off a sports sedan, but the standard 375 hp aluminum 5.0-litre V8 in our test wagon was plenty adequate. It was smoother than a go-go's bum, and quiet too, but it will pinch your wallet for 13/18 mpg city/hwy. Still a little pudgy at nearly 5,500 pounds, it could stand to lose a little girth before its next debut.
Four-wheel anti-lock disc brakes, electronic stability control, and traction control are calibrated for high-end running and effectively manage the weight. A four-wheel independent air suspension system can be lowered for highways, raised for off-roading, and kneel for graceful entry. My grandmother loved it when I picked her up for Mother's Day.
At the slower end of the RR's performance envelope is an array of sophisticated traction devices. Hill Descent Control and Hill Hold Control let the RR creep down steepers or hold a brief moment while the driver lifts from brake to throttle. Land Rover's pioneering Terrain Response system can be dialed for conditions like sand, mud, gravel, grass, snow, or rocks. Permanent four-wheel-drive backs up the Range Rover's name with mountain goat capability.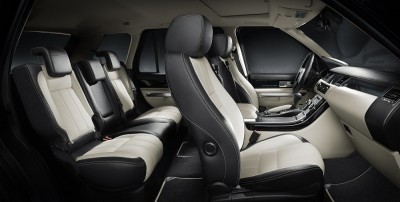 All that, and you'll still be treated like you own a country estate. Leather, carpets, and dash materials are of the highest grade, seats are all-day comfy, and rear passengers can peer over their land while front seat surveyors look down at a wide hood. In-dash navigation, 380-watt Harman/Kardon audio, USB iPod integration, Bluetooth, rain sensing wipers, park distance control, backing camera, and dual zone climate control load the chariot. Seats, mirrors, and steering wheels are all heated – perfect for a mid-winter's romp.
More playful, but still too weightful, the Range Rover Sport shows that you can have your luxury SUV and hustle it too. For my use, I prefer the Sport to its larger sibling. It is accomplished off road — maybe more so with its tighter wheelbase. And it's noticeably more athletic on the open road, or when curves play on asphalt. I think the gas mileage is ridiculous, but few willing to dispense with $70,595 will mind too much.
2012 Range Rover Sport
Five-passenger, 4WD SUV
Powertrain: 375-HP 5.0-litre V8, six-speed automatic transmission
Suspension f/r: Independent air
Brakes: disc/disc fr/rr with ABS
Must-have features: Capability, style
Towing Capacity: 7,716 lbs
Curb Weight: 5,487 lbs
Manufacturing: Solihull, U.K.
0-60 mph: 7.2s
Top Speed: 130 mph
Fuel economy: 13/18 mpg city/hwy