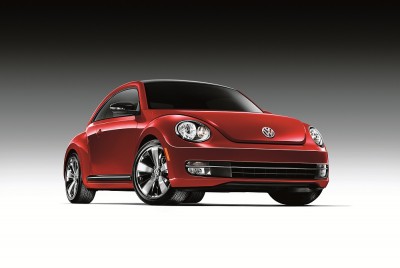 I'm just going to come out and say the idea of combining Fender audio technology with a Volkswagen is about the smartest thing to happen to in-car tunes since GM dropped Bose on the C4 Corvette. It's like listening to your favorite acoustic music in a coffee house that just happens to have a turbocharged engine, heated seats, and the most identifiable shape ever.
I first heard Fender audio in a Volkswagen at the Passat preview in Nashville. The idea was to develop a system that authentically replicates a live performance. Sound comes more from the front because concerts do not happen in the back of the room. Speakers are especially sensitive to acoustic strings and a subwoofer backs up the precision with thumpin' backbeat. Heaven's harps should sound so clear.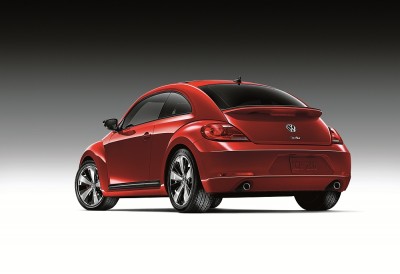 Beyond music, the re-designed 2012 Beetle is sporting some amped-up fenders of another type. Much of the molded plastic look of the New Beetle is present, but the front facia is more angled, rear fenders extend farther rearward, windshields are more erect, and the roofline has been squashed. All of this masculinizes the chic-mobile and more closely connects it to ancient relatives. I'm all about the wale tale spoiler, 19" alloys, ginormous sunroof, and lower body cladding of the Turbo.
Interiors are also fully tuned for another generation. The upright windshield abolishes the picnic table-sized dashboard, giving drivers the feeling of an Audi TT. In-dash navigation, touchscreen controls, iPod connections, freeze-your-nubbins air-conditioning, heated leather seats, and red accent lighting are all around. A big speedometer and "kaeferfach" top glovebox pay homage to the original Beetle.
Base Beetles are fine, but I would slash the right box for a Turbo. Stomp on the big pedal to get a new tune in your ears as the 2.0-litre direct-injected engine kicks out 200hp. A six-speed manual is available, but I prefer the six-speed DSG® automatic in our test Bug. You can shift if you wish, or just let the car click through traffic. Fuel economy is rated 22/30 mpg city/hwy.
Full-on throttle is only part of the Beetle Turbo's performance repertoire. Unlike the last generation, the new Turbo rocks out with an independent rear suspension and tight-ratio steering. This gives drivers more control and keeps the rear from gyrating over rough pavement. Electronic stability control, traction control, and four-wheel ABS discs cut momentum expeditiously.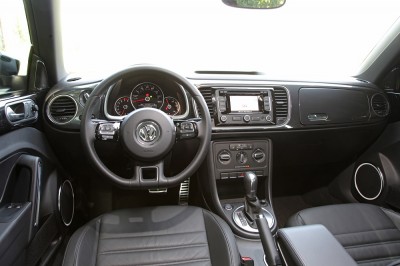 There are a couple of things VW could have tweaked before calling the Beetle all new – like the hatchback that never seems to release on the first try. Or, the auto-up power windows that require the touch of a sticky hand to move up their track (my partner and I had a 2005 Beetle that did the same thing). Then, there's the satellite radio receiver that refused to receive. VW has a reputation for niggly issues and the new Beetle seems to uphold tradition.
I could get along without the Beetle Turbo, although I'd probably be happier with it. It's fast, sporty, and seriously iconic. However, I could sell one of my soul parts for a home theatre sourced from Fender. Rumor is a Fender edition Beetle is in the works. Fix the quirks and I'd be ready to strum some licks of my own. Tickets start at $23,395, but came to $29,865 with all the tricks.
2012VW Beetle Turbo
Five-passenger, FWD coupe
Powertrain: 200-HP 2.0-litre T4, 6-spd automatic transmission
Suspension f/r: independent/independent
Brakes: disc/disc fr/rr with ABS
Must-have features: Spunk, fenders
Manufacturing: Puebla, Mexico
Fuel economy: 22/30 mpg city/hwy
As-tested price: $29,865