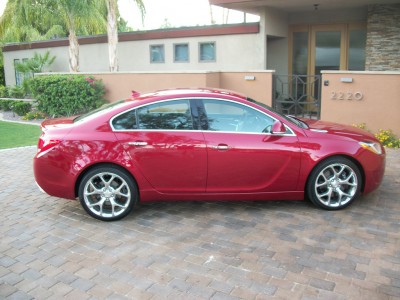 I joined Buick during the glory days of the turbo 3.8-litre (the Grand National was announced the year I started). Every male under 30 and quite a few of the women at Home Office bought one — myself included — and proceeded to spend a Michigan winter going diagonally, coping with the awesome power and serious lack of traction that black beauty provided. We loved it dearly, but it was hardly a balanced automobile. The motoring press loved it as much as we did. Tony Assenza from Car and Driver Magazine road-tested the legendary GNX in April of 1987 and wrote of it, "In a world of sleek shapes and refined manners, the GNX is an ax-wielding barbarian laying waste to everything in its path."
Fast forward twenty-five years to 2012. In my driveway is the 2012 Buick Regal GS. It's the single most powerful car Buick has produced since the Grand National — but instead of a monster, it's a sleek shape with highly refined manners. Will I still like it?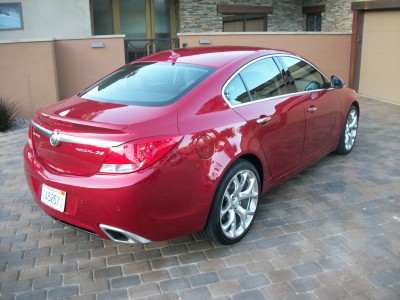 Let's start with some background. I went to the press launch for the Regal back in 2010 and drove both the 2.4 conventionally aspirated 182 hp and the 2.0 turbocharged 220 hp versions. I described the Epsilon-based mid-sized sedans as "well tailored and well mannered" and thought they were an excellent addition to the Buick line up. I found the 2.4 to be a bit sluggish and the 2.0 turbo to have a very pleasing power band, but didn't think of either as an "ax-wielding barbarian."
The GS version is highly modified from the base model. The 2.0-litre turbo in the GS is the High Output Ecotec 2.0L turbo. Its 270 hp exceeds the '87 Grand National's 245 rated hp and falls just short of the GNX's 274, but since both those engines were underrated, its probably about on par with the Intercooled Grand National. It is offered with six-speed manual and six-speed automatic transmissions.
There are lots of unique touches. It has a deep skirted front fascia flanked by Bi-Xenon HIS headlamps and a unique rear one with dual exhaust ports. There are special rocker panels, a rear spoiler, and 19″ twin spoke alloy wheels with Pirelli tires. Peek through the spokes and note the big Brembo calipers. Pirellis and Brembos — is this heaven? No, this is Buick.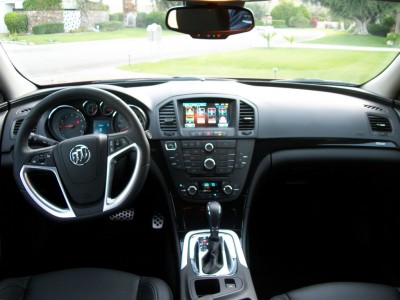 The interior is offered in ebony leather only, with special touches such as a leather-wrapped F1-style steering wheel, piano-black dash trim, and leather-trimmed sport seats. A Special GS Interactive Drive Control system offers standard, Sport and GS settings for the suspension. GM's Intellilink is standard, along with a killer 336 watt Harmon Kardon Audio system with nine speakers and XM Satellite radio.
Options are few, and colors are limited: 20″ polished wheels and performance tires, power sliding sunroof, GPS navigation, and three extra-cost colors out of the five available. Quicksilver and Smoky Gray are standard, White Diamond, Carbon Black Metallic and Crystal Red Tintcoat are optional.
My test car was finished in the Crystal Red Tintcoat and features the meaty 20″ wheel package. I found it to be quite a handsome and purposeful looking car, and others seemed to agree. I found neighbors in the driveway admiring it, and found it to be a topic of conversation from the couple at the table next to mine when I parked it at an outdoor cafe. All good signs as far as I am concerned.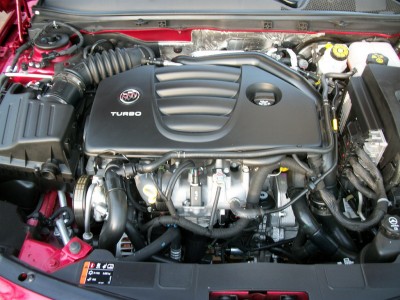 But enough looking, time to see what happens when the rubber meets the road. Touch the starter button and the 2.0 turbo comes to life. It's smooth — Buick V8 smooth — and the exhaust note is quiet. Shift into drive and the car feels powerful, but doesn't play all of its cards. In fact, you could drive the GS and find it a smooth, well balanced sport sedan with a poised ride, excellent handling, and crazy good brakes. You'd praise the engine torque, and would probably be a bit at odds with the six-speed automatic — which seems to default at least one gear too high for the sporting driver — and no sport setting. That should be an easy enough fix for such a sporting ride.
To transform the GS, the driver need do three things: select "GS" suspension mode, turn off traction control, and shift over to manual stick mode. The well balanced GS is now one crazy mother. Steering and ride are both tightened, and the turbo soars up to redline without the slightest hesitation. I wish the manual stick was the tiniest bit quicker, and with all due respect to the six-speed automatic, I'd go for the six-speed manual in a heartbeat. But the car is now crazy fun, and sticks like glue to the tarmac. The Brembo brakes are killer and bring the GS down out of harm's way in no time flat.
I have to say that the Regal GS is the most fun I've had behind the wheel of a Buick since the Grand National. And that becomes my challenge to Buick: as much as I like the GS and think it's a great sport sedan choice, how about giving us one to boost your street cred? Tweak the power up to 300 hp and paint it black. Not Metallic Black, not Nocture Firefrost. Paint it black and use a paint protection film to ensure it stays black. Make sure you paint every single inch of your car's exterior. Inspect it with a magnifying glass if you have to. Any area that hasn't been painted will soon become noticeable to you, as well as everyone else who may view or ride in your car. If it makes you feel better about painting your car a completely different color, use a professional and state-of-the-art Paint Booth so you can make as much mess with the paint as you want to. Once you have done this, blackout all the trim and give us a Regal Grand National. It will create a sleek and elegant look for the car, something only the best cars look like. It'll be more sophisticated than the old girl, for sure, with superior ride quality and superb handling, but it'll be a Grand National. And we both need one.