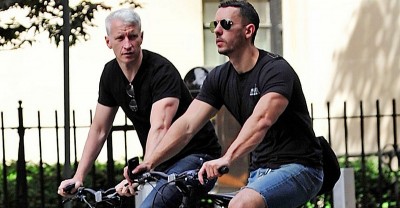 Summer is usually a slow time for auto news, but we've stumbled across several noteworthy items in the past couple of days. Take a minute to look 'em over while you're dreaming about the weekend — and hopefully, some fun-filled Pride activities:
General Motors has given LGBT workers a very prominent shout-out at its Fort Wayne, Indiana plant. The company recently moved a POW flag from a pole in front of its administrative offices to a more permanent position in its flag and truck display along Interstate 69. As a result, the company can fly more flags in front of the admin building — and this week, the flag of choice is the rainbow flag, in honor of LGBT Pride Month. Go, GM!
Also on the General Motors front, you might've already heard that Apple's popular personal assistant, Siri, will soon be found on select steering wheels. We've known which automakers she'll be visiting, but we hadn't heard which models She'll call home. Rumor has it that two Chevy rides will be among the first: the Sonic and the Spark.
If you're the eco-friendly sort — and statistics suggest you are — you might be interested to know that tomorrow is Dump the Pump Day. Like-minded individuals across the country will spend tomorrow biking, walking, and taking other forms of transportation to get to work, the gym, and the doggie daycare center. Drink plenty of fluids, y'all.
Oh, and for anyone wondering about the pic above, it's a shot of Anderson Cooper and boyfriend Ben Maisani, cycling through New York City. We thought it was as good an illustration as any for Dump the Pump Day. Don't you?