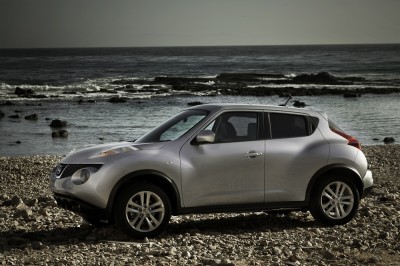 What the hell is a Juke? It's jacked up like a crossover, but it doesn't look much like a crossover. My neighbor tried to get his 50-something self into the rear seat and nearly required three young men to yank him back out. You could forgive the rear seat if it was a sport coupe, which it definitely is not. It is, however, a whole box of funky coolness. Throw in a quarter, kick the big pedal, and go for a spin.
Revving more like a motorcycle than a motorcar, the 1.6-litre direct-injection DOHC four-cylinder, fortified by a turbo, generates 188 horsepower and 177 lb.-ft. of torque. Front-drive models are available with a six-speed manual transmission, but all-wheel-drive funsters come standard with a continuously-variable (CVT) automatic. A manual shift mode simulates shift points so the CVT behaves less like a weedeater and more like a Getrag-6. Getting major bang for minor buck, the little turbo banger turns in 25/30 mpg city/hwy.
Juke's rally car aspirations can be found in the way its four wheels act as electronically-enabled stabilizers. Nissan's "torque-vectoring" all-wheel-drive can shift power between the front and rear axles, as well as side to side between the rear wheels depending on where the system detects the most friction. I drove one through an ice storm that made a glacier look friendly, and the Juke licked it like a snow cone.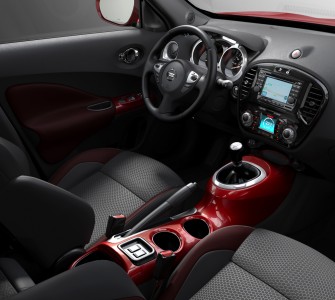 Controlled through a cool screen in the console, there are also three different throttle, transmission, and steering response settings. "Normal" is used for everyday driving and lets the CVT move through its range at will. "Eco" mode reduces throttle sensitivity to conserve fuel. My favorite, "Sport" mode, quickens the steering, moves the CVT through pre-set gear ratios as in a typical automatic transmission, and makes the throttle much more sensitive.
Riding inside reminds me of the Infiniti FX. Everything — including the leather-wrapped, three-point steering wheel and analog gauges with motorcycle-inspired eyebrow — feels like a sports car. But you slide in and out like a crossover. Sport seats, high-positioned gear selector, and painted center console (like a motorcycle's gas tank) embellish the stylish digs.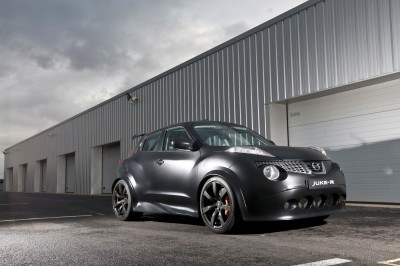 To put an exclamation point on this rolling circus, Nissan is planning a limited run of the "JUKE-R" it unveiled in Dubai earlier this year. Completely insane, the R generates 545hp and a 160mph top speed from its 3.6-litre engine. Think of it as a GT-R for those with kids and dogs. Production will be limited, so if you must have a compact crossover with a severe case of over-achiever, check it out.
The Juke is not about being a practical SUV — it really isn't. Back seats are fit for offspring and pets only. But as a sports car with a lot of extra utility, it defies boredom. Torque-vectoring AWD and the turbo engine makes the Juke a pro…well, a pro-whatever-the-hell-it-is. An as-tested price of $24,260 puts it against competitors like the Mini Countryman, Subaru Impreza, and Jeep Compass.
2012 Nissan Juke SV
Five-passenger, AWD crossover
Powertrain: 188-HP 1.6-litre T4, CVT, automatic transmission
Suspension f/r: Ind/Ind
Wheels: 17"/17" f/r
Brakes: disc/disc fr/rr with ABS
Must-have features: Cool performance
Manufacturing: Japan
Fuel economy: 25/30 mpg city/hwy
As-tested price: $24,260