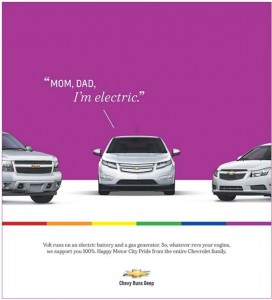 By now, it seems like we'd be jaded at the sight of automakers expressing support for the LGBT community. After all, of the dozens of car companies doing business in the U.S., only four have failed to protect their LGBT employees from discrimination and put them on equal footing with their straight peers.
But we can't help ourselves. The sight of this ad from Chevrolet — which ran in the Detroit-based LGBT newspaper,  Between The Lines, during last weekend's Motor City Pride event — makes us a little giddy.
Why? Well, first, the Volt is a great car: stylish, technologically advanced, and at the top of the Chevy range. So not only is Chevy aligning itself with our community, but it's doing so via one of its premiere rides.
But more importantly, it's a really good ad. We've seen beer ads in gay magazines that look interchangeable with their straight versions — the designers likely just cut out the male-female couple and dropped in their lesbian neighbors.
The Volt ad, however, took some thought. It's well designed (check out all that whitespace!), and it's clever. Sure, we're being marketed to, but we're not being pandered to. There's a difference.
Most surprisingly of all, this is GM's first-ever LGBT-specific ad. An auspicious beginning, no?
And as if that weren't enough, GM transformed the Renaissance Center in downtown Detroit, running the rainbow colors on the LED screens that circle the top of the complex.
Kudos to GM for its support of Motor City Pride — and to Chrysler, Ford, and the UAW for signing on as co-automotive sponsors. We look forward to more great things from all four down the line.