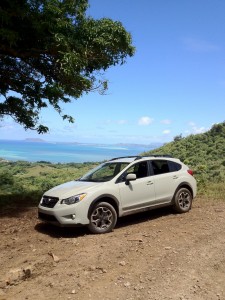 As I thanked and reluctantly said goodbye to my hosts after driving the 2013 Subaru XV Crosstrek on the north shore of Oahu, Hawaii, I came to a grateful conclusion: it all could have been so cliched, but it wasn't.
On my drive to Honolulu International Airport, inbound traffic was moderate and moving well. Afternoon rush traffic headed out of the city was thick and stagnant. Among the masses were lime-green tour buses full of pasty, puffy tourists, their faces pressed against the glass in unison, looking where told, when told. I imagined them being herded from one artificial experience to another, culminating with a lackluster luau. And when it was all over, they wouldn't fly home to Subarus, I was pretty sure of it.
Too bad. Reaching showrooms soon, the XV Crosstrek joins the compact crossover game and could very well rewrite the rules. Like the former Outback Sport, the XV Crosstrek is based on the Impreza, though this effort is far more butch.
Unique body cladding and several model-specific panels ride atop a hiked-up chassis with an impressive 8.7-inches of ground clearance and 17-inch silver-on-black alloy wheels at the corners. Under the hood, Subaru's 2.0-liter boxer engine is on duty with 148 horsepower at 6200 rpm and 145 pound-feet of torque at 4200 rpm. It's no tire-shredder, but it's up to the challenge.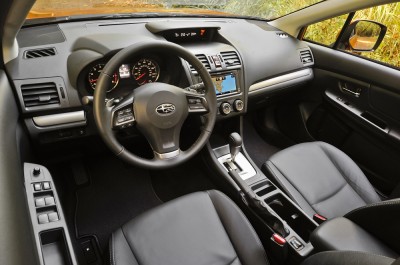 Inside, that trademark boxer engine snarl is subdued, as are tire and wind noise. The spacious cabin isn't as extroverted as the exterior, and that's perfectly fine. Ergonomics are excellent in the front and rear seats, with thoughtful drink and storage recesses throughout.
Subaru didn't ignore past grumbles about interior finishes and materials when it redesigned the Impreza. Likewise, the XV Crosstrek benefits. It's still no bespoke Rolls-Royce, but remarkably few Rolls owners transport slobbering dogs, rusty antiques or muddy mountain bikes. Nor can they fold their rear seats for up to 51.9 cubic feet of space. In other words, the Subie is a pleasant place to be, yet still stands up to active lifestyles.
I stayed fairly active, rowing the five-speed manual gearbox — standard in 2.0i Premium trim only — for which Subaru revised first- and fifth-gear ratios. Believe it: off-road driving on Kualoa Ranch revealed long throws between first and second, and difficulty settling on one gear and a sweet spot for trail speed. It was either a matter of revving high or bogging down. In fairness, I am accustomed to a six-speed manual in my daily driver. On the plus side, incline start assist was appreciated and the gearing proved much less an issue on gentler grades and pavement.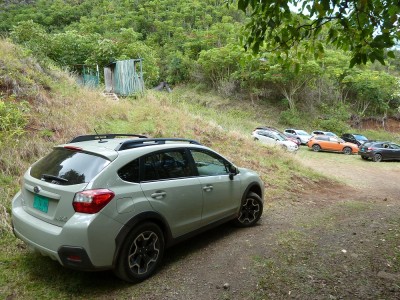 Optional for 2.0i Premium models and the sole choice in the 2.0i Limited package is a CVT automatic. Its paddle shifters can emulate six gears when called upon for enthusiastic spurts, passing, or off-roading. I found it the better all-around choice. It's surprisingly smooth and efficient, whether crawling over rocks and mud or accelerating onto the highway. On top of that, EPA figures echo Subaru's estimates of higher fuel economy with CVT cars (25 mpg city/33 highway) than those with conventional stick shifts (23/30).
On an economically random note, the little nubs at the tail end of the roof rails are there for a reason. Subaru engineers found they add one mpg. Now you know.
Either way, symmetrical all-wheel drive is standard, though CVT cars are paired with a more sophisticated system. Both are seamless in operation; neither give you drama when conditions get dicey. The test cars' all-season Yokohama tires delivered a reasonable compromise of comfort, grip and noise on all surfaces.
So it's great off-road, but what about the open road?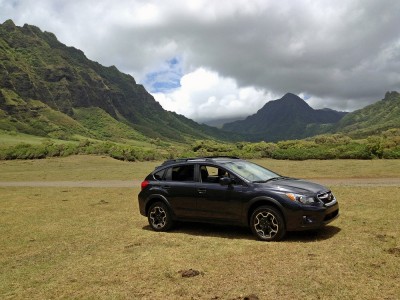 In paradise, "open road" is a relative term. In contrast to car chases depicted on the updated Hawaii Five-O (or if you're of a certain age, the original), most of the outlying streets and highways I covered were saddled with 35- or 45-mph speed limits, though I did cover a blistering 60-mph stretch on Interstate H-1. The few twisty sections and hard acceleration attempts I could manage found the XV Crosstrek to be no threat to its BRZ and WRX kin, but still willing to play along. Boasting the lowest center of gravity in its class, responsiveness felt sharper than other crossovers. More than once, I underestimated its cornering stability, exiting apexes to realize I could've taken the curve a good 10 mph faster.
Pricing for this four-wheeled Swiss Army knife has yet to be finalized. Anticipate $21,995 for 2.0i Premium spec and the five-speed manual. The XV Crosstrek is impressively equipped as-is, so options will be limited to transmission, moonroof, and navigation packages. For 2.0i Limited models, the price of admission will be nominally higher, as are the appointments. CVT, leather seats, rear vision camera, and upgraded stereo are some of the highlights. In this guise, moonroof and nav are offered together.
Even with Subaru sales at record levels and the XV Crosstrek only likely to help, I still can't imagine those bus-bound tourists rushing to their dealers back home. Fine. Let them settle for the cliched experience. For the rest of us, the 2013 Subaru XV Crosstrek is a must to test-drive.