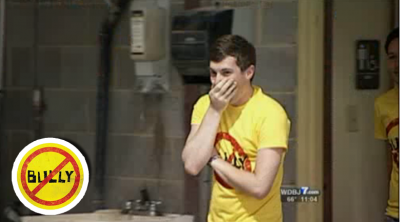 Remember the Fagbug — the Volkswagen New Beetle that was sprayed with anti-gay slurs, then transformed into a symbol of tolerance and equality?
Well, there's good news, bad news, and great news.
The good news is that the Fagbug is still going strong.
The bad news is that another LGBT person's car has been hit by homophobic vandals. In fact, between March and May of this year, Jordan Addison's sedan — by weird coincidence, another Volkswagen — was keyed with hateful graffiti, including the word "dye". (Seriously, why can't homophobes spell?)
Jordan is a student at Virginia's Radford University. He got estimates to repair the damage, but the cheapest was $2500, which was more than he could afford.
The great news? Richard Henegar Jr. at the nearby Quality Auto Paint and Body saw Jordan's story on the news and offered to fix the car — for free. In fact, Henegar was so moved that he asked other businesses in town to contribute to the repairs, and they all pitched in. While Jordan's car was in the shop, workers pimped it out, spending over 100 hours repainting it and installing new tires, a new alarm system, and a supersweet new stereo.
If you're looking for an uplifting moment this Wednesday afternoon, check this clip of Jordan seeing his car for the first time.