Competence. That's the word that floods your mind when examining the 2013 Honda Accord. Our four-door Sport certainly isn't the most flamboyant or fabulous car you can buy, but every inch and crevice gives the impression that it is substantial, ever-lasting. It's the way Accords have always been.
That impression begins with the exterior. The styling cribs references from BMW (the raised hood, the Hofmeister kink in the side windows, the accentuated trunk), but is finessed with subtle use of LEDs and chrome up front, 18" alloys, and dual exhausts out back. The rear spoiler parts clean air. It looks like a $50,000 car — equally appropriate in suburbia and the executive garage.
The same could be said of the interior. There's no overwhelming sense of French-stitched leather, but everything is well-made. Supportive cloth seats with lumbar adjustment, a leather-wrapped steering wheel, and large analog instruments encourage spirited drives. The center screen for audio and vehicle computer are controlled by a joywheel, but automatic climate control functions with buttons. A back-up camera, Bluetooth, SMS text messaging capability, and USB connection for iPods complete the technology suite.
But, using the Accord goes beyond function. Buttons and switches glide into place, giving a sense of quality. Even the turn signal is a delight to flip. Large cupholders are dressed with chrome, but are just large holes in the console that will hold anything. Who needs theatrics when simple works? Underway, it's pure serenity. Nothing — and I mean nothing — squeaks or creaks. Find the roughest road you want, and all you'll hear are four tires rumbling beneath. It proves there's really no excuse for the half-ass finish of more expensive rides.
Honda's core competency has always been powertrains. The base 2.4-liter direct-injected four-cylinder engine delivers 189 horsepower to the front wheels through a continuously-variable transmission (CVT). In some cars, CVTs rev like weedeaters and make you want to take a sledge hammer to them. Not so in the Accord. It sounds like a robust exhaust note and always seems to have the right ratio to match the engine's revs and your brain's next thought. Paddle shifters let you click through pre-determined "gears". In addition to peppy performance, the car delivers 26/35 mpg city/hwy.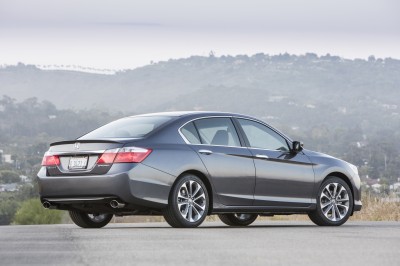 Sport models come with a firmly-tuned four-wheel independent suspension system and heavier, but direct, steering, which free the Accord's inner soul. Most family sedans are tuned to understeer in corners, keeping mom from spinning on the way to dance practice. In contrast, the Accord always goes where you ask, and does so with a confidence that tells you it will never leave you rotating. It is a comfortable car that never forgets it is bred from world-beating motorcycles and the love of dedicated engineers.
My partner and I drove the Accord from Indianapolis to Detroit and back for the North American International Auto Show. He was peeved that we didn't have satellite radio, and his spoiled ass had to settle into non-heated cloth seats, but that's just him being pissy. Driving it on the Interstate, he had to admit it was an incredibly well-engineered car. Out of his mouth came one word: Competence.
2013 Honda Accord Sport
Five-passenger, FWD sedan
Powertrain: 189hp 2.4-liter I4, CVT auto transmission
Suspension f/r: Ind/Ind
Wheels: 18"/18" alloy f/r
Brakes: disc/disc fr/rr with ABS
Must-have features: Style, competence
Fuel economy: 26/35 mpg city/hwy
Assembly: Marysville, OH
Base/as-tested price: $21,680/24,980