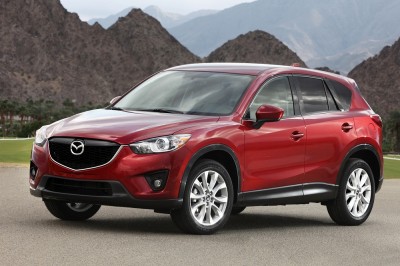 Back when The Love Boat sailed the Seven Seas with a heavenly host of Charlie's Angels, you could get a good small car for about $5,000. As we entered the gay 90s with Hillary and Bill Clinton, the size of our cars increased, and starting prices doubled to about $10,000. Now, in the day of sequestration and Inauguration Day lip-synching, the size of a good small car has doubled once again — this time to around $20,000.
Here is where the Mazda CX-5 makes an entrance. Brand new for 2013, the CX-5 isn't a small car but a practical compact crossover (built on a car platform) that provides a nice, solid ride and all the strength of an SUV, complete with style, flair, and sexiness. A replacement for the Mazda Tribute, the CX-5 starts at $21,000 — before and after sequestration.
The CX-5 gives Mazda a presence in America's thriving small SUV market. (Personally, I thought the CX-7 — the bigger version of the CX-5 — did that, but what do I know?) The new crossover should be both a hit with audiences and a moneymaker for Mazda.
The CX-5 has generated a lot of buzz, mostly because of its new design called "KODO – Soul of Motion." That's not a sequel to Kung Fu Panda, but an impressive design concept that mirrors the appearance of fast animals and fast humans. In Mazda's own words, KODO design allows a car to pounce, like "the instant when a cheetah pounces on its prey, or the moment of a sword strike in the ancient Japanese martial art of Kendo."
Yeah, yeah, sure. I'm hard-pressed to see it, but apparently others see a lot of things that I don't. Let's just say the CX-5 is nice-looking, with a uni-body design that allows for a stronger yet quieter ride.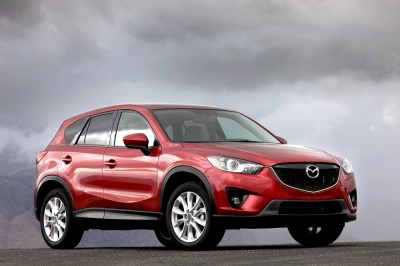 To make it pounce, the CX-5 also has Mazda's SkyActiv engine technology, which helps the car perform better while saving you money at the pump. Wikipedia can tell you all about SkyActiv, because it's way too Big Bang theory for me. But I do know that this efficiency allows a modest 2.0 liter, direct-injection four-cylinder engine (the only engine available on the CX-5) to perform quite well — almost like a cheetah or gazelle, I suspect.
Starting at $21K and ultimately pushing $30K, the new CX-5 can be had as a Sport, Touring, or Grand Touring vehicle. Across all three of those trim levels, stability control and electronic brakeforce distribution are now standard, which is a big boost for safety. Finally, manufacturers understand that vehicle safety really shouldn't be an option based on who can afford it.
I drove the 2013 Mazda CX-5 Sport before the snow started to fall, so I can only comment on how it handles on clear roads: perfectly. Motoring through the Rocky Mountains, which is always challenging, the CX-5's performance was consistent and impressive. I had to brake hard a few times for deer, and the braking was precise, effective, and relatively smooth, though I think someone in the backseat did spill her Jamba Juice.
As with many smaller cars and SUVs, my only real beef with the CX-5 is that seating in the rear is a tad tight. There seems to be a fair amount of headroom in the back seats, but it would still be uncomfortable for three average-sized adults to squeeze back there for a ride to the Florida Keys, even if they were driving from Miami.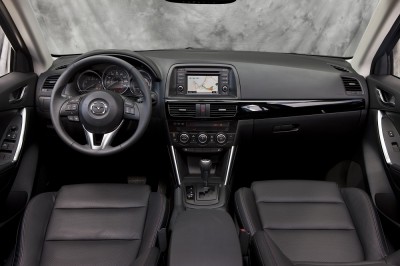 Otherwise, the CX-5's interior is nice and cozy. The most prominent feature on the center stack is the in-dash navigation system — though I have to admit, I'm not a fan of such things. It's not that they're lousy, but these days, almost everyone has Google Maps on her smart phone. I love the ease and simplicity of Google Maps, and since you and I already have this — not to mention the fact that almost all car navigation systems are optional and require extra cash — why not just use what already works? Should you go with the optional navigation system, it's Tom Tom.
I should point out that the 2013 Mazda CX-5 is the winner of the 2012-2013 Japan Car of the Year Award. Considering its competition, that's saying a lot. If you're in the market for a crossover, you really can't go wrong with the CX-5.
You just may have to strain a bit to see it as a cheetah.