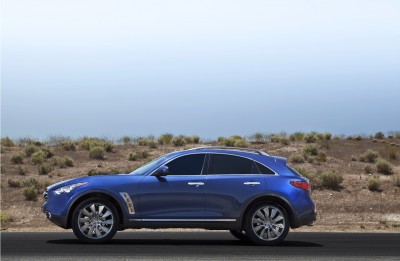 It's easy to conduct a symphony of driving delight with a swift two-seat sports car. You're tucked inside, peering over flared fenders, goading the vehicle forward with perfectly timed movements, and listening to the tires as they sing along the road.
The Nissan 370Z is one of the best for the task, but what if you want to take a couple of friends, some camping gear, your boyfriend's over-indulged luggage, or pick up decorations for your damn-fabulous domain? In that case, you'll want to strum the Infiniti FX37.
The FX is not exactly as it appears. At first glance, you see a sporty four-door crossover with a suggestive hood, 18" alloys, chrome fender gills, a sloping rear, and twin chrome exhaust outlets. The view over the curvy hood echoes that of a Corvette. It's sexy, very masculine, just begging to be played hard. Yet, underneath, it's essentially the same chassis and powertrain as the Infiniti G37 and Nissan 370Z.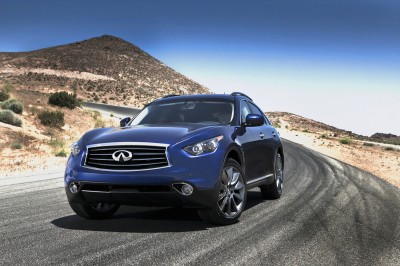 Of course, there's nothing wrong with that. Packed under the hood is a 3.7-liter V6 that generates 325 horsepower and 16/22 mpg city/hwy. Power gets to the road through a seven-speed automatic transmission and all-wheel-drive system with snow mode. If that doesn't tickle your tubular bells, step up to the FX50 with its 390 horsepower 5.0-liter V8.
In a lightweight sports car, the V6's output would be breathtaking. However, the FX is not a lithe and limber 370Z. Step hard on the throttle and the engine struggles to overcome the car's 4,321 pounds. With momentum gained, the powertrain stretches with vigor, but it's obvious that the FX37 is less of an athlete and more of a well-dressed gentleman who spends a little time at the gym to stay toned.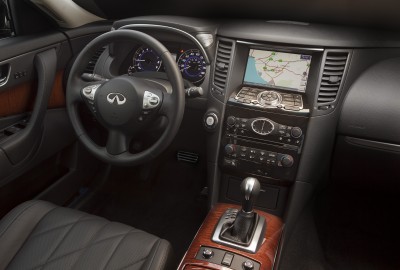 The cabin is that gentleman's den: it's luxurious, yes, but it's also just a nice place for him to park his bum while enjoying the beauty of scenic backroads. Guitar manufacturer Gibson could have chosen the woodgrain for the center console and doors — it's beautiful. Bentley may have selected the seat hides, which smell like buttered bovine and have the quality of an expensive club chair. Bose 11-speaker audio, Bluetooth, navigation, USB input for MP3 players, heated seats, and a moonroof keep our man of mystery grinning.
They say nothing succeeds like excess, and the FX37's many, many safety systems prove it. Our car came with Intelligent Cruise Control (adjusts speed to maintain a safe distance), Lane Departure Warning and Prevention (beeps, then intervenes to keep you from crossing lane markers), and Intelligent Brake Assist with Forward Collision Warning (beeps and applies brakes if you don't slow down). While nice, the systems are admittedly over-sensitive — to the point that I began ignoring them or trying to de-activate them. Which kinda defeats their purpose, no?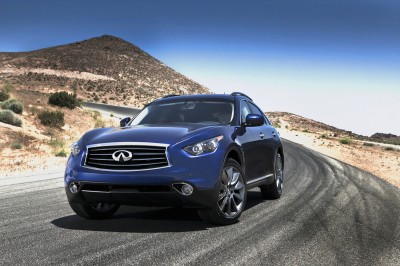 As a big sports car, the FX35 is a compromise — neither small enough to be truly sporty nor large enough to be truly useful. While gear fits easily through the power-operated hatch, I can tell you a coral-barked Japanese maple will not fit: my partner had to hold that one in his lap all the way home.
But no matter, the FX37 is sexy as a saxophone and will help you — and up to three others — make beautiful music together, all for $45,750, or $57,250 as tested.
Storm forward!
2013 Infiniti FX37
Five-passenger, AWD crossover
Powertrain: 325 hp 3.7-liter V6, seven-speed automatic transmission
Suspension f/r: Ind/Ind
Wheels: 18"/18" alloy f/r
Brakes: disc/disc fr/rr with ABS
Must-have features: Style, performance
Curb weight: 4321 pounds
Fuel economy: 16/22 mpg city/hwy
Assembly: Tochigi, Japan
Base/as-tested price: $45,750/57,250