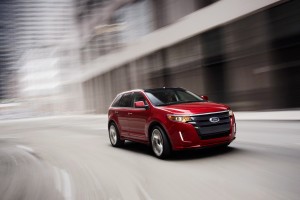 It's been a decent two years with a 2011 Ford Edge. I snagged the crossover with a 29-month lease, so my time with the Edge will soon be history. After perusing dealers for a healthy-sized crossover with some goodies, I ended up fancying the Edge. I chose a SEL-trimmed Edge in the no-longer available Blue Ink (which is much nicer than the almost-neon Blue Impact available now), with cream leather and other options found on my dealer's lot.
From the outside, the exterior is impressive. What a great looking crossover! The front grille is both tough yet elegant. Its sizing is moderate, yet appears petite. With its LED-front accent lights, the crossover has a pretty intimidating stance. The puddle lights on the rearview mirrors are a welcomed touch when approaching the vehicle at night. The interior is pretty lavish with decent materials used, with only a few hints of cheap plastic throughout. The button-less dashboard looks futuristic. Behind it you'll find the Volvo-like hidden storage tray to hide some goodies. At night, the interior perks up with limo-like neon accent lighting in your choice of colors (all customizable, to boot!).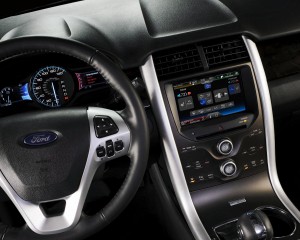 The driving capabilities were quite nice. The 3.5l puts out decent power (285hp) and never struggled to get up to highway speeds. The interior noise remained at a pleasant low, even with the roof completely opened. Fuel economy has been pretty wallet-friendly, especially considering these erratic gas prices. I've averaged around 23mpg between my around-town driving and trips along the highway. Not too bad considering the size.
In terms of some other mechanics, I have recently noticed a nasty jerk from stop to acceleration, an almost knee-jerk reaction from the car. It's as if the car is angry about the stop-and-go traffic. The dealer said they'd need to look at the car to find a cause, but its sporadic appearance deems it unnecessary since its turn-in date is creeping closer.
For nature/sky/moon-lovers, the Vista glass roof is a welcoming sight (in more ways than one). Its vast opening gives the front passengers nearly convertible-like views from above. The wind net also keeps the wind noise to a minimum, as well as flying critters. Even with the roof fully opened, it wasn't a struggle for rear passengers to be heard up-front.
The 21" rims have proved to be a tad more delicate that I would've liked. Within the first two weeks of my lease, I encountered some road hazard leaving me with a flat. Much to my surprise (not), Ford's stock Edge tires are a pretty penny. Luckily, my tire protection plan helped ease the knock on my wallet (a worthy investment, in my book). Unfortunately, within the next year, I was back again at my dealer with another flat. After reading some other driver reviews on the Edge, I noticed others with similar issues with their Edge's 21" rims. Well, they look pretty snazzy but you're all forewarned.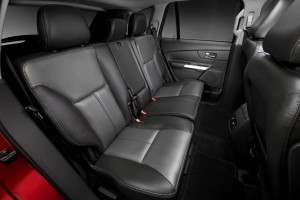 My biggest gripe must be the Sync. Yikes! This system sounded so good on paper, but in reality, it's tiring. When syncing with phones, there've been times where the system has completely forgotten every phone connected. It's interesting when random stations make an appearance in your saved settings. The touch-sensitive buttons can become frustrating if you have to slowly proceed to up the vehicles climate settings (just give me a knob for heaven's sake!). There's also a half-second delay in system-response, which makes you think the system didn't accept your input. There should be a way where the user can completely customize their Sync experience. Instead of having to scroll down to access your Bluetooth or satellite radio, being able to designate which systems you use the most would be a welcomed change. I find the menus a bit tedious, especially when you must click through your stereo screens just adjust climate. Or how about a few more simple buttons or knobs? Easy-enough solution.
I'm unsure about the upgraded Sync system in those models with Navigation, so perhaps they're not dealing with the issues I'm discussing. Ford has even admitted to the technology blunder by recalling the sync system, and also promised the return of buttons for next generation.
Overall, the Edge is a capable, roomy, and entertaining crossover that I may find hard to turn-in. Alas, a newer model might find resolutions to the stubborn Sync system, plus the Escape is looking a bit more nimble and appropriate for my solo needs.