The fact that the 2014 Cadillac CTS won Motor Trend magazine's Car of the Year is not astonishing: the last-generation CTS did the same thing in 2008. But this year, it won against redesigned Mercedes E-Class and BMW 5-Series sedans, making a frontal attack on the German Bismarcks. It also beat the Corvette Stingray, Mercedes S-Class, Infiniti Q50, Mazda3, Mazda6, and Kia Cadenza. Take a breath.
Meeting with a handful of journalists in Chicago last June, Ed Welburn, GM's V.P. of Global Design, was asked what upcoming car most excited him. He quickly mentioned seeing the new CTS on the road for the first time and admiring the work of his team led by Bob Boniface and Robin Krieg.
His excitement is justified: the CTS makes a statement. Distinctive LED light blades, an expansive eggcrate grille, and a faceted hood define the front while a sweeping roofline, high decklid, and subtle fins with light tubes finish the rear. It's beautiful and aggressive, instantly-recognizable as a Cadillac.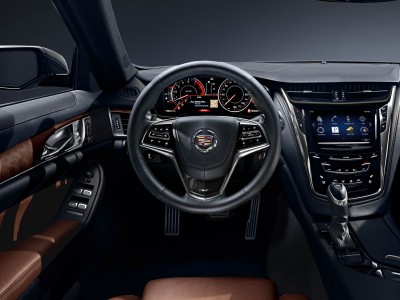 Interiors are sumptuous. Real wood, layers of stitched leather, and chrome adorn the dash and doors. Front seats are heated and cooled, rear outboard passengers have bun warmers, and the sporty leather-wrapped steering wheel warms winter hands. Magnesium paddle shifters are a nice touch. Our car had contrasting mocha leather, but I'd take available red hides. A dual panel glass roof and rear sunshades keep everybody shining.
Infotainment is handled by Cadillac's CUE system, which uses a touchscreen that you swipe like an iPad. Other audio and climate controls are by touchpad below — just swipe your finger along the chrome strips to rev up the Bose audio system. The reconfigurable LCD instrument cluster can show analog or digital displays, whichever you prefer. A full-color heads-up display puts the speedometer, radio station, and tachometer in direct sight. It sounds overwhelming, but it's easy to use after a few miles.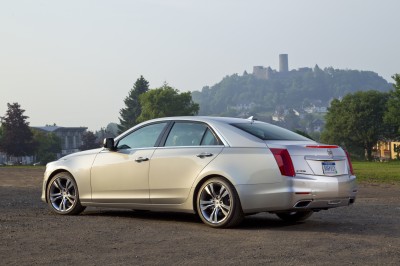 There's a 420-horsepower twin-turbo V6-equipped CTS Vsport heading to dealers, but our test car ran with a 321-horsepower 3.6-liter V6 routed to the rear wheels through an eight-speed, paddle-shifted automatic transmission. AWD is optional. There's also a 272-horsepower turbo-four, should frugality tickle your soul. Our mid-power V6 delivers 22/29 mpg city/highway.
It's not just about style and brisk acceleration. A 50/50 weight balance and rear-drive lay-out are the right start, but large amounts of aluminum enable a car that's lighter than rivals. Driver-selectable Magnetic Ride Control, a feature of the Corvette Stingray, is near-magical in its ability to absorb rough city streets and waft down the highway in "Tour" mode, but stiffen for thrashing backroads and on-ramps in "Sport" mode. It has the light feel and precision of a Jaguar, but with the rock-solid body structure of the Germans. All in, it's uniquely Cadillac.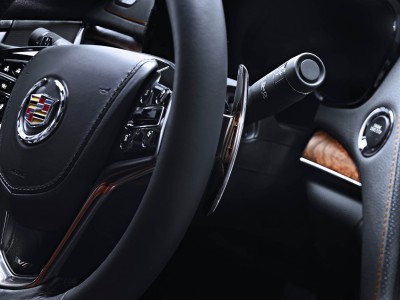 Cadillacs are supposed to be a little glitzy. That's their niche, always recalling just a little of that mid-century glamour and American exuberance. Interiors are supposed to be plush and high-tech. Today's Cadillacs are also precise, refined, fast, and remarkably agile, underpinning the brand's heritage with its future. Driving it, you feel this car is special. Motor Trend apparently agrees.
Prices begin at $45,100, but our well-equipped test car came to $64,300. The twin-turbo V6 and upcoming supercharged V-Series will take prices well north of that.
Storm Forward!
2014 Cadillac CTS
Five-passenger, RWD sedan
Powertrain: 321-HP 3.6-litre V6, eight-speed automatic transmission
Suspension f/r: Adjustable ind/in
Wheels: 18"/18" f/r
Brakes: disc/disc fr/rr
Must-have features: Style, handling
Manufacturing: Lansing, MI
Fuel economy: 22/29 mpg city/hwy
Base/As-tested price: $45,100/64,300