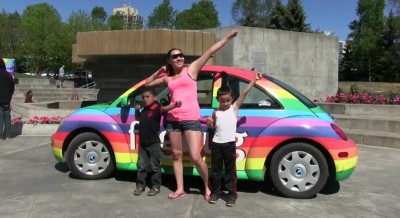 When last we heard from Erin Davies, she and the Volkswagen New Beetle dubbed the "Fagbug" were doing just fine.
As you might recall, that Beetle was just a plain ol' Beetle until 2007 when — on the morning of GLSEN's annual Day of Silence — Erin walked out to her car in Albany, New York and saw that it had been spray-painted with the words "fag" and "u r gay". Some people might've been demoralized by that double-whammy of homophobia and poor spelling skills, but not Erin: she transformed her car into a rainbow-striped LGBT-friendly beacon, emblazoned with the word "FAGBUG" on both sides.
Then, she did what anyone else would do in her situation: she made a documentary. She drove the car to various locales, hoping it would encourage Americans to talk candidly about LGBT issues. You can find that documentary on Netflix, or watch it in its entirety right here on Gaywheels.
Years later, Erin is still driving the Fagbug, and — never one to rest on her laurels — she's embarked on an even bigger project: taking the Fagbug to all 50 states, including Alaska and Hawaii. And of course, she filmed the entire adventure.
Now, she's begun the process of editing that footage into a documentary called Fagbug Nation, which is set to debut later this year. Until then, we can enjoy a short trailer for the film, is described on YouTube thusly:
"Fagbug Nation" takes you behind the wheel of what it's like to drive the once vandalized, now famous "Fagbug." With six years of touring under her belt, director Erin Davies ("Fagbug," 2009, Netflix) has her mind set on getting her car to all 50 states, Hawaii and Alaska being the final two. To pull this off, Erin went 54 days without a car, put her car on 5 boats, and flew on 14 planes. The Fagbug gets leis'd [sic] in Hawaii and drives through the midnight sun to Alaska, but first makes a pit stop at the Equality House in Topeka, Kansas. Watch as this rainbow colored Beetle serves as a catalyst for our nation on the road to equality.
Have a look for yourself.