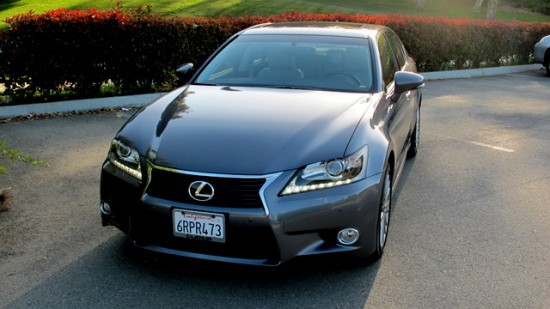 When it comes to mid-level luxury sedans, many people instantly gravitate to the "usual suspects" at their local Mercedes Benz or BMW dealers but quite honestly the latest E-Class and newest shape 5-Series sedans are both a bit of a snooze fest. What if you desire something different that not everyone on your block is driving that is both sporty, solidly built, has a premium badge and can also manage more than to just "impress the clients" during business lunches?
Well, that's when you turn to the 2014 Audi A6 3.0T or the 2014 Lexus GS350 sedans, both of which are newly redesigned and a whole lot more fun to drive than their predecessors. Their styling inside and out also breaks from the very stoic feel found in the competition from Stuttgart and Munich as both the Audi and Lexus have very organic and welcoming designs. But most of all, the 2014 Lexus GS350 and 2014 Audi A6 3.0T are very, very practical and solidly built sedans that could very easily fulfill any family duty. Even that of being the preferred ride of the family dog.
Laugh if you will at the notion of anyone driving around their dog in $60,000 luxury sedans but in upscale areas like Orange County in Southern California the practice is quite common. Some recent studies have shown that as many as 80% of new car buyers will at some point plan on taking their family pet with them in the car. Whether or not it is a trip to the grocery store, the veterinarian or off to a family picnic, there is no reason why you can't drive the family Lexus or Audi with Fido safely riding in the back seat.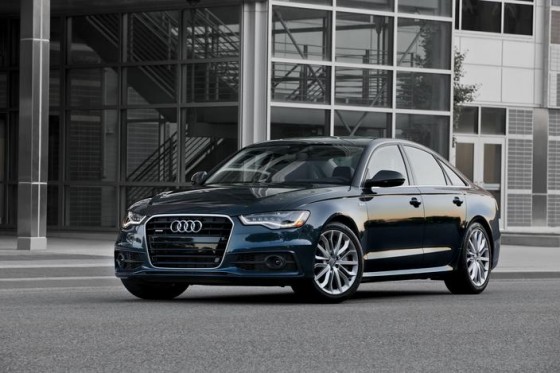 But the question is which of these two luxury sedans is better at balancing the ability to be a family carry all with fulfilling all the expectations one would have from their new luxury sport sedan? So while family matters do always count, it is still the human passengers and most especially the driver who should be pampered most in either of these cars. So let's see which one of these luxurious old dogs will win in a head to head comparison, shall we? And to keep things on the level, we have asked Roxy our 44 pound canine road tester to ride around in the back seat of both the Lexus and Audi to decide which she preferred. Given the fact that she was adopted from Boxer Rescue Los Angeles, both were far superior to her previous home to say the least. Now, may the best dog win.
Exterior Styling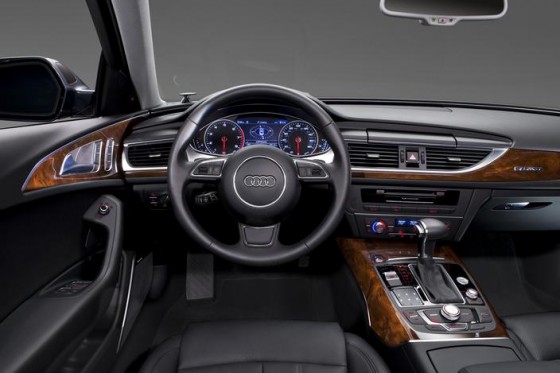 When Lexus restyled the GS sedan it really took a bold chance with its entire styling language giving this mid-size model an aggressively angular and sharp front grille design that flows nicely along the sides of the car to a cohesive rear tail light section which is perhaps the only less than interesting view of the car. As for the 2014 Audi A6, you won't be hard pressed to tell what kind of car it is as it's admittedly quite striking in the expected Audi manner. We especially loved the deep maroon exterior color of the Audi we tested in particular but tremendous Kudos the Lexus for thinking outside the boxes that have given us things like the latest Corolla. Sadly, though, we are suckers for Audi's all conquering classiness. (Winner: 2014 Audi A6)
Interior Design and Layout
In this regard, Audi still maintains its class leadership when it comes to picking out appealing textures, fabrics and tones when designing its extra-stylish interiors. Admittedly, Audi hasn't taken many chances as of late with new ideas although we loved the new navigation screen that popped up dramatically from its hiding place in the dash whenever it was in use. Also, any passenger will be mightily impressed by the Google Earth Images used by the A6's navigation screen which comes as part of the $6,880 Prestige trim designation. Our only complaint was a back seat which felt cramped compared to the one in the Lexus.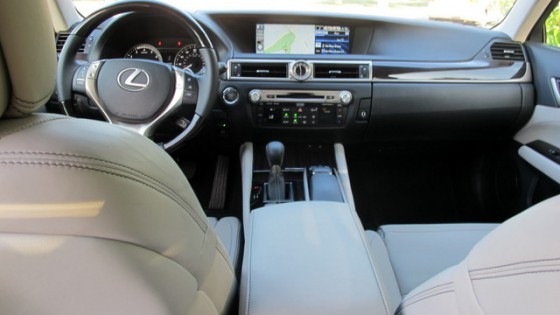 Here, yet again, is another area in which Lexus has found a newfound mojo in regard to use of high quality interior materials, gorgeous wood inlays and chrome finishes to create an interior style that was nothing short of breathtaking. Using the navigation, audio, climate and other functions is also easily done via the clever "computer mouse" controller that allows the driver to manipulate pages in the easy to read center mounted screen. Overall, the Lexus GS gives off a slightly more minimalist feel than the interior of the Audi but that is no bad thing affording it a uniquely non-German style. However, at night our Audi tester positively glowed with ambient lighting emanating softly from under the seats, through crevices along the doors and in the trim making it truly a special cabin to ride around in. (Winner: 2014 Audi A6 3.0T)
Practicality, Family and Dog Friendliness
If you can't tell yet, this is one very close comparison test so first off let's look at trunk space. The Lexus offers 14.3 cubic feet whereas the Audi falls down a bit at just 14.1 cubic feet. This, as well as the more clever inclusion of handy storage spaces in the Lexus showed us quite clearly that it was the better car should you be needing to use your new luxury sport sedan for a multitude of purposes. This means it's perfect if you are not just commuting to work in it but also using it to haul around your wife, kids, their friends, your friends and their inevitable "stuff." And most importantly, the family dog.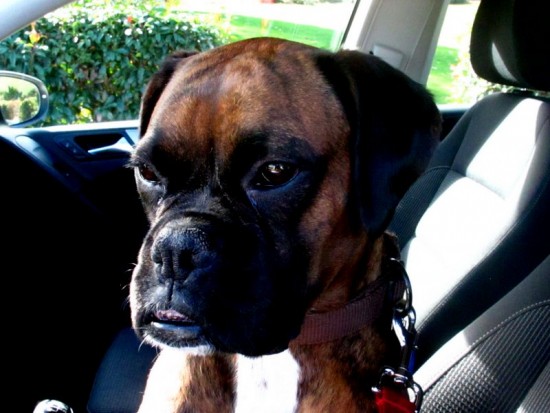 Lastly, was the Audi or Lexus more capable of handling the abuse from our canine road tester Roxy and a few visits from her much larger 65 pound boxer boyfriend Peyton as they rode around in both luxury sedans? In the case of the Audi (especially its quickly dirtied cream leather and more delicate plastics), even with a seat cover protecting the back seat somehow we wound up spending a half hour cleaning the back of the A6 after just seven days with us. As for the Lexus, it didn't even look like there had been a dog sitting back there so this is why Roxy gave her paw of approval to the Lexus. Congrats to Lexus and apologies for leaving dog fur in the back seat. (Winner: 2014 Lexus GS350)
Pricing, Features and Fuel Economy
Both the Lexus and Audi get EPA fuel economy ratings of 19 city/28 highway with the Lexus averaging 23.5 during our road test and the Audi averaging 21.3 miles per gallon. Our test Audi A3 3.0T came with the brand's Quattro all-wheel drive system but also realize that Lexus offers buyers the choice of either of front or all-wheel drive with the GS. So you aren't S.O.L if you live in a snowy climate or a place that has actual weather—in other words, not in Southern California.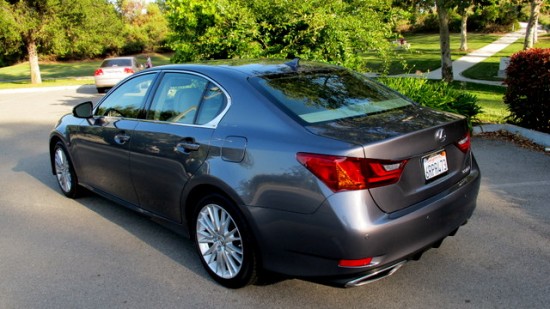 Both of these luxury sedans we tested came equipped with most everything barring an actual kitchen sink with the Audi A6 boasting a final MSRP of $61,530 which included 4-zone automatic climate control, the Google maps navigation unit, a Bose audio system, heated and ventilated front seats, 19-inch wheels and tires, three spoke sport steering wheel with paddle shifters, Bluetooth, a power moonroof and a three mode suspension system that the driver can adjust based on driving conditions. Essentially, it adjusts the steering heaviness and suspension responses depending on if you want smoothness and comfort or more interactive sportiness. Roxy likes a smooth ride so she definitely approved.
Now, the 2014 Lexus GS350 we tested did have a 6-speed automatic to the Audi's 8-speed unit (who cares?) and did only offer "3-zone climate control" compared to the 4-zone unit available with the Audi but then it did cost less at $57,309. Other features included in that price include navigation, a 17-speaker Mark Levinson audio system, a parking assistance system, 18-inch alloy wheels, an adaptive variable suspension, a moonroof and most importantly that little "L" logo on the front. (Winner: 2014 Lexus GS350)
Driving Impressions and Safety
As you would imagine from two of the most finely crafted luxury sport sedans on the market today, both the 2014 Audi A6 and 2014 Lexus GS scored top marks from the IIHS (Insurance Institute for Highway Safety) in crash test meaning both were labeled as "Top Safety Picks." But while we are quite sure you and your family (and your family dog as long as they are wearing a safety harness in the car) would be safe in an accident, these cars drive with such a grace and fluidity that we think you will definitely have a higher likelihood of avoiding an accident altogether.
The 2014 Audi A6 is also available with a less powerful 2.0 liter 211 horsepower/258 lb. feet of torque 4-cylinder taken from the A4 but to our way of thinking this much more opulent sedan deserves to be equipped with the silky smooth 3.0 liter turbocharged 310 horsepower/335 lb. feet of torque 6-cylinder. Not only was it quick to get this somewhat heavy all-wheel drive sedan moving with impressive alacrity but while doing so the engine emitted a deliciously characterful roar well suited to this car's sporty demeanor. Steering feel is communicative and somehow felt more alive in our hands than recent BMW models we have driven.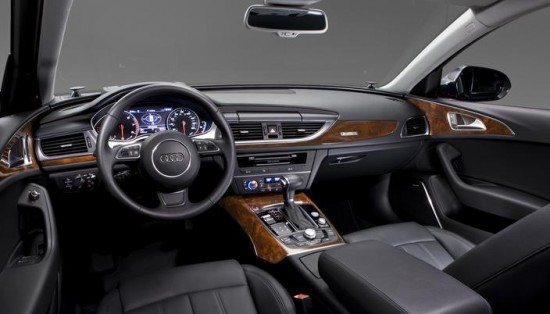 The 2014 Lexus GS350 was easily, hands down the most fun to drive Lexus model that we have ever driven, although that list admittedly does not include the LF-A supercar or the new IS. Never before has Lexus managed to give one of its luxury sedans this much driver involvement through well weighted steering and a suspension that refuses to pitch and roll even in very spirited driving. Sure, the 2014 Lexus is still quiet at a cruise but now you can hear a bit of engine roar and feel more of the road which is always a great thing when you want to stay awake. Both of these cars are simply brilliant to drive and Mercedes and BMW really need to start upping their game to keep up. (Winner: Tie)
And the Winner Is…
As you can see, adding up the scores from each section it appears that we have a tie which we attempted to break by having Roxy the dog decide but she didn't want to anger either Lexus or Audi since she really wants a ride in the new IS350 and the new Audi S3. For a dog, she sure sold us out pretty quick. So here is what we say. If you can afford the rather large price difference between the Lexus and the Audi then by all means we say go for the Audi but if you have a dog think twice about the light cream leather interior. Otherwise, the Lexus GS350 will keep you and a dog as stubborn and fussy as Roxy happy for years to come. Sorry, she would come and say goodbye to everyone but she is mad that she has to go test a Kermit the Frog Green Mitsubishi Mirage now.