Once upon a time, there was little black girl in the Brewster Projects of Detroit, Michigan … And once upon a time, going off-road meant really taking a chance with your vehicle and your spine. But nowadays, everyone wants to go off-road, or so they say they do. For you über-butch types who really can take it shaken or stirred, the brand new Trailhawk trim of the 2014 Jeep Cherokee should be considered for your new rolling thunder and discotheque.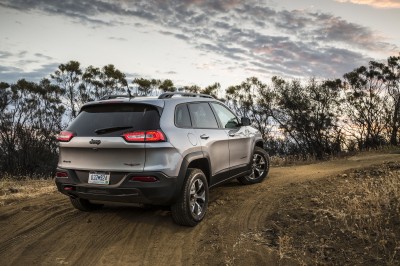 While I consider myself more than qualified to talk about such butch topics, I wondered, What Does the Fox Say? (Not the Rupert Murdoch Fox.) And, what do the butcher experts say?
"The Trailhawk, which earned Jeep's Trail Rated designation for off-road excellence and was my test model, exemplifies this harmony between beauty and capability," writes Robert Duffer of The Chicago Tribune. "The Trailhawk trim starts at $29,495 and comes with 8.7 inches of ground clearance, grippy off-road tires, two front hooks and one rear hook that can handle 4,000 pounds each, a towing capacity of 4,500 pounds, off-road suspension, hill descent control and just about every other thing to entice you to go off-roading."  Well, alright-y then!
I've never been a big off-road fan unless some burly men who know how to put it in gear are with me, and even then, I prefer to watch and hose everything down later. The big trend in 4WD vehicles is to now make off-roading as easy as turning the dial on a Philco TV. Seriously, just one turn of a button and you can change your Hawk from Auto to Snow to Sport to Sand/Mud or to Rock. Changing your love life and canceling your true love's credit cards was never this easy. If only we could handle all of life's turbulence with just a flick of the dial.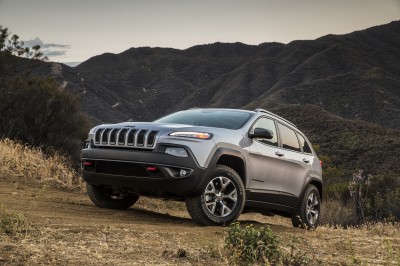 From the outside, the 2014 Trailhawk features a slotted grill (I'll take a burger and fries with that), LED headlights that look like space-age eyes and, of course, bigger wheel wells, since this go-getter sits higher than most cars because its rims are so fat and the 17-inch tubes surrounding them are so thick. As Mr. Duffer mentioned, the front is accented with two front hooks, which is always a good idea no matter how stable your driving is or your romantic choices are. Everyone on the World Wide Web just loves the dashboard and interior of the Trailhawk, which is anchored by a crisp, center-dashboard information screen. There is literally a storage space under the seat, which makes hiding things from those you love a breeze.
Make no mistake, this Grand Cherokee is great on snow, ice, shaved ice and rough roads. Go fast or slow over rocks, over hill and Dale (but not your girlfriend Dale) or whatever automotive roughness you desire. This Hawk is by far one of your best choices for going off-road and off-script, but as Autobytel aptly notes, this Hawk will probably spend most of its natural and extended-warranty life in a parking lot. But, as any gay knows, just because you can't unleash the beast every night, that doesn't mean you shouldn't have it ready just in case the moment is right – like in those Cialas commercials.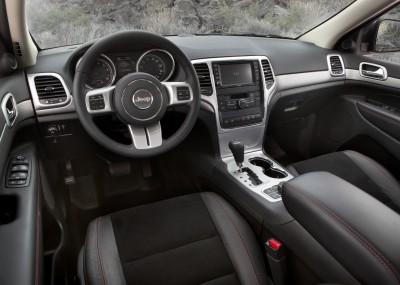 The Trailhawk starts in the mid-$30K, and is considered a compact, or affordable, SUV. You will get mileage of 22 city / 31 hwy. Meh. But if you really love going into the woods and letting it rip, this one is tough to beat. Off-road performance is what makes this Trailhawk outstanding, and it's less than half the price of a Land Rover, which is also great on the rocks – or stirred. U.S. News and World Report did not specifically rank the 2014 Trailhawk trim but found that the Jeep Cherokee is still one of the most affordable SUVs out there.
Even the Fast Lane boys, who go from A-List to Bear (or 0-60) in no time, love this car, dubbing it a Baby Grand Cherokee. Once again, our favorite breeder bear Nathan Adlen tries to put his big frame into the rear storage area and finds it's a little cramped, though he does look cozy riding steerage.
I have a Grand Cherokee idea: let's drop the Cherokee moniker and start calling this legendary vehicle the Trailhawk. Much like sports commentators who are now refusing to say Redskins in reference to Washington's pro football team, I really think it's time Jeep (a grand company indeed) come into the 21st Century. When the name Cherokee was revived by Jeep a few years ago, apparently no one thought to contact real Cherokees about this decision. Indeed, the name Cherokee is not trademarked and the Cherokee Nation is getting no royalties from all this.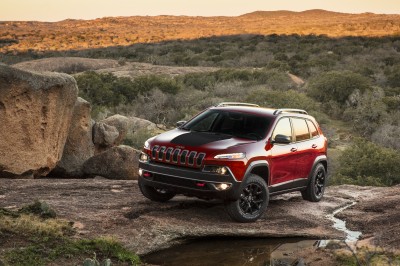 The New York Times estimates that it would cost roughly $50 million to rebrand the Cherokee. Okay then, how about paying the Cherokee Nation royalties for use of the name? I can't imagine people would abandon this car just because the name was changed. Plus, Chrysler has some of the best PR people on the planet, and I work with them. Promoting the new name should be snap – and turn a bigger profit.
So how the heck did Chrysler not consult the Cherokee Nation before the name was re-introduced? What a Classic Coke misstep for such a classic brand.