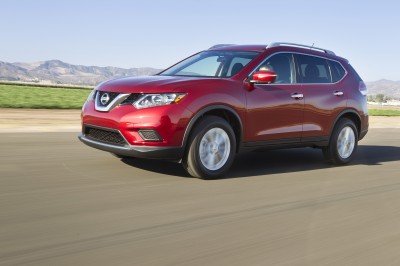 Back in the days of the old Vegas Strip – when martinis, five-card stud and big hair with big headdresses ruled the scene – singer/actor/star Dean Martin reigned supreme (before Diana Ross and the Supremes). People loved him not because he was great at any one talent (by his own admission), but instead, he was pretty good at a broad range of theatrical skills. As a writer and out-there gay, I have always been enamored of and have tried to emulate Mr. Dino Crocetti, because, well, no one will give me an Emmy or a Razzie for being just a consistently good time. I can write, I can sing, I can entertain, and sometimes I do get a cheeseburger for my efforts. Jack of all trades beats a pair of queens with every hand, that's my motto.
The 2014 Nissan Rogue is a lot like Dean Martin and me. It does many things well, and yet with some big items, it completely misses. But if you are looking for the swinger, the singer or the car that you're gonna wanna take everywhere, it's Dean Gomez Rogue for 2014. But let's start with this great car from Nissan……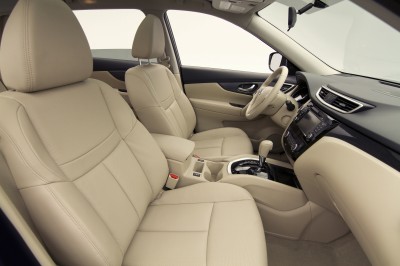 My friend Daniel Murphy, Mr. Front Range Bear 2007, and I took a road trip right before school started last month. We started in Denver and progressed (if you can call it that) to Fort Morgan, Colorado; Sidney, Nebraska; Cheyenne, Wyoming, and back to the Queen City of the Plains, as Denver is known. Feeling much like a princess and pauper, we made our way from small town to smaller town, hitting just about every thrift store along the rural route. Daniel loves a bargain, and even found some great mediocre lounge CDs (yay) and a Best-of-Eminem (ugh) for a fraction of the price we would have paid if we had bought them off eBay in 1995, the year these flea markets really went viral. We even hit a few thrift stores run by Christians who had a lot of household stuff to purge from their flocks. Who knew the faithful had so much Jesus stuff that they could pass onto those less fortunate? The road trip was done in respectable white trash style, complete with taters 'n grits, Funyuns and a whole lotta cigarettes (not in the car, of course).
All the while, the 2014 Nissan Rogue was a joy to handle. Described as a 'Baby Pathfinder' by The Fast Lane Guys (see below), the Rogue is snazzier and more comfortable than previous incarnations. Edmunds.com found that it is indeed a "comfortable and functional small crossover SUV." Both Daniel and I found it to be luxurious and utilitarian too, small and peppy yet performing like a state trooper, and quieter and better on your back than other similar models.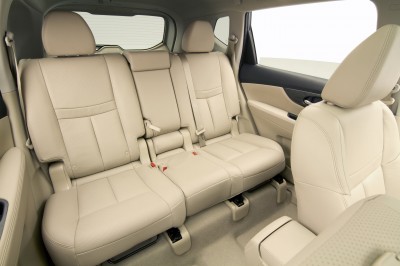 It's been completely redesigned for 2014, and that further ups its Dean Martin appeal. All models, however, come with just one engine choice: a 2.5 liter, 4-cylinder engine that coughs up 170 horsepower … and that gets you about 33 mpg max on the open road. Not bad, not great, but for $22-32K, it's right in the ballpark and still on the diamond.
Cool new things abound. You get an additional 10 cubic feet of rear cargo space that comes in a fairly straightforward configuration. A device called Divide and Hide pulls up from the base floor in the back, and this allows you to conceal some items in your rear; instead of the easy-pull screen going from front to back, this one goes from bottom to top. Indeed, that's one way to keep 'em guessing where you hide your beauty secrets.
There are some great, fun choices for interior and exterior colors than can be mixed and matched. A big plus for some buyers (with children) is that 2014 Rogue has a third row of seating, something that has been dropping from other small SUVs across the spectrum. So, yes, there is a third row of seats, but if you are a bear in need of a place to hibernate, you may need the Jaws of Life to remove you from this orchestra pit.
Some of the funniest and most thorough reviewers on the web are produced by Nathan Adlen and Roman Mica of The Fast Lane, who put their car video reviews on YouTube. Both Colorado boys, Roman looks like an A-Lister and Nathan is a big teddy bear. They are quite the pair, and with the 2014 Nissan Rogue, Nathan had some fun trying to squeeze his big bear arse into the tiny third row seat – and never quite makes it. N&R also test out the Rogue's Sport mode, which is a button that, when pushed, will keep the engine RPM between 5,000 and 6,000, constantly keeping the power going to the engine so your foot doesn't have to work so hard. Much like Men on Film, these Men on Cars gave the Sport Mode one thumbs-up (Nathan) and one thumbs-down (Roman). (Nathan's butt also really loved the zero gravity seats, and even though he doesn't know what those are, his rear loved how it grabbed and held him….)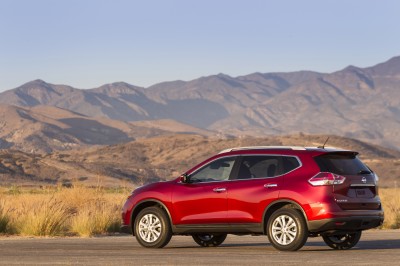 Some reviewers feel the 2014 Rogue drives too rough, others feel it drives too soft. Some like it hot, some like it cold, just like any man who went to the Continental Baths in New York, where Barry Manilow and Bette Midler got their starts. In my opinion, the 2014 Nissan Rogue drives just fine. But then, I am easy, as most everyone in the wet area knows.
In short, Daniel and I loved the 2014 Nissan Rogue. The ride was comfortable, it drank a reasonable amount of gas, and we encountered very little about the car to distract us or give us gas. And we could get three other guys the size of Nathan in the back seat (but not the third row). What's not to like about that?
For another crossover SUV that is marvelous, I will soon be writing about the Mitsubishi Outlander, to which I have also professed my love. Gosh, no wonder people think I am a car slut. And for 2015, the big, burly Nissan Titan will get a total revamp, just like the Rogue did this year. I was a little rough on the Rogue, even after it came with me as my date to Denver's Gay Pride this summer. I promise to be more like a gentleman, Ms. Nissan.
Gosh, now that we've covered the small towns of Colorado, Wyoming and Nebraska, where could we go next? My vote is for Fort Lauderdale, Laguna Beach or Honolulu, but after the heat waves and torrential rains subside.
After all, can you really judge a car until you see how it complements your beach wear?