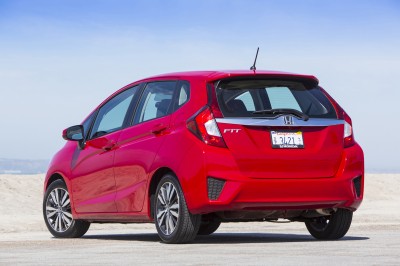 The Honda Fit has always been a weird little car that is just cute enough to be lovable.  What started out as a quirky sub-compact for Asian and European markets has become a favorite of drivers looking for obscene stamina combined with obnoxious efficiency and utility.  It's a great little car, made better for 2015.
The dramatic slope nose and soft curves of the last model have been replaced by an edgier and more butch design.  A black grille insert, slimmer headlamps, chiseled bodysides, foglamps, 16" alloys, and color-matched spoiler could just as easily come from the sporty Civic Si.  The rear is especially fetching.
Inside, friends will swoon over an additional 4.8" of rear legroom.  You'll caress stitched vinyl on the dash, available heated leather seats, silver doorhandles, and stylish seat fabric.  Fit's rear flip-up "Magic Seat" remains to cross-load bicycles, flower pots, or a haul from the outlet mall.  Bluetooth, USB inputs, and auto headlamps come standard.  Check additional boxes for a one-touch power moonroof, keyless entry/starting, premium audio, and touchscreen.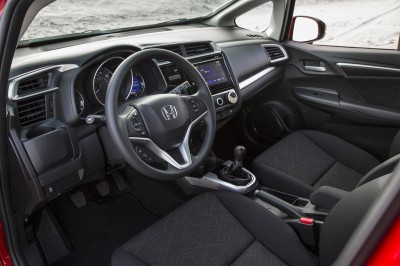 Honda's old touchscreen design was not ideal, but the new flashier one, even with iPad-style gesture recognition, is a pain in the bum.  Just give me a knob to tune the radio and adjust volume.  At least the screen is perfect for watching the rearview camera and Lane Watch system that uses a camera on the passenger side to show drivers what they're missing when the flip the blinker.  Of course, that also flips away whatever you're doing on the touchscreen every time you turn right.  Fit is best enjoyed when looking ahead.
Revving out the powertrain is a delight.  Employing Honda's "Earth Dreams Technology" that includes variable valve timing and direct injection, the 1.5-liter DOHC four-cylinder engine spools out 130 horsepower.  A sport-shift continuously-variable automatic transmission is available (boring), but our car came with the slick-shifting six-speed manual (yeah).  The light clutch makes city driving less cramp-inducing for your mighty calves.  Fuel economy is rated 29/37-MPG city/hwy.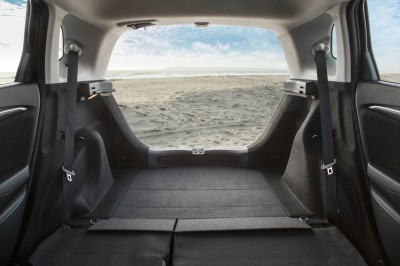 Light weight, quick steering, and a sprightly chassis keep the Fit from being a bore.  In fact, like most Hondas, it feels like engineers actually cared about the driving experience, no matter the car's price and purpose.  You find yourself looking for the long, curvy way home just to rev out the engine and toss it into a corner.  And, I hope you enjoy listening to a revving engine, because without much insulation, you'll hear it plenty.  The re-engineered body structure is noticed in the car's quietness and solidity, but should also help Honda ace NHTSA and IIHS crash tests – good thing since I was rear-ended by a Hyundai while driving it.
Fit's fabulousness shouldn't be surprising since Honda has a long tradition of building simple, well-engineered cars that are fun to own.  Long-time Honda drivers will be reminded of early Civics.  The improved Fit is everything you need, and little you don't.  Europeans will soon see the redesigned Fit, called Jazz across the pond, at the Paris Auto Show.  They're going to like it.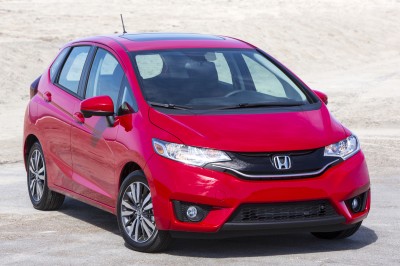 A base price of $15,525, or $18,225 as-tested, is a great value.  The Fit will be produced for the first time in North America at an all-new plant in in Celaya, Mexico.
Storm Forward!
Send questions and comments to Casey at [email protected].
2015 Honda Fit EX
Five-passenger, FWD sub-compact
Powertrain: 130hp 1.5-liter I4, 6-spd manual transmission
Suspension f/r: Ind/Torsion beam
Wheels: 16"/16" alloy f/r
Brakes: disc/drum fr/rr with ABS
Must-have features: Space, powertrain
Fuel economy: 29/37 mpg city/hwy
Assembly: Celaya, Mexico
Base/as-tested price: $15,525/18,225