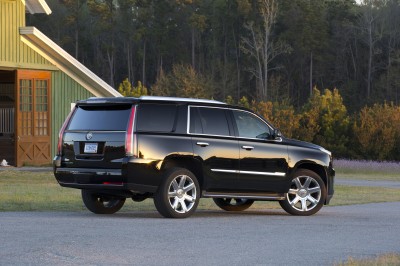 Back in 1999, it took balls for Cadillac to paste its wreath and crest on the front of the GMC Yukon Denali and charge a premium for it.  Somehow, the rich and famous swooned over the glammed-up truck and bought them like Hermes scarves.  A second generation debuted for 2002 with edgy styling, leather interior with Bulgari gauges, and a grille the size of an August moon.  Celebrities made it an icon, and the SUV's cachet wafted over Cadillac's cars.  A truck had saved Cadillac and set a new standard for luxury SUVs.  Ready for its fourth generation, Escalade is bigger, bolder, and badder than ever.
If you want to slip into a restaurant unnoticed, buy something else.  The grille is a wall of chrome planks and sculpted slats that shall not be mistaken for anything other than the leading salvo of a Cadillac.  The bastion of chrome is flanked by sleek LED headlamps that flow into the upper fenders.  The side profile looks sleeker and more upscale with chiseled flanks, chrome outlines of the front windows, and 22" alloys.  Around back, I go weak for the bumper-to-roof LED taillamps that leave no question – day or night – that you were passed by a Cadillac.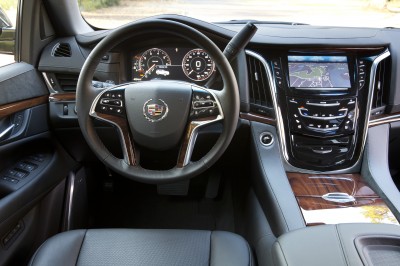 The thing is huge, weighing 6,040 lbs.  But somehow, much of the ample length avoids the rear passenger cabin.  There's enough room, but the extra inches go for cargo with power-fold seats.  Cadillac could really stick it to the long-wheel base Range Rover if it tried.  It needs to try.  Some of those pillow-soft wrap-adjustable headrests would also be divine.  And, what about soft calfskin leather on the steering wheel?  Sweat the details.
Still, riding inside is an elevated experience.  Cut-and-sew leather and suede covers virtually every surface that isn't planked with authentic wood.  Escalade adopts Cadillac's CUE infotainment system with haptic-sense touchscreen, navigation, USB, Bluetooth, and 4G LTE Wi-Fi hotspot.  The instrument cluster has been updated to GM's re-configurable flatscreen.
Bose's 16-speaker Cabin Surround Sound system with noise cancellation technology, re-configurable heads-up display, push-button starting, and adjustable pedals make driving easier.  Heated/cooled front seats, heated steering wheel, and heated outboard rear seats also help.  Power running boards and foot-activated rear hatch makes entering and exiting as easy as crossing the transom of Target.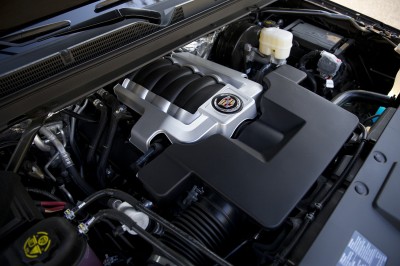 Some criticize the Escalade for being just another big General Motors SUV.  And, why is that bad?  That's precisely the reason people use them to tow stuff (mini-mansions, mini-yachts, mini-barns).  Escalades can do things luxury competitors can't.  Beyond hauling up to eight passengers, it can tow 8,300 lbs.  That partly due to its fully-boxed high-strength steel-infused frame and beefy four-wheel disc brakes, but also to something else.
Like a 6.2-liter V8 that delivers 420 horsepower and 14/20-MPG city/hwy.  It connects to a six-speed automatic transmission with manual shift mode and full-time all-wheel-drive.  Wouldn't it be fab if Cadillac offered an Escalade Vsport with its supercharged V8 putting out north of 560 horsepower?  Yeah, I think so too!  Escalade's powertrain is muscular, but 6,000 lbs. is a lot to shove and competitors handily out-power it.
None out-handle it.  Magnetic Ride Control uses a metal-laced fluid to adjust shocks between Tour and Sport modes.  In either mode, the system keeps busy taming those 22" rubber-clad steamrollers as they stomp over broken pavement.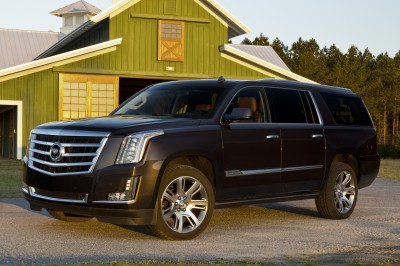 The essence of the Escalade ESV is a Chevy Suburban dressed up in full Cadillac regalia.  That's no insult.  Owners get the ever-robust performance of a GM SUV with the luxury discriminating passengers expect.  Nose to tail, it flashes the brash style every Cadillac should possess.  Slapping a $90,985 sticker on its window reveals a big set, freshly shaven and smooth to the touch.
Storm Forward!
2015 Cadillac Escalade ESV
Seven-passenger, AWD SUV.
Powertrain:  420-HP 6.2-litre V8, 6-spd auto trans.
Suspension f/r:  Electronic Ind./Solid axle
Wheels:  22"/22" f/r.
Brakes:  disc/disc fr/rr.
Must-have features:  Comfort, Capability.
Manufacturing:  Arlington, TX.
Fuel economy:  14/20-MPG city/hwy.
Base/As-tested price:  $71,695/$90,985.