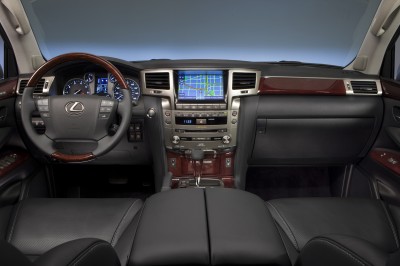 For all you A-List gays out there who are all credit and no assets, you will not want to read further. But for those of you rich gays in the vein of Tim Cook of Apple and Tim Gill of the Gay and Lesbian Fund, have we got a car for you! If you need something flashy and pricey that says you are the real Daddy Warbucks, the Lexus LX570, the top tier in the LX line, says just that. In fact, it clearly says "I'm rich with a smidge of butch thrown in."
First, the bad news. The LX570, the big man-scaped brute of the LX lineup, is essentially unchanged from 2013 – but girth is beauty from year to year, right? It is indeed expensive, though slightly cheaper per month than an efficiency flat in the Tenderloin in San Francisco (which is where Tim Cook's employees are now living). Invoice starts at $76K and MSRP is around $82K, and that's just for the Motel 6-level luxury. And for big guys with lotsa 'gear' (water bottles, consumer electronics, costume changes, beauty regimens, etc.), even this Brutus can get cramped.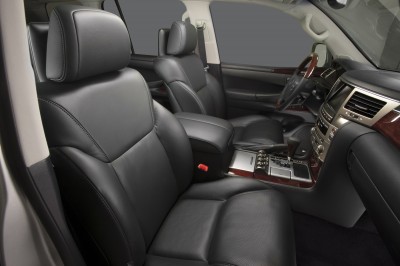 My friends Jack, Steve, Tony and I (misfits all, just like Marilyn Monroe in The Misfits) took this Brutus up to Glenwood Springs (Colorado) this summer and enjoyed every minute of it, except for when we had to put gas in the tank. Every gay likes to feel like she/he is as popular as Ellen DeGeneres and as rich as Leslie Jordan's Beverly Leslie on Will and Grace. The 2014 LX570 makes you feel like both – with a touch of Patrick Swayze's Vita Boheme from Too Wong Foo thrown in. The four of us at times felt like Lucy, Ricky, Fred and Ethel. And sometimes like the Golden Girls, but nonetheless very gay and very fabulous.
Solidly in the Luxury Large SUV category, this baby is at the top, right up there with the legendary Range Rover by Land Rover. The 570 comes with an extremely powerful V8 engine that likes to drink (the '570' references a 5.7 liter capacity engine). Ever seen a behemoth at beer bust drink 5.7 liters? Here too, you will have to open your wallet to keep it happy. And with an average of 17 hwy and 12 city, it's almost as though you were constantly on a toll road. But then, when a Brutus is this hot, don't you find yourself just automatically stopping at the ATM near the troughs in the men's room?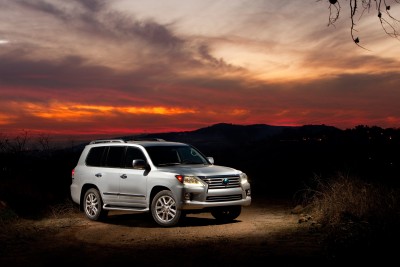 You name it, this car has it when it comes to luxury and high-falutin' gadgets, including bliss, or BLIS – Blind Spot Information System. This item let's you know when something is in your blind spot while driving – and yes, BLIS™ is a trademarked name owned by Ford, so technically Lexi do not come with BLIS™. But you get the picture – and avoid an accident.
Other than not giving me gas, my only other constant frustration with the LX570 is that it's so big (normally a great thing) that I had to be careful where I parked it. Even with some sort of bliss, one must keep their eyes open until you are safely in … the zone. When taking on something like this, where possibly your eyes are bigger than your mouth is, caution is always your BFF.
But what about the Spacely Sprockets and Cogswell Cogs of the LX? (Ya know, Sam, the meat? The real reason people read a car review?) Once again, my straight car buddy Tim Esterdahl gives a thorough perspective on all the exterior and interior particulars on the LX570 that I don't really grasp because, well, it's not just the guys in mechanics' uniforms that intimidate me. In fact, Tim drove the exact same car I did and came away with many more impressionable impressions, such as how the LX features way-cool items like Torsen (not Liberace's Scott Thorson) Limited-Slip Center Differential and Crawl Control, both of which sound like features one would desperately need after a hard night of partying at all the gay pubs South of Market or on Castro in San Francisco. Hey, why knock yourself out in calculus and auto mechanics when the brainy mechanical guys are cuter and understand that (lift + thrust) > (load +drag)?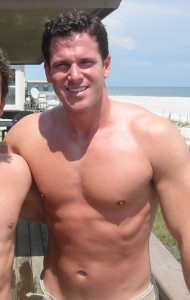 Yeah, yeah, some of you are thinking that all those gays care about is fashion, luxury, cute mechanics and who our next future ex-hus-bear is going to be. Well, FYI, we do talk about other topics. Like Cher, Madonna, openly gay TV anchors Don Lemon and Thomas Roberts – and Lady Gaga and Katy Perry (check out the Gaga v. Perry – Chevy Volt v. Honda Accord Plug-in – review par excellence by fellow Gay Wheels writer James Hamel). And here at Gay Wheels, we talk about cars. And Thomas Roberts (see photo).
If you've got the money, honey, Lexus can show you a real good time. For those of you with a lot of cash but not quite enough for rent in the Tenderloin, you may also want to check out the Cadillac Escalade and the Mercedes GL, which are a smidge cheaper. But remember, ultimately it's what's in your soul and in your heart that counts ….. LOL, or Love Our Lexuses.
Also, remember that a big fat wallet does not mean that anything else is big and fat, other than the debt and the cardiac plaque your dreamboat may be carrying.
I'm just saying.