Soul Red and Black Leather.
That's what it said on the Monroney sticker for the 2015 Mazda Mazda6 that I test drove this summer when the National Football League was still considered respectable. The red/black combo describes the exterior and interior color scheme, but what really describes the Mazda6 is a word like stylish. And a word like sporty. And a word like – Wow!
People who have driven the 2015 Mazda6 can't stop gushing about it. Mazda did everything right (almost) with the 2015 '6', which is four-or-less up from the Mazda '2', '3' and '5'. Though the names aren't creative, this new year's baby is, and I loved driving it. In fact, you'd be hard-pressed to find someone who did not like driving this stylish, sporty 'wow' baby.
Edmunds.com says it's a "fine choice for a midsize sedan, especially if you want one with some personality." Where do I start? The suspension and drive are superb. It handles beautiful, whether on Aretha Frankin's Freeway of Love or in city congestion. The interior is very stylish, which is a real change from most midsize cars where the interior is mostly proletariat. And there is plenty of leg and head room inside, meaning that both the far and the wide and the high and mighty can ride comfortably in your car, rendering all their other whines meaningless. U.S News and World Report says the 2015 '6' is "more athletic than most of its rivals." Bump, set, spike, que no?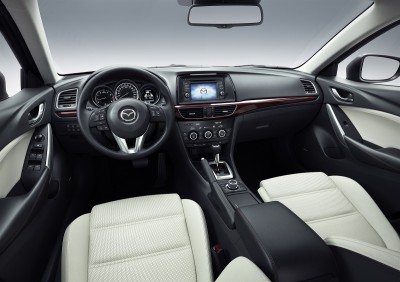 You will get a combined city/hwy fuel mpg of 29 to 32, depending on which trim level you purchase. Yes, there are cars that get much better mileage, but for the midsize sedan class (dare we say Luxury Class?), the Mazda6 really does impress at the pump. And on the road.
On the downside, some drivers found the Mazda6 "too stiff" (chortle). Sport, Touring and Grand Touring – all three available trims can all be a little stiff when you drive them. (I concur, it was stiff.) But is that really such a bad thing? Stiff is how many men prefer their highballs and how it hangs when out in public. Apparently, the ride gets stiffer when you use 19 inches of girth in the wheels, as it is with the higher end '6' trims – which makes sense. The thicker it is, the harder it is and, well, sometimes when you hit a bump, that stiffy-ness will make you say 'ouch' in your arse – as you hit a soft spot – in your journey, or the road. So take note" the '6' is stiff but others are softer. For comparison, check out a detailed review of the 2015 Subaru Legacy by fellow Gaywheeler Casey Williams.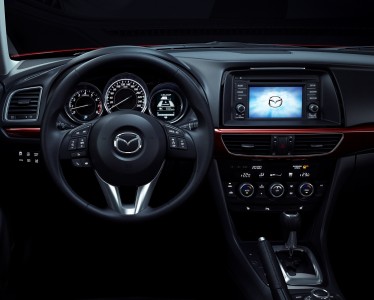 One safety feature that I love is a "crushable" brake pedal assembly. When I worked in the hospital, we often had car crash victims come in with serious damage to their legs and lower bodies because the brake, general one big stiff piece of metal, would literally crush the driver and, in many cases, cause very serious injuries. With a brake pedal that is indeed crushable, it basically collapses so that, should you be in a front-end crash, you won't get creamed by a piece so stiff that it really can cause internal bleeding. Bravo to Mazda for this one!
Other than stiffness, the only other complaint about the '6' is the optional touchscreen control center. Coming in at 5.8 inches (others give you at least 8 inches), this almost-six-incher comes with something called a Commander Switch, but I can't say it made navigating this system any easier. It was confusing, seemed slow to respond and cumbersome, though I admit I still haven't been able to program my Bluetooth without assistance. The navigation system is powered by TomTom; take from that what you will.
There are lotsa options available: Blind Spot Monitoring, Lane Departure Warning, Rear Cross-Traffic Alerts, Radar(based) Cruise Control, Bluetooth (should be standard). New this year is an exterior color called Deep Crystal Blue. Soul Red or Deep Blue, the colors just keep getting gayer – just like society.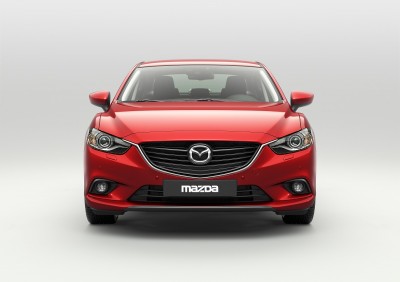 MSRP starts at $21,190, but for anything decent, plan on $25-$30K. But, wow, the 2015 Mazda6 is a car that is tough to beat, even though U.S. News ranked it 11 of 21. If I could afford one, I would seriously consider this car.
And if I could buy this car, hopefully they will give me the keys before they discovered that they accidentally approved me based on my father's credit score and not mine.