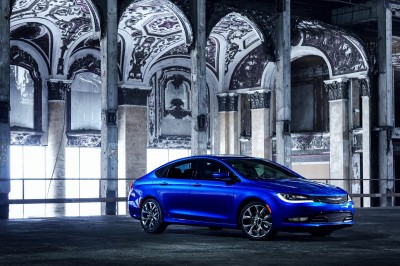 There may now finally be a car that can save all us fabulous types from the dangers that our beauty presents to the world, especially when we are spiraling out-of-control at 30 miles an hour or more.
Here she is, the 200 from Chrysler, the same people who brought us the Gayest Car of the Year, the Fiat 500L. The 200 was born almost six years ago to mixed reviews, even by current Chrysler head Sergio Marchionne, who at one time called the 200 "impractical". Considered the little brother of the 300, this car has its fans and ignorers, but now, it just may have what it takes to win the big crown – and this time, she will have won it based on talent.
For starters, it's a very safe car. Already the 2015 Chrysler 200 has been named as a Top Safety Pick Plus by the Insurance Institute for Highway Safety. According to news releases, approximately 65 percent of the 2015 Chrysler 200's body structure consists of hot-stamped (sounds gay) high-strength (sounds yummy) steel. That should protect you from other vermin that travels fast and gets distracted by your beauty.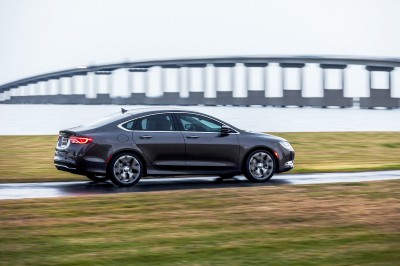 Ever wanted your car to slam on the brakes before your hair and outfit for the night are ruined? The 200 will offer the optional Adaptive Cruise Control-Plus "that, under certain circumstances can bring the [car] to a full stop without driver intervention." To further protect your ensemble, you can also opt for Full-Speed Forward Collision Warning-Plus, a feature "that provides autonomous braking and, under certain circumstances, slows or brings the vehicle to a full stop when a frontal collision appears imminent." Just like at the bar when the bouncers see a wig-snatch or a heel-throw coming, this feature will save your bum and your face, though you may still get one or two highballs thrown in the puss.
And how about those nights when you think you are too big for a tight space on a dark and sleazy street? Chrysler will also offer ParkSense Parallel/Perpendicular Park Assist, which "uses ultrasonic sensors to guide the driver into parking spaces." To put it in terminology that is more gay-friendly, Chrysler will help you do it side-by-side or at angle with your eyes squinted. Thar she blows indeed!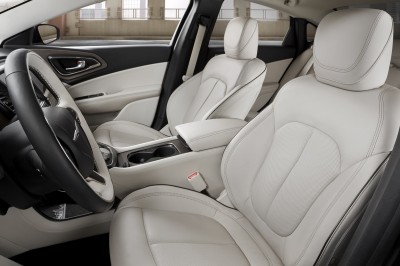 And here is a must have for all gays who largely beauty with some genre-specific brains: SafeHold is another snazzy featurette that "secures the vehicle if the driver opens the door and unlatches the seat belt while forward or reverse gears are still engaged." With SafeHold, there is no more worry about unlatching the belt to grab the cheeseburger and chili fries that are just out of arm's reach. The 2015 Chrysler 200 will know your dance class limitations and take appropriate action, all without saying a word.
These are some big firsts for Chrysler. The 200S starts at around $22,500 and will give you an estimated 36 mpg hwy. To be sure, All-Wheel Drive has never been cheap: the new 200S with AWD, which starts at $28,695 (as driven), is testament to that. But given all this 22nd Century technology soon to be at your fingertips, you may want to consider the 200 as a bit of an insurance policy. Of course you're not going to screw up while driving , but in case you do – just like the time you botched all the Lady Gaga lyrics at karaoke – you can now finally count on your car to save you ….
… from yourself.