If you've never thought about test driving a Mitsubishi, you are not alone.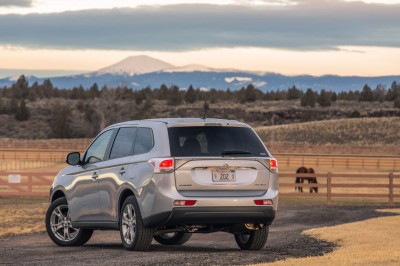 The Mitsubishi Outlander (who?) has been completely redesigned fro 2014 ….. but you aren't seeing it anywhere near a red carpet. Long overlooked in the small SUV category, the name does take a lot of oxygen to speak and the impressions have always been kinda flat. Yet, I gotta tell, I really like this peppy little hot tamale. This car drives well, there is plenty of room for four adults and it does look good.
I drove one that is Rally Red on the outside and Leatherman Black on the inside. Despite a rather ordinary body style, this Outlander stood out and had me seeing Starz. The Rally Red exterior color makes the car look sporty – and is a color that can go with just about anything you are wearing. The black interior is one of the best daytime black hues that I have ever seen. The dashboard in particular stands out without being over-the-top or in-your-face. It's informative and sexy – and isn't that what we are all looking for on our excellent adventure to the loves of our lives? Looking at some of the other available color combinations, I would go with the Red/Black. It really does look great.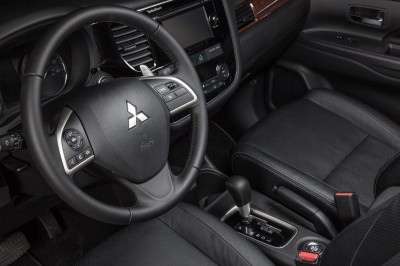 The mileage is better too, but just slightly. My one complaint is that this Outlander is billing itself as a seven passenger vehicle. Really, kids? Trust me, space is at a premium in the Outlander, for both humans and hardware. I don't know why they added a third row, because even the smallest twinks at the park could barely get in there, much less with all their electronics.
And yet … I love the 2014 Mitsubishi Outlander. It's a nice little car with a lot of style and a lot of features that can be had for an average of $25K. Some critics find it underwhelming. Well, indeed, but as you know from many a street fair, you don't need a stage star to have a good time. If you want a small SUV and interior space is not too much of a concern, you should truly check out this car.
A hybrid model was supposed to be on the continent by now, but it looks as if that won't happen until Hillary Clinton is president (I'm just saying). Earlier this year, fellow Gaywheels writer Casey Williams reviewed the plug-in Mitsubishi Mirage and found many of the same endearing qualities I found in the gas-drinking Outlander. Casey found his Mirage to be neither ugly nor beautiful, and described it as boxy and (in this case) loaded. Sounds like everything I could ever want for a weekend romance in Palm Springs.
Admittedly, the biggest strike against the 2014 Outlander is its nameplate. Mitsubishi is big, big business in Japan but the U.S. only got its first consumer glance of the company as a maker of aluminum foil, never quite replacing Reynolds Wrap. Next thing you know, Mitsubishi is making cars and selling them here in the States. The name never quite caught on, and even today, when you think of cars, the name Mitsubishi never comes up….
….Which is maybe why you should think about getting one, especially you counter-culture types who really are counter-culture. For some, you are what you drive, but that can come with a hefty price, and ultimately, you will have to fall back on your brains or your wallet, neither of which may save your asp even if they are, like Casey's Mirage, loaded. The 2014 Mitsubishi Outlander will give you and your friends something new to discuss and enjoy – and leave you with a bit more money for a large 'everything' pizza.
Rally Red, Leatherman Black and you with an 'everything' hot plate. Now there's a show!