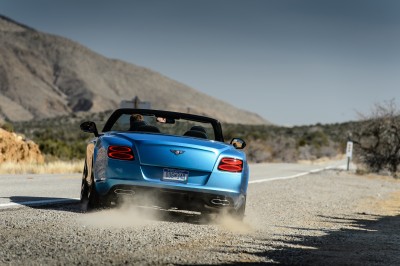 Bentley's arc reaches from the Fabulous Bentley Boys' 1927-1930 victories at LeMans through its marriage with Rolls-Royce, cars like the '50s R-Type Continental, sale to Volkswagen Group in 1998, and straight to the Royal Mews where sits Queen Elizabeth II's Bentley state limousine.  No car better combines all that is Bentley than the Continental GTC V8 S.
There's no rolling quietly without notice when your conveyance is painted Glacier Blue, approximately the shade of a baby boy's blanket.  It's hard to discern whether people are whipping their necks because of the color or the "Flying B" badge on the decklid.  I'm guessing both.
Anybody familiar with Bentley heritage will clearly identify the Continental.  Its mesh grille dates to the beginning of the company and looks great bracketed by four round headlamps.  But, look at the side profile.  Those fenders are aluminum, but the accentuated rear forms come straight from the '50s Continental and neatly hug 20" alloys.  Plant those Pirellis hard to experience the merits of a sleek 0.32 coefficient of drag.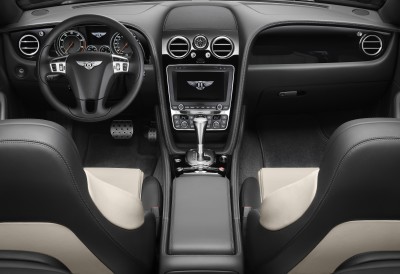 Note details.  The tight canvas hood is insulated with a suede headliner – all part of a four-layer assemblage that minimizes wind noise, but lets in the elegant patter of raindrops.  There are 8 standard canvas colors, more on request.  If bright blue is not your favorite, an online configurator shows nearly infinite color choices from bright orange to gray and green.  It takes a mere 110 hours to transform body panels from bare aluminum to polished artwork.
Open the big door to experience what makes a Bentley special.  It takes 12 bull hides to upholster the cabin.  Those bovines hail from Northern European herds that graze in higher elevations to minimize insect bites (seriously).  They smell divine.  Colors are virtually limitless; our car's porpoise hides with beluga stitching were nice.  Wood veneers are book-matched so opposite sides of the dash reflect each other.  Five layers of lacquer polish a wide selection of species to mirror finish.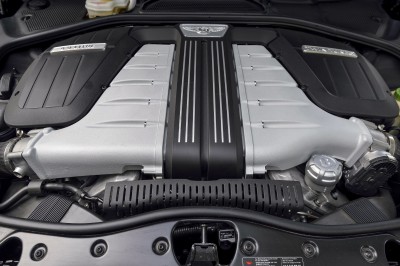 Enjoy it all while listening to the cherubic Naim for Bentley audio system ($7,300 upgrade) and fondling the chrome organ pulls for ventilation.  Navigation, automatic climate control, and CD player are givens.  Our car was also specified with heated/cooled front seats, neck warmers for cold-air open-top motoring, and seat massagers.  Infotainment inputs and controls are not quite to contemporary standards, but their simplicity lets you enjoy driving.
If your mind is spinning over the composition of numbers that makes a GTC, here are a few more:  0-60 mph in 4.5s, top speed around 200 mph, and 14/24-MPG city/hwy.  All of that comes courtesy of a 521 horsepower twin-turbo 4.0-liter V8 engine connected to a paddle-shifted eight-speed automatic transmission and full-time all-wheel-drive.  The chassis can be tuned on a continuum from Comfort to Sport.  No setting will splash your latte.
Stepping into the throttle on a wide-open four-lane highway, the heavy car gathers speed like a Gulfstream jet hurrying across the Pacific.  You hear the throaty sport exhaust and feel yourself sponged into the deep leather seats, but there's nothing juvenile.  It's a car for adults – albeit ones with a sense of humor and an appreciation for fine living.  Much of the architecture is similar to the Audi A8, but that only gives the GTC a reassuringly solid German feel.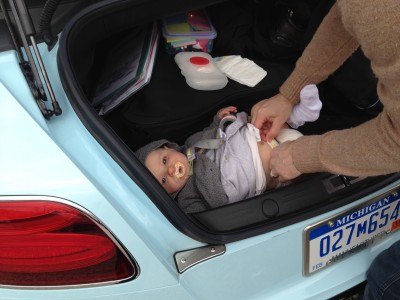 I'm sure there are more convenient baby changing stations than the trunk of a Bentley, but none are better upholstered (hey, when you're out, babies do things).  My 8-month-old daughter had no complaints about the thick carpeting, leather pulls, or power lid.  Even with the tonneau cover stored, there was adequate space for her stroller.  I imagine enough Globe-Trotter luggage for a week abroad would also fit, if just barely.
Americans tend to indulge instantaneously, but globally most Bentleys are bespoke.  Commission rather than buy.  If you're unimpressed with the paint, hide, veneer, and hood options readily available, Bentley will gladly forward your requests to its Mulliner customizers to grant your every wish.  They can custom-match almost any color, including your wife's fingernail polish.  Don't like cowhide?  Pick an animal.
At price points beyond $100,000, you're not really buying a better machine – you're paying for exclusivity, personalization, craftsmanship, and unquestioned pedigree.  With a base price of $216,200, or $251,070 as tested, you'll get plenty of all that in the GTC V8 S.
Storm Forward!
2015 Bentley Continental GTC V8 S
Four-passenger, AWD convertible
Powertrain: 521hp 4.0-liter TTV8, 8-spd. auto transmission
Suspension f/r: Electronic Ind/Ind
Wheels: 20"/20" alloy f/r
Brakes: disc/disc fr/rr
Must-have features: Craftsmanship, Performance
Drag coefficient:  0.32
0-60 mph:  4.5s
Top speed:  200 mph
Fuel economy: 14/24 mpg city/hwy
Assembly: Crewe, England
Base/As-tested price: $216,200/$251,070