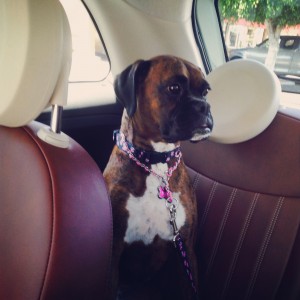 My name is Roxy Hamel and usually in these reviews where I am allowed to "decide" which new car is better according to my point of view you don't really get to hear my true voice. Well, that was down to the fact that I didn't know how to type but then I realized if an idiot human like my owner can do it, then so can I. And no, I don't hunt and peck. And besides, I felt compelled to paw this particular comparison test myself as it has the elements of all the spookiest mysteries—"Scooby Doo," "The Silence of the Lambs" and how the judges were chosen for "America's Next Top Model." We suppose those who can't do, judge (Canine side note: We are talking to whoever decided to label Tyra Banks a "Supermodel." The only thing "super" about her is the size of her ego and forehead.) And so even though I can't drive I still sure as heck judge every single vehicle I climb into.
Soon after I was adopted from Boxer Rescue Los Angeles by my servant, you might foolishly insist on calling him my "owner" so I will abide by the customs of my audience, went out and bought me a brown safety harness for all my car rides. They just attach to either the belt buckle or safety seat u-rings to keep me safe in case of an accident and at least on me the harness is very slimming and chic. That's why, much to my horror after spending all that time color coordinating my brown outfit, I could not believe my eyes when I saw the hues of green adorning our two testers this week—the 2015 Fiat 500 1957 Edition in something close to a light mint green and the 2015 Mitsubishi Mirage in a deep Kermit the Frog style green.
I call the story of living with these two very green (but in really different ways) mini-subcompacts "The Tail of the two Green Cars I Mistook for Monsters." But make no mistake, they both taught me that even a beauty like me can learn that true gorgeousness and brilliance lies beneath the surface. Remember that the next time you are in a West Hollywood gay bar surrounded by guys all wearing T-shirts so tight they could have only been purchased at Baby Gap. Your soul mate just might be the guy in the corner wearing a loose fitting Nike T-shirt, shorts and converse possessing more than 7% body fat.
So read on to find out which one I liked more and what I thought of the much recently maligned Mitsubishi or if I will copy so many others who review cars and bag on the Mirage simply because I drove a $150,000 Mercedes S-Class the week before. Oh wait, no, before this I was an abused dog who ran away from her family and chose to live with a group of homeless people. I don't think any of them had an S-Class. (James: That last part about running away from home to live with the homeless in true and verified by Roxy's saviors at Los Angeles Boxer Rescue.)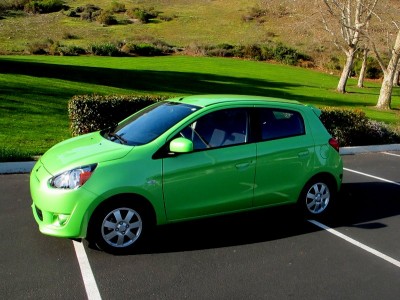 The 2015 Mitsubishi Mirage ES
The worst part is that this car, the 2015 Mitsubishi Mirage, was the victim of my very own canine negative first judgment simply because I judged a book by its cover. I had just been recently rescued by my co-writer James and as my last family beat me so badly most everything scared me. Loud noises, people walking behind me, frighteningly loud shades of green. Just apparently not homeless people.
The only thing semi-negative we can say about the 2015 Mitsubishi Mirage ES tested here is that the 1.2 liter 72 horsepower 3-cylinder feels and sounds strained when mated to the CVT automatic transmission which admittedly helps this little hatch return 37 city/44 highway EPA fuel economy numbers. Under full acceleration the CVT and engine sound something close to the noise Donatella Versace makes when smoking a pack of Marlboro Reds while exercising on a Stairmaster. We definitely recommend buyers consider saving $1,100 and purchase their Mirage with the 5-speed manual transmission as small engines like this always perform better with a three pedal arrangement.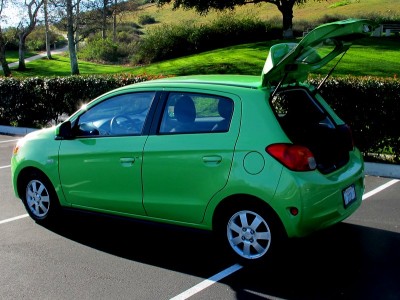 Back when I was afraid of everything including my own shadow, I remember a night when my owner got me out of the Mirage and I startled myself after I looked back and noticed the car glowed just as green in the pitch dark night. Then, of course, a neighbor suddenly appeared from around a corner and in a panic I managed to wrap my leash around the legs of James my owner and tripped him causing him to spill a Big Gulp of Diet Coke on himself. To top it off he somehow landed on his middle finger and broke it causing him to emit a series of epithets which sounded a bit like a foul mouthed sailor with Turrets Syndrome.
Immediately my mind raced back to my four years with my first family, living in constant fear and loneliness. I remembered whenever my last owner yelled, I was in danger and would most likely soon be hit or kicked. My only value to him was that he could breed me by force and sell my puppies for a profit. Once I could no longer be used for that purpose he tossed me aside like used garbage. So with my mind in that place again, I panicked and ran as fast as I could from my new owner.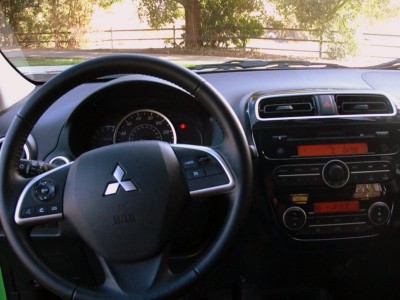 I knew he was different in his heart but I couldn't forget my past. James tried to grab me but only managed to remove my collar with my ID tag and subsequently lost track of which way I went. So began the longest night of worry in his life, he later told me. Thankfully a brave 16 year old neighbor at the far end of his apartment complex saw me running towards a busy street and ran after me in his bare feet. I finally stopped and froze when I realized I was standing in the middle of a normally busy 6 lane road.
I should not be here to tell this story but my young hero ran fearlessly into the road, picked me up in his arms (I only weigh a demure 44 pounds on a good day) and took me home with him. I came in, made friends with his dogs, had a snack and snuggled with him on his sofa for the entire night. On any other occasion I might have decided to not go with a person not wearing any shoes that I didn't know (thereby judging a book by the proverbial cover) but I would not have learned that even in this day and age good Samaritans do exist. And I wouldn't have learned later that this little Mitsubishi available in so many wild exterior colors is in fact a car with plenty of attributes to recommend it.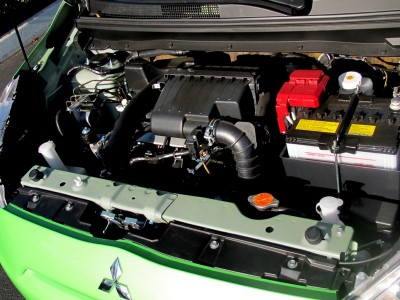 As I rested in comfort James drove the 2015 Mitsubishi Mirage ES all over the neighborhood calling my name looking for me. Some may judge this little car that starts out at just $12,995 well equipped ($15,395 as tested) harshly but that night the man most people call my owner appreciated the standard fit bright halogen headlamps, climate control and power windows so he could yell my name out the window as he slowly drove around the neighborhood.
The ES model we tested also had alloy wheels, push button start, Bluetooth, USB/i-Pod integration, a CVT automatic transmission, a 6-speaker AM/FM/CD audio system, power door locks, power mirrors, optional in-dash navigation system with back-up camera and a 10 year/100,000 mile powertrain warranty that is fully transferrable to the second owner. And I know sometimes in life you get a second owner. Even if I call mine James.
The next morning, as my owner was heading off in the 2015 Mitsubishi Mirage ES to check if I had been turned in at the local animal shelter, a friend of his noticed a truck in his parking lot from Animal Control. While he was more than a little worried about my well-being, when he walked into the apartment where I had been luxuriating I swear I was never more excited to see anyone in my whole dog life. I was even overjoyed as I jumped into the backseat of the green 2015 Mitsubishi Mirage ES which was such an integral part of a lesson I, and most people, really should learn. Don't judge a car by its color. Seriously.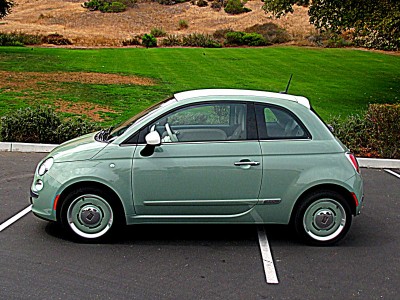 2015 Fiat 500 1957 Edition
So, out of one green hatchback that looked like a frog whose girlfriend goes by the name Ms. Piggy and into a smaller, less utilitarian two-door hatch whose shade of green reminded my owner of the color of his parent's kitchen in the early 1970's. Hey, 1957 could have been the last time it was remodeled. I did mention he was old, right? I would say those comments about his age would put me in the doghouse but I live in his house and sleep on his bed most of the day so really my "doghouse" is my owner's house.
Now, I must say that as a sophisticated girl I do prefer the easy entry and exit offered by four door vehicles to the back seat where I always ride. So that is one negative thing about the 2015 Fiat 500 1957 Edition which is somewhat overcome by the ever so Italian interior flair enhanced by model exclusive dark brown leather on the seats with contrasting white headrests and dashboard. Brown and white interior with a light green exterior? How does that not clash horribly, you ask? Well, if you aren't Italian you wouldn't be able to figure out how to make that color combination work but Fiat sure did.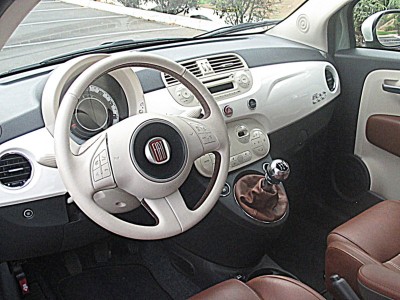 The car even comes with truly retro 16-inch chromed out alloy wheels that look like giant saucers with a matching ring of light green around the center. The effect is pleasingly historic in feel as we have never seen another modern car with a color scheme like this and despite being slightly taken aback when I first looked at our 2015 Fiat 500 1957 Editon tester's appearance, I soon found myself enjoying the look.
Even my owner, who fretted about the 500 1957 Edition's 1.4 liter 4-cylinder only having 100 horsepower found himself really enjoying his time driving it thanks to a slick and smooth five-speed manual. Those were his words, not mine. He just drives me around. And I can always tell he is enjoying a car when he rolls down the windows and sings along to whatever atrocious pop song comes up on his i-Pod. I do like watching people stare at him.
There is one catch to all of this. The 2015 Fiat 500 1957 Edition stickers for a bit over $21,000 which seems a bit pricey even though it does come with a special sport tuned suspension, heated front seats and side mirrors, Bi-function halogen projector headlamps, a premium audio system with USB/i-Pod integration and the really luxurious leather seats that the Mitsubishi lacks. Otherwise the Fiat comes with every feature the admittedly feature laden Mitsubishi Mirage ES comes with as well. So which one did I prefer?
…And we Let the Dog Decide
Well this is a tough one to call as I discovered things to like about both of these uniquely green hatchbacks. But to qualify things, based upon their sticker prices the 500 1957 Edition is more of a statement of style and fashion while the 2015 Mitsubishi Mirage is simply a great value. Plus, if you like your purchases covered by a warranty the Mirage simply cannot be beat by any automaker. So, in light of the lesson it also taught me the winner is the 2015 Mitsubishi Mirage. Remember, it ain't easy being green.
(Roxy Hamel , the voice of this piece, is a 5 year old boxer dog who James Hamel adopted from Boxer Rescue Los Angeles. She now works as a freelance canine auto journalist along with James.)