My favorite new show for 2015 is Galavant, ABC's new comedy about a medieval hero called Gal (short for Galavant) who comes to save the people of Valencia from the queerly evil and very campy King Richard (his older brother calls him Little Dickey) and his hunky henchman Gareth (or Gar-Bear). One of the hotties of the show is the Jester, whom the Queen uses as a boy toy. Jester tights with curly toes, combined with a poofy hat and feathers, have never looked so stud-ly.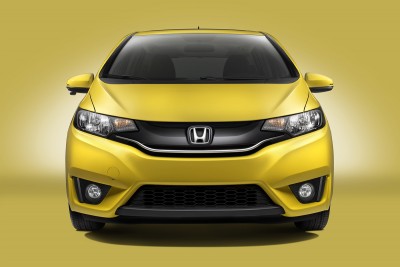 Now, with the 2015 Honda Fit, you too can be a stud-lee jester – or Queen for a Day – as you drive along in a spacious compact car that is great on gas, fun to drive and comes in a variety of cool gay colors. The one that I tested was Euro Yellow – admittedly something that is easy to mispronounce to make sounds like a laboratory sample.
This is a fun, peppy little car that comes with a lot of standard features, to include some quirky yet necessary items like rear seat cup holders, a CD player (which is going the way of the cassette player and the Bronto-burger) and steering wheel-mounted audio controls. The only real downside, experts agree, is the control panel (more on that below). And for some critics, and I do mean critics, the newfound fuel efficiency takes away from the sportiness of the car, unless you get the manual transmission, and even then …. Suffice to say that the 2015 Honda Fit is perfect if you live in the city, need a car just to cross the street or have what's known as off-street parking.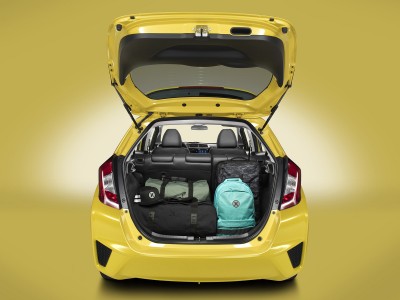 Indeed, the wild world of automotive writers really likes the newly redesigned Honda Fit, to include our very own Casey Williams, who was A-List enough to test this baby last year while I was still driving 2014s and listening to Robin Thicke. Casey notes how the Fit is quirky and the audio controls are yucky – but honestly, I am not stealing any of his research for this piece. Really. We, as great minds, just happen to think a lot alike. Really.
What was basically a small car and little else is now a compact speed machine that has a lot more room and a lot more neat-o keen-o features. For example, you can finally get the Magic Seat you've always wanted when you buy a Honda Fit. Much like those seats you see at adult leather markets, the ones that can bend and fold and stretch into any shape you like, Honda's Magic Seat is in the rear (giggle) and it can fold down, fold back, pop-up and adjust the interior space so that you can get everything from your grandmother's oak dining room table to that not-so-portable sling inside the Fit – and it will all fit nicely.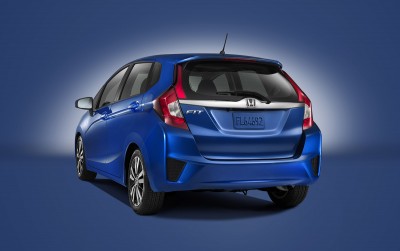 Optional on the Honda Fit is a passenger side camera, which means that every time you put on your blinker to turn right, the camera pops up on the display screen. This is a helpful tool, because it does alert you to cyclists (always a cranky crowd), that wayward school child or Love Child, or the occasional hunk who is jogging in the bike lane wearing nothing but Lululemon. This camera can also be a bit annoying, however, because it just pops up the moment you decide to go right, politically or otherwise. As with most new toys that impress in the hands of first adapters, caution is advised.
The Honda Fit also has an HDMI port, just like the one you have on your flat-screen TVs. This allows you to watch movies, videos, content, adult content (like the Sophie Reade cam show live on webcam) and whatever you desire on the dashboard screen as you drive. I was in a cab in Atlanta once where the cabbie had jerry-rigged an HMDI connection and was watching some strange soap opera entertainment – while driving me to the Hartsfield-Jackson Airport. That was wild and oddly entertaining, but again, caution is advised, even in Atlanta.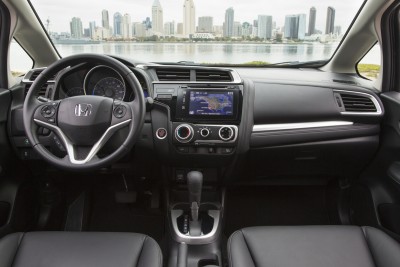 Now, more on those steering wheel audio controls. While the concept sounds nice, what it means for the 2015 Honda Fit is that there is no longer a physical button for volume on the dash. If you want to turn down the volume, you have to hit the slide on the screen just right, or in this case, use the button on the steering wheel. Rather than instinctively switch stations or devices by using just your hands, now you have to memorize what is where and what it will do. It's a lot like going to an orgy and being required to know everyone's name before the fun starts. I didn't like it, most car sluts (I mean, journalists) don't like it either, but it's not enough to keep you away from being Fit. Just study before you hop in and go nuts – which is what I guess you really should also do before diving into an orgy. Guiding Life Advice from Honda: who saw that coming?
Truly, The Honda Fit will fit nicely into your oh-so-gay life, whether it's over-the-top or understated and underperforming, as mine sometimes is. You can have the Fit in any color or combo platter you wish. In fact, how about building a paper Honda? The S2000, a Back-to-the-Future car if there ever was one, was canceled awhile back, but that doesn't mean you can't build one. Click here for a little fun that really does involve paper and scissors so you can rock!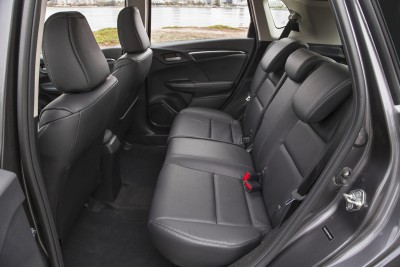 Finally, I'd like to give a great big bear hug and Thank You to fellow Gaywheels scribe James Hamel, who very thoughtfully took note of my continual Fast and Hard performances in his great humerus review "Ten Hard and Fast Rules for Picking the Color Combination for Your Next New Car." Yes, I do tend to have too much fun with fast cars, hard guys, double entendres and other French foods when I am reviewing a car for Gaywheels. James' observations about car colors were spot-on and funny, especially his advice that Battleship Gray is an interior color used in prisons and minivans (which is where my favorite adult short film, Suburban Dad Meets Horny Parole Officer, was shot). James is also right about being careful with a red velvet interior, though it does hide red velvet cake crumbs rather nicely. Thanks, James. I'll be sure to avoid the tapioca pudding but I must have my red velvet cake. Growl!