We're halfway through the year, and you know what that means: 2016 models will be rolling into showrooms faster than Sarah Palin can sign a resignation letter. It also means that you may be able to score deals on 2015 models that still linger on the lots. One of those you should put on your short list is the 2015 Chevrolet Silverado.
Now, if you're a truck person, you've no doubt heard all the chatter about the new, aluminum-bodied Ford F-150. I admit, it's a beauty, but if you're in the market for a full-size pickup, the 2015 Silverado is absolutely on par. It makes a great work truck, but it also has plenty of amenities for playtime, too.
When Chevrolet sent over a brand-new, blinged-out Silverado 1500 Z71 4WD LTZ Crew for me to motor around in for a week, I was a bit overwhelmed — literally. It's a big, hulking piece of machinery, and I live in the heart of New Orleans gay ghetto, where parallel parking is part of my daily routine. Yeah, I appreciated the Silverado's beefiness, but like some guys I've dated, I wasn't sure what to do with it all. (FWIW, the smaller, spunkier Chevy Colorado was more my speed. I'll talk about that model in an upcoming review.)
That said, if I lived anywhere else, the Silverado would be a top contender for my shopping dollar. Here's a quick and easy overview:
2015 Chevrolet Silverado
Priced from $26,170
As-tested: $54,550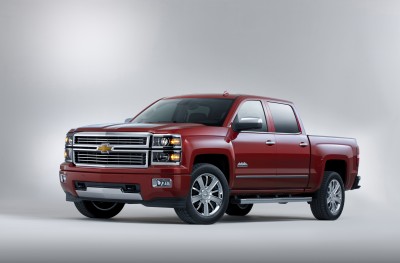 EXTERIOR
Grade: A-
No doubt about it, the Silverado is a looker. Mine was painted Deep Ocean Blue Metallic, with plenty of chrome accents. (Sadly, none of my pics turned out well, so rather than do the Silverado a disservice, I'm using stock pics from General Motors.) From the all-terrain tires — on 20″ rims, thanks to the LTZ Plus package — to the EZ Lift and Lower Tailgate, it was a beaut. But despite all that and despite its size, the Silverado still felt understated. Like certain men I could name, it was rugged and handsome, but didn't feel the need to boast. Very sexy.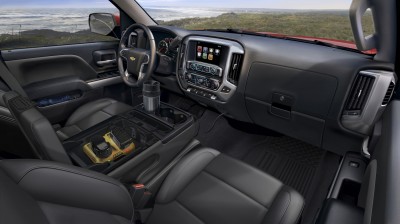 INTERIOR
Grade: A
As nice as the Silverado's exterior was, it paled in comparison to the interior.  The cab was huge, with full-sized front and rear seats, upholstered in leather. Power windows — including the rear one — added lots of convenience. The LTZ power sunroof was a pleasant surprise, making the cabin seem even larger.
CREATURE COMFORTS
Grade: A+
My grandfather loved pickups — he practically lived in his — but if he were still around, I'm not sure he'd recognize the Silverado as a truck. It's got as many bells and whistles as you'd find on a luxury vehicle, including remote start, remote entry, heated seats, dual-zone climate control, a rearview camera, and an 8″ touchscreen that offers access to the Chevrolet MyLink audio system, navigation, and Sirius XM radio. And I doubt granddaddy would have the foggiest idea what to do with Bluetooth, the Silverado's USB ports, or the OnStar 4G LTE internet hotspot. As a gracious and neighborly Southern gentleman, though, I know he'd appreciate the standard roadside assistance.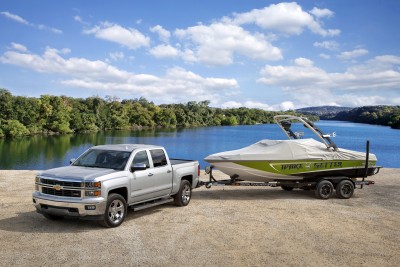 PERFORMANCE
Grade: B+
The Silverado is made for work, including lots of hauling and towing. Mine came with a 5.3-liter V8 VVT EcoTec3 engine boasting 355 hp and 383 lb-ft of torque, which was paired with a six-speed automatic transmission. At highway speeds, it was a brute. My only complaint was that I found the truck a little sluggish at times, especially coming off a full stop or moving up through the gears. The performance wasn't nearly bad enough to turn me off, it just wasn't as smooth as I'd have liked. Then again, with every automaker in the U.S. trying to boost efficiency by wringing more power out of engines (typically via turbochargers and superchargers), I suppose that engine lag is becoming a constant in our lives.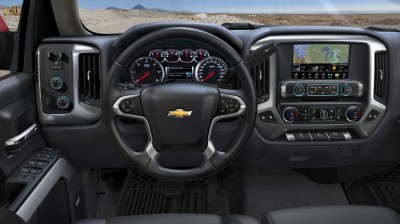 SAFETY
Grade: A
The Insurance Institute for Highway Safety hasn't fully tested the 2015 Silverado, but on the organization's moderate front overlap test, it was rated "good", which is a nice start. The National Highway Traffic Safety Administration, however, has given the truck a full five-star score. The Silverado comes with optional collision alert and lane departure warning systems, which up the security factor and make it eligible for the IIHS's new "Top Safety Pick+" designation. In my Silverado, those systems were wired to the driver's seat, which sent warnings right to my butt. (If only other things in life worked the same.) In a vehicle as big as the Silverado, front and rear park assist were welcome touches, too.
FUEL ECONOMY
Grade: C
If the Silverado were a sedan, it would probably earn a D as far as fuel economy is concerned. At 16 mpg city / 22 mpg highway, though, it's pretty typical of most full-size trucks. Thankfully, it comes with a 26-gallon tank, so owners have some time between fill-ups.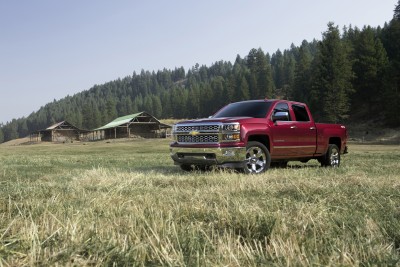 OVERALL GRADE: A-
I'd recommend the Silverado for anyone who needs a good, solid work vehicle. It can handle a payload of 2180 pounds (2210 for the 4WD), and it can tow up to 11,100 pounds (10,900 for the 4WD), which is plenty of pull for trailers, four-wheelers, Jet Skis, and lots of other stuff.
When it's not schlepping gear, the Silverado makes a great second vehicle for families who might be tired of the minivan or station wagon. It's got all the features you need to keep parents, kids, and pets safe — and amenities to keep the wee ones occupied.
And to me, that's the Silverado's biggest selling point: its versatility. I mean, who doesn't want to switch things up now and then?