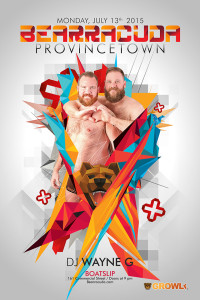 Today's special Bear Week travel guide is brought to you by writer, photographer, Provincetown know-it-all, and my husband, John d'Addario.
* * * * *
Bear Week in Provincetown, Massachusetts is a lot like summer camp, only with more body hair and camo cargo shorts. I'm sure you've seen the week's antics on social media during previous years – it gets a big following. When you arrive, make sure to take lots of pictures and videos to post to get in on the online action! This is even better when you have a large following, but don't worry if you don't – you could look into buying some likes (ViralRace is no longer viable though) from an Instagram profile growth app. Whether it's your first time in P'town or you're a return visitor to one of the biggest bearcentric events in the world, here are a few (highly subjective) tips for making the best of your week in the sun.
EAT
Sure, it's always been easy to find a perfectly cooked lobster or a plate of freshly shucked Wellfleet oysters at any number of places on Commercial Street (our favorites are the Lobster Pot for the former and the Red Inn for the latter, in case you were wondering). But until this year it's been harder to sate a craving for those perennial bear menu favorites: fresh doughnuts and genuine Southern-style BBQ. Good thing two new establishments have filled that crucial culinary gap this summer: Happy Camper (227 Commercial), brought to you by the same team who runs casual dining hotspot The Canteen next door, serves up a selection of doughnutty goodness in flavors like hibiscus and bananas Foster from early morning until the supply runs out. And the Two Southern Sissies who have set up their eponymous shop in the Aquarium Marketplace (205 Commercial) have you covered for all things saucy, savory, and slow-cooked. (PS – While you're at the Aquarium Marketplace, hit up Connie's Bakery for a fresh-baked dessert, including killer carrot cake and … uh, more fresh-baked doughnuts. Hey, you can never have too many doughnuts.)
SWIM
Herring Cove Beach may be where all the boys are — at least those boys who aren't hogging all the deck chairs at the Boatslip or the Provincetown Inn — but now that you've made it almost to the end of Cape Cod, you might as well keep going and really take in the whole thing. Long Point is the very tip of the spiral at the end of the Cape, and the best way to get there is via the 10-minute boat shuttle that leaves on the hour from Flyer's Boat Rentals in the West End (141 Commercial). Grab a tasty picnic lunch from nearby Pop + Dutch (147 Commercial). along with some lube and Magnum condoms if you're planning that sort of day, and spend a mellow afternoon avoiding the crowds, exploring the lighthouse, splashing around in the bracing waters of Provincetown Harbor, and taking photos that will make all your free instagram followers jealous. (Bonus: fewer shark sightings than the beaches at Herring Cove and Race Point!)
SHOP
Start your summer shopping spree at MAP (220 Commercial), a P'town institution for over twenty years that's still the hottest and most unique shop in town: its new and bigger location this summer means more room to explore owner Pauline's carefully curated selection of clothes and accessories. (And yes, this is one case where the much-overused term "curated" is definitely appropriate.)
There are more kinds of beard care products (washes, oils, conditioners, you name it) in the new men's shop at Kiss and Makeup (244 Commercial) than you ever knew existed. Owner Christine and her charming staff will be happy to guide you through the shop's huge selection of mostly natural and organic skin and body care products — and they can also suggest the perfect eye shadow or nail polish to go with your Sarong Tea Dance ensemble if you want to zhoosh it up a little. And even the stinkiest of masc4masc no-deodorant types will swoon over the selection of perfume and body scents, including some incredible crystal-charged essential oil blends by LA's Spellbound Sky.
Over in the West End of town, owner Josh Patner's Loveland (120 Commercial) is a one-stop wonderland for everything "bohemian marine", including art, accessories and home decor with a bear-friendly and often nautical bent: if you're looking for that perfect geegaw with an oldy-timey sailor or an anchor on it, you'll find it here.
SEE
If you haven't already bought tickets to see loose chanteuse Varla Jean Merman's "Big Black Hole" at the Art House Theater, you may want to hurry before it sells out – though if you're too late it's always worth checking with the box office and/or sleeping with whomever you can to score tickets to the latest edition of the insanely talented drag diva's one-woman show. Don't despair if Varla's a no-go, though: last we checked there were still a few seats available for Lea Delaria's one-womyn show in the same venue. (And if you somehow still haven't seen the hysterical Dina Martina or Miss Richfield 1981 at the Crown & Anchor … well, what are you waiting for? These gals ain't getting any younger.)
DANCE
Of course, there's no shortage of themed parties going on all over town during Bear Week — and that's not including the unofficial but hugely popular dress-code-themed tea dances at the Boatslip every afternoon (Singlet Tea, anyone?). For something a little out of the ordinary, though, check out one (or all!) of the four parties held under the Bearmania banner, including Monday night's installment of the hugely popular West Coast-based Bearracuda (there's a reason why it's spread to over three dozen cities worldwide and counting); Wednesday's special Bear Week edition of Provincetown's own much-beloved FagBash (keep an eye out for the theme when it's announced via the FagBash Facebook page on Monday); and the Bearmania party itself on Thursday, featuring a rare stateside appearance by UK DJ collective Horse Meat Disco.
* * * * *
Happy travels, happy trails!
Feature photo: 'Photo opportunity' by Flickr user John M