The Human Rights Campaign has just released its 2016 Corporate Equality Index, which grades companies across the U.S. on their LGBT-friendliness.
The good news is that HRC changed some of its scoring criteria this go-round, raising expectations for employers. And yet, despite the higher bar, more companies than ever received top marks.
The bad news is, plenty of companies aren't included in the survey — either because they didn't respond to HRC's query or because they weren't required to. So, we're unsure about LGBT employment policies at many major corporations.
WHO'S INVITED
Traditionally, HRC has sent CEI questionnaires to every Fortune 500 company, along with detailed information about how grades are assigned. This year, HRC mailed queries to the entire Fortune 1,000 list.
Not all of those companies responded, and quite a few non-Fortune 1,000 firms submitted their scores voluntarily. When all was said and done, HRC had data from 851 corporations, up from just 319 when the CEI debuted in 2002.
Even better? A record 407 companies — roughly 48% of the total — aced the survey, earning perfect 100s. That's a long, long way from the 13 A+ companies that HRC identified in 2002 and more than double the 189 perfect-scoring companies of 2012.
SCORING
HRC assigns scores on nine criteria, based on whether a company…
1a Prohibits Discrimination Based on Sexual Orientation for All Operations (15 points)
1b Prohibits Discrimination Based on Gender Identity or Expression for All Operations (15 points)
1c Has Contractor/Vendor Non-Discrimination Standards that Include Sexual Orientation and Gender Identity (5 points)
2a Offers Partner Health/Medical Insurance (10 points)
2b Has Parity Across Other "Soft" Benefits for Partners (10 points) (half credit for parity across some, but not all benefits)
2c Offers Transgender-Inclusive Health Insurance Coverage (10 points)
3a Firm-wide Organizational Competency Programs (10 points)
3b Has Employer-Supported Employee Resource Group OR Firm-Wide Diversity Council (10 points) Would Support ERG if Employees Express Interest (half credit)
4 Positively Engages the External LGBT Community (10 points) (partial credit of 5 points given for less than 3 efforts) Have internal guidelines that prohibit philanthropic giving to non-religious organizations with an explicit policy of discrimination against LGBT people (5 points)
If you remember last year's CEI, you'll notice a few differences in that list. Perhaps most importantly, HRC now considers employment policies across a company's entire operations, here and abroad. In other words, for a company to receive full credit for anti-discrimination protections, it has to apply those policies in the U.S., Europe, and wherever else it's set up shop.
Also, HRC has added a requirement that companies demand contractors and vendors have non-discrimination policies that cover both sexual orientation and gender identity. That's huge.
And interestingly, HRC expanded its "positive engagement" section to include a requirement that employers prohibit employees from contributing to non-religious, anti-LGBT groups. In other words, a company can't prevent workers from donating to the Mormon church, which has made its position on marriage equality abundantly, painfully clear in the past couple of weeks. However, to earn a perfect 100 on HRC's CEI, a company would need a policy that keeps employees from donating to lay groups that exist to discriminate against LGBT individuals.
HOW AUTOMAKERS FARED
Despite HRC's higher hurdles, six car companies earned perfect scores on the 2016 CEI: Ford, General Motors, Nissan, Tesla, Toyota, and Volkswagen.
That's a small dip from last year, when there were seven companies at the top of the list. Fiat Chrysler Automobiles lost five points for not having HRC's new philanthropic policy in place. Auto supplier Visteon earned a 95, too.
We're curious about Hyundai's 95 score. We've repeatedly been told that the company has different employment policies for white-collar and blue-collar workers — specifically, administrative staff are protected by LGBT-friendly policies, while assembly line workers aren't. If the CEI score is accurate, that's major news.
Subaru landed just a bit further down HRC's list at 85 points because it doesn't offer trans-inclusive health coverage.
Also notable: Honda has submitted information to the CEI for the first time ever. Though the company has a long way to go — particularly where trans rights are concerned — its score of 50 is a moderately respectable start. We hope it can increase dramatically for 2017.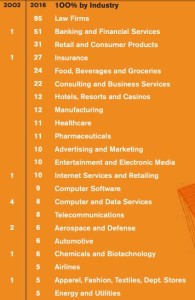 At the bottom of the automotive list, continuing a years-long streak of perfect zeros, we have Penske automotive group, one of America's largest dealership networks. You might remember that the next time you're shopping for a new ride.
Of course, many automakers are missing from the CEI, including BMW (BMW, MINI), Daimler (Mercedes-Benz, Smart), Jaguar Land Rover, Mazda, Mitsubishi, and Volvo, to name a few. All of those are based outside the U.S. and therefore aren't included in the Fortune 1,000. We hope that they follow the lead of Nissan, Toyota, Volkswagen, Hyundai, Subaru, and Honda and volunteer their scores next year.
You can download a complete copy of HRC's 2016 Corporate equality index here. Don't miss the sobering facts on page five (screenshot at right), which shows just how far the auto industry has to go on LGBT rights compared to law firms, banks, insurance companies, and other sectors.