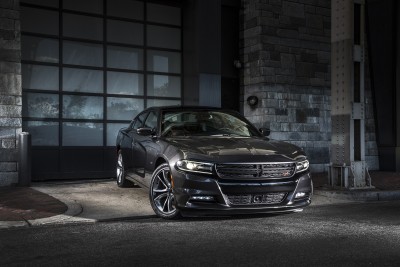 There's a difference between a race and rally. In terms of the Dodge Charger, you would race an R/T, SRT, or the all-mighty Hellcat, but you would rally, well, a Rallye. Edition, that is. To drive a Charger Rallye, you choose brains over raw brawn, a V6 over a HEMI, but the underlying car has game no matter its game.
Nothing is given up in sportiness and attitude as the car's got swagger streaming from its pinched gloss black crosshair grille, 19" alloys, hunkered fenders, spoiler and LED taillamps. Fans of The General Lee will recognize the side cove and fast rear roofline. While it's clearly a Charger, stylists updated the car last year with a more sloped hood, HID headlamps, and curved rear that better ties the car to younger Dodges like the Dart and Durango. With a couple of facelifts behind it, the Charger has aged gracefully over the past decade.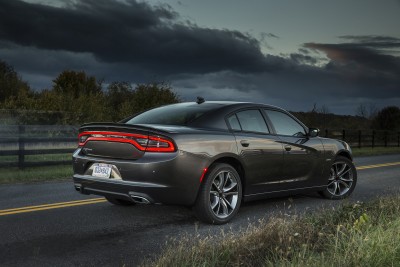 It's a big car, able to seat four very comfortably in black leather seats with beige inserts – heated/cooled in front, heated in rear. Grip the beefy heated leather-wrapped steering wheel. Designers added a hint of the expansive center console's machined aluminum affect to the background of the reconfigurable LCD instruments.
As in other Chrysler products, the Uconnect infotainment system with touchscreen, voice commands, and redundant controls below could be mastered by crayon-toting toddlers. Booming Beats audio with 552W amp, navigation, rearview camera, Bluetooth, USB, and navigation take it to the streets. Press the sport mode for more sass.
But be careful about how sassy you get because you won't find a HEMI V8 under the suave hood. Instead, there's a sprightly 3.6-liter V6 that delivers 300 horsepower and 264 lb.-ft. of torque – an increase of 8 hp and 4 lb.-ft over non-Rallye models. I know, I lose myself over HEMI thrust too. But, lopping off two cylinders still leaves substantial power to move a car the Charger's size no matter what sinister hellions tell you. It all routes through Chrysler's TorqueFlite eight-speed automatic transmission and all-wheel-drive. Paddle shift it if you please. Fuel economy rating 18/27-MPG city/hwy is quite good.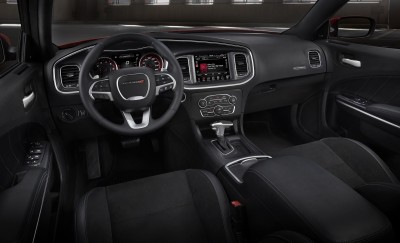 Helping power kiss the road is a chassis that traces lineage to the late-'90s Mercedes E-Class, cribbed when Daimler controlled Chrysler. Typical in old Mercedes, the Charger takes on the damped heaviness of an Autobahn left-laner, but there's more precision in the steering and suspension motions, allowing you to conjure changes in directions rather than man-handle them. Controlling the 19" steamrollers on each corner proves challenging no matter how good the suspension; bumps are still bumps, and they bump the big wheels thoroughly over big bumps.
Separating HEMIs from the natural world, there's nothing weak about a full-size muscle car with a 300 horsepower V6 delivering nearly 30-MPG hwy. That's smart power, expertly delivered. The interior is comfortable and Chrysler's infotainment systems are among the easiest to use. While the suspension can clunk and thunk, it's far from rough. Choosing a Rallye rather than Hellcat proves a rally can be as enjoyable as a race.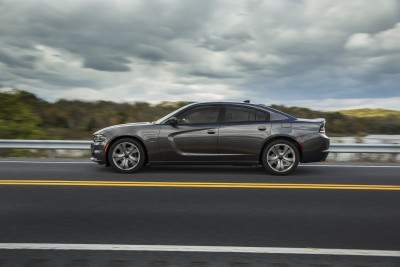 Chargers begin at $27,995, but came to $37,770 for our loaded test car, making a competitive road race with the Chevy Impala, Ford Taurus, Kia Cadenza, and VW Passat.
Storm Forward!
See Casey's video review of the Dodge Charger Rallye above; follow him on Youtube and Twitter, too.
2016 Dodge Charger Rallye
Five-passenger, AWD Sedan
Powertrain: 300hp 3.6-liter V6, 8-spd auto trans.
Suspension f/r: Ind/Ind
Wheels f/r: 19"/19"
Brakes f/r: disc/disc
Must-have features: Style, Powertrain
Fuel economy: 18/27 mpg city/hwy
Assembly: Brampton, ON
Base/as-tested price: $27,995/37,770