Ed. note: Kia and its sibling, Hyundai, are the only two mass-market automakers doing business in the U.S. that haven't yet made our LGBT-friendly list. That may not be your only consideration when buying a new car, but we hope it's one of them.
---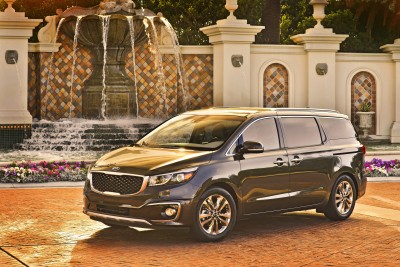 One of the best-looking minivans on the road these days is the Kia Sedona. The exterior comes in only black, white or grey, but that special metallic sparkle those paint wizards add really make something dull into something eye-catching. Inside, the color is always grey but the dashboard and the seats are very 21st Century. The controls are easy to use, everything on the dash makes sense, even using Bluetooth and other technology was as easy-as-Patti Labelle's Sweet Potato Pie.
Minivans will most likely never be exciting or be the milkshake that brings all the boys to your yard. In days past, the general rule-of-thumb was that anything gay was cool and exciting while anything heterosexual was, well, heterosexual. Go to any gay coffee bar or community meeting in 2016, however, and the talk may not be as exciting as it was back when we had to fight for our right to be treated like human beings. More and more LGBTs are having kids, and all I can say is thank goodness it's them and not me. But as Whitney Houston sang, "I believe the children are our future" and as such, we need to make sure they are safe everywhere – including on the road.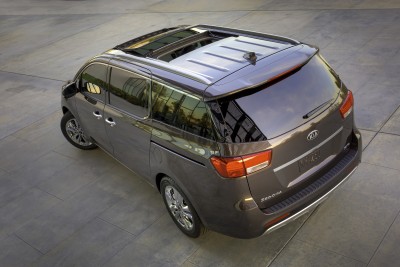 Thus, I give double-triple snaps to the 2016 Kia Sedona when it comes to safety. Government crash tests gave the Sedona a full five-of-five stars. The Insurance Institute for Highway Safety gave it the highest rating of Good (see, in the straight world, you don't have to be over-the-top to be on top, just Good). This is as great as it gets in the world of air bags and rearview cameras, which are now standard on all 2016 Sedonas.
My only real complaint was the space inside, which is actual on par with other competitors in this category of minivans, which include the Toyota Sienna and the Mazda 5. It just doesn't feel like it's all that big (and girls, we all know that feeling).
New Year's Eve with a bunch of party-hardy bears proved to be a bit challenging for the Kia Sedona. The back seats are luxurious and comfortable but they are spaced closely together, and in trying to access the third row seats, space was at a premium. All ursine types got inside nice and snug (and safe from all the other crazies out on New Year's Eve) and we all got safely home. Admittedly, if you are transporting that many bears but not very often, the Kia Sedona should do just fine. (With the optional Technology package on the higher-end trims, you can get seating for eight, though Kia does not specify what size those 'eight' must be.)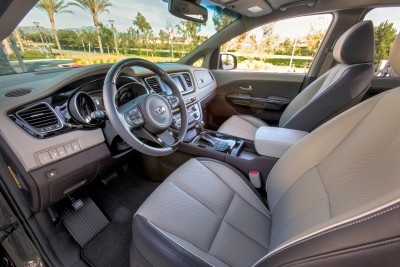 There's really no such thing as a standard base price any more, as dealers and others are now free to negotiate however they see fit. Suffice it to say that you can get into a 2016 Kia Sedona for around $32-33K, but this is one van where I'm not sure the base trim is worth it unless you are truly a no-frills frugal type of responsible couple or parent who does not often need the slightest of breaks from your parental duties. In short, I would pay the extra ten-grand to get the SX or the SXL.
I like the 2016 Kia Sedona, as I think it shows both style and sensibility as you drive from day care to your day's labor to the days where your in-laws take care of your precious cargo for the week while you go snowshoeing, snowboarding or just to eat Hostess Sno Balls in private. Indeed, this minivan is pretty but not as roomy IMHO as the Sienna. Click here for my review on the 2015 Toyota Sienna.
Sometimes I feel like Rip Van Winkle, having fallen asleep in 1996 and waking up twenty years later in the very gay 2016. How did we get to a point where same-sex couples can get married legally and raise children while (most) everyone thinks it's great? Times have changed and that's a good thing.
Keep the good thing going by getting a vehicle that's big and safe and smart …. sorta like the loves you may have passed on in 1996.