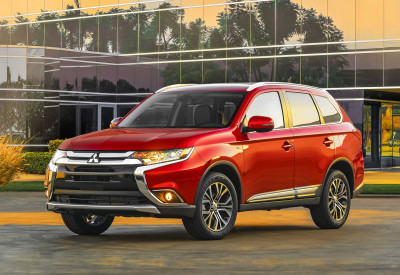 It would be quite an understatement to say Mitsubishi has its challenges. Look at its showrooms. You'll no longer find long-time cornerstones of the brand like Eclipse, Galant, and Montero. Amazingly, the rally-ready Lancer Evolution is near its end. Mitsubishi is even abandoning its long-time assembly plant in Normal, Illinois. Instead, the Japanese automaker is focusing on EVs, crossovers and compact cars – and that has its own challenges.
When the Outlander hit lots a few years ago, the biggest gripe was its styling. It was slick and aerodynamic, but was, um, boring. That's another understatement; it would blend into a concrete wall. Designers went to work on it for 2016, glitzing up the front with an edgy chrome grille, LED headlamps, foglamps, and amped lower body cladding. The side profile is mostly unchanged save trim, but it is still refined and looks upscale over 20" alloys. Around back, the finish is clean and sleek.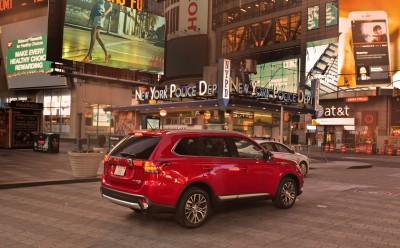 Under the buff hood is a standard four-cylinder engine, but our GT edition came with a 3.0-liter V6 delivering 224 horsepower and 20/27-MPG city/hwy. It connects to a paddle-shifted six-speed automatic transmission and electronic all-wheel-drive system with active front differential. It's sophisticated, driver-selectable between normal driving, Snow, Eco to save fuel, and Locked for serious muck. Fuel economy is less than stellar, but acceleration was enthusiastically spirited.
Moving inside, you'll want to check the specs. Mitsubishi claims the Outlander is a three-row, 7-passenger crossover. That's cute, because only adults with legs that screw off will fit in the rear. Kids can fit, but not for cross-country trips. It's a pick-them-up-at-soccer-practice rear bench only – and for most, that's all they need. Cargo space is tight when seats are up, more than roomy when stowed.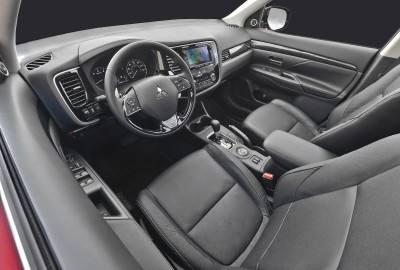 I fared better up front. It's not the most edgy interior I've ever experienced in a crossover, but it's pleasing. Heated leather seats are supportive and comfortable. I like the driver-centric instrument panel with gloss black trim. Gray woodgrain on the passenger side also looks nice. Tap around to discover the dash and front door tops are padded while the rears are not. That's typical of many cars, but at some price, details matter.
It is well equipped. There are no complaints about the dual zone automatic climate control, navigation, or 710 watts of Rockford Fosgate audio. Bluetooth and USBs connect iThings quickly. But, the touchscreen needs an update. Buttons are small and, as far as I can tell, there's no direct tuning for the radio. There are proper volume and tuning knobs, so that's a plus. Safety is enhanced by forward collision mitigation, lane departure warning, and adaptive cruise control systems.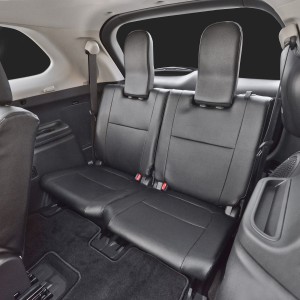 An advantage of the Outlander's smaller stature is sporty handling. It's no BMW X3, but the suspension can be tossed around and the car's width makes it ideal for tight city streets. Combine that with the active all-wheel-drive system and you look forward to finding that curvy lane or on-ramp during your morning commute.
By itself, the Outlander is not going to launch Mitsubishi up the sales leader board. With a sporty re-style, luxurious interior, and spirited performance, it does have much to offer. Base models start at a reasonable $22,995, but our loaded model came to $35,195 – a real challenge against cars like the Acura RDX, Land Rover Discovery Sport, Dodge Journey, and Kia Sorento.
Watch Casey's video review of the Outlander above, and follow him on YouTube and Twitter.
Storm Forward!
2016 Mitsubishi Outlander GT
Seven-passenger, AWD Crossover
Powertrain: 224hp 3.0-liter V6, 6-spd auto trans
Suspension f/r: Ind/Ind
Wheels f/r: 18"/18" alloy
Brakes f/r: disc/disc
Must-have features: Performance, Safety
Fuel economy: 20/28 mpg city/hwy
Assembly: Japan
Base/as-tested price: $22,995/35,195