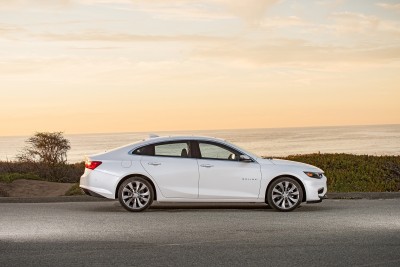 Chevy Malibu is a storied nameplate, dating to 1964, with generations behind it – some icons and others less so. Two generations ago, Malibu debuted with elegant European styling, two-tone interiors, and clubroom rear legroom. Then, Chevrolet moved Malibu to its shorter mid-size architecture that crunched rear legs and gave it granny styling to blend into a sea of exciting competitors. It all changes for 2016.
Design responsibility was handed to John Cafaro, known for designing the C5 Corvette and current Impala. Malibu's low and wide body with fastback roofline and body sculpting the recalls the Mercedes S-Class are gorgeous. A horizontal twin-port grille is flanked by signature LED running lamps and flows into a deftly-creased hood. It all looks suave over 18" alloys.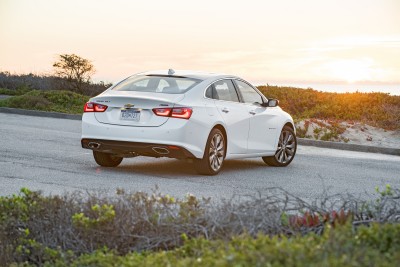 A four-inch stretch in wheelbase not only helps sleekify the styling, but also gives rear passengers clubroom legroom. Too bad our test car traded upscale contrasting color leather for low-rent gray cloth and hard plastic on the doors and dash. Cloth inserts on the dash echo the compact Cruze and look good next to the slick touchscreen.
Except, our 2LT trim comes up short on toys. Sure, the infotainment system is Apple CarPlay and Android Auto compatible. But without navigation (optional), you'll have to call OnStar (need subscription) or use your smartphone. We did get Bluetooth calling/streaming audio, wireless phone charging, keyless starting, USB ports and 4G LTE Wi-Fi hotspot, but had to adjust our own climate control. There's no sunroof or heated seats either. I know, such sacrifice. Adding plusses, the leather-wrapped steering wheel and metallic painted surfaces on the console and doors lent elegance.
Our car possessed a weird combination of questionable interior bits combined with cutting edge technology. You're really paying for the crash avoidance systems that include low speed mitigation braking, rear camera, blind zone alert, front/rear park assist, and forward collision alert systems. Especially in metallic white paint, it seems like a car to keep salespeople safe. Spend more; load up with leather and all the trimmings.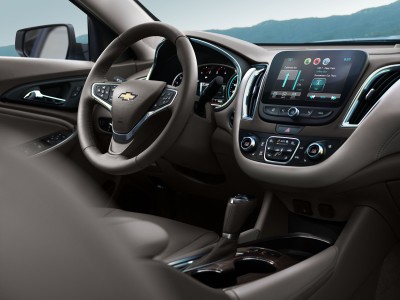 Getting behind the wheel is more convincing as the 2.0-liter turbocharged four-cylinder engine delivers 250 horsepower to the front wheels through an 8-cog automatic gearbox. Run any reasonable speed and there's plenty of power ready with the tap of a toe. The powertrain plus aerodynamic bodywork enable 22/33-MPG city/hwy. If that doesn't suit you, opt for the 48/45-MPG Malibu Hybrid or base 1.5-liter turbo-four that delivers 37-MPG hwy.
While I was musing about the car to a co-worker on the way to lunch, I launched the car into a sweeping Interstate on-ramp and put the hammer down. The sedan came out the other side as if channeling a sport coupe. The chassis is firm and fun, soaking up city ugly patches with not a squeak nor harsh bump.
I give Cafaro and his team mad props for the styling – it's absolutely beautiful, a world-beating work of art. And, the powertrain and chassis engineers were clearly wide awake. Vastly improved rear legroom also go on the leader board. But, it's hard to ignore the dash and door plastic, nor the gray canvas seats. Fix that and Malibu will gleam.
You can get a base Malibu with a 163 horsepower turbo-four for $21,625, but our test car came to, um, well, it's, $30,490! Competitors include the Honda Accord, Toyota Camry, Ford Fusion, Hyundai Sonata, Kia Optima, and VW Passat.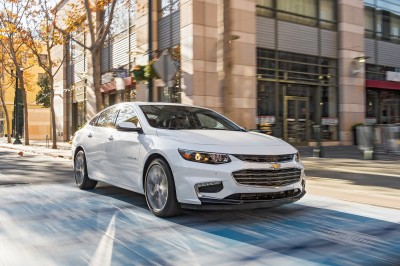 Storm Forward!
Follow Casey on YouTube and Twitter.
2016 Chevy Malibu 2LT
Five-passenger, FWD sedan
Powertrain: 250hp 2.0-liter T4, 8-spd trans
Suspension f/r: Ind/Ind
Wheels f/r: 18"/18" alloy
Brakes f/r: disc/disc
Must-have features: Style, powertrain
Fuel economy: 22/33 mpg city/hwy
Assembly: Fairfax, KS
Base/as-tested price: $21,625/30,490