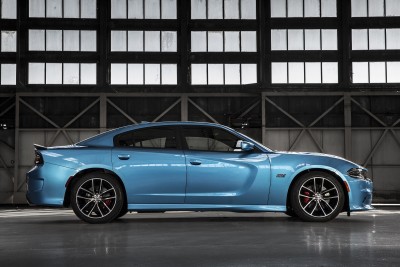 Jan and Dean sang about the Little Old Lady from Pasadena and her brand new, shiny red, super stock Dodge. I love the idea of a cute little lady slaying machos with her bored-out muscle car on the way to her quilting circle. I spent the week cranking classic drag songs (no, not that kind of drag) while driving Dodge's latest contender for little old ladies and swift young men: The 2016 Charger R/T Scat Pack.
You could get a reputation driving a car like this – especially painted retro Plum Crazy. The four-door General Lee styling angers out with Scat Pack enhancements like integrated front splitter, flared side sills, rear spoiler in Satin Black, and wrap-around LED "racetrack" taillamps. Styling updates give the car more sensuous forms ala Viper. The hood begs to be caressed. An angry little wheeled bee in the grille, and HEMI 392 badges on the flanks, tell you this is no tepid Charger.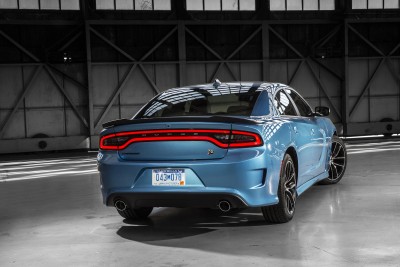 A further hint of the Scat's sting comes from a power-bulge aluminum hood with NACA duct to enhance engine cooling. You better hope you don't see the pinched mesh upper grille, massive lower grille, front splitter, or menacing projector beams in your rearview. Stick 20" x 9" wheels under it to put power to pavement. Your entire neighborhood will hear it through the active exhaust system's 4-inch round outlets. Paint this gal up in classic Plum Crazy to give full warning you're running for pinks.
The Charger is not a sport sedan; it's a full-size car that's able to seat four very comfortably. Your grandmother would think she's in a cush luxury car if it weren't for the bee-embroidered thickly-bolstered front buckets (standard cloth), sweeping dashboard with striated aluminum-look insert, and thick leather-wrapped steering wheel. Trunk space is cavernous. Some of the interior materials could use upgrading, and climate control knobs feel cheap, but the car is aging well.
As in other Chrysler products, the Uconnect infotainment system with touchscreen, voice commands, and redundant controls below could be mastered by crayon-toting toddlers. Booming Alpine audio, navigation, rearview camera, and Bluetooth calling/streaming audio take it to the streets. Press the sport mode for more sass. And, Dodge Performance Pages lets drivers configure steering feel, transmission response, stability control, and launch control for their personal nirvana. They can also summon data related to vehicle dynamics, deceleration, horsepower, acceleration, and elapsed track times.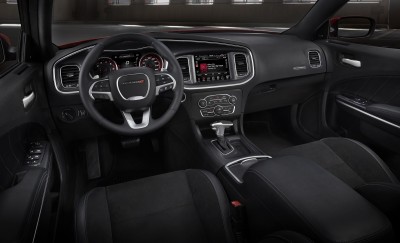 Charger R/T Scat Pack is one supercharger shy of kissing Hell, but it conjures a fair amount of evil from its 6.4-liter HEMI 392 V8. There's no dissing 485 horsepower and 475 lb-ft. of torque routed through Chrysler's TorqueFlite 8-speed automatic transmission. Variable displacement, which runs the engine on four cylinders when not under heavy throttle to save fuel, helps deliver 15/25-MPG city/hwy.
And, racing Mulholland would have been much easier with the latest Charger's chassis. It's based on the late-90s Mercedes E-Class, but was recently re-engineered. The car feels lighter on its wheels and goes more directly where you point it. Brembo disc brakes stick like baby snot to a blanket. Proving the point, the car turns in mid-4-second 0-60 mph times, mid-12-second quarter miles, and scrubs off 60 mph in just 120 feet.
I wish I had known this mythical Little Old Lady who lives so prominently in '60s muscle car lore. I'd take her for a real ride in this shiny new super stock Dodge. With a base price of $39,995, or $41,685 as-tested, it is one scorcher of a bargain. Competitors include the Chevrolet SS, Ford Taurus SHO, and BMW M5.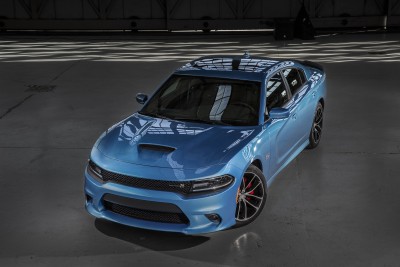 Storm Forward!
2016 Dodge Charger R/T Scat Pack
Five-passenger, RWD Sedan
Powertrain: 485hp 6.4-liter V8, 8-spd auto trans.
Suspension f/r: Ind/Ind
Wheels f/r: 20"/20"
Brakes f/r: Brembo disc/disc
Must-have features: Style, Powertrain
Fuel economy: 15/25 mpg city/hwy
Assembly: Brampton, ON
Base/as-tested price: $39,995/41,685