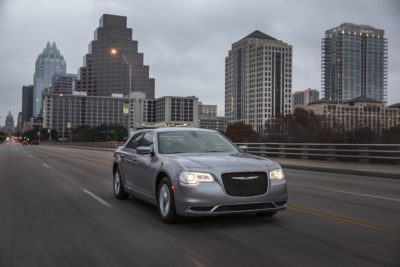 Sometimes it really is love at first sight, even without a few shots of a butterscotch schnapps / Irish cream combo called a Cowboy rhymes-with 'Rock Trucker'. Such was the case for me and the Chrysler 300.  This is a big sedan in the style of the Town and Country cars of old.  Well, it's not that big (especially in the back seat) but this is indeed a big boy that needs a lot of room to go with its big presence.
How do I love thee, let me count the ways, and they all pretty much have to do with how bold and beautiful this big fat rock in need of a good rock-trucker is. In today's world, status and power are no longer conveyed by the size of your rock and how overwhelming it is, so from that perspective, the 300 can seem a bit outdated. Even blended families today often prefer a Sport-Utility-Vehicle to a big sedan – unless, of course, you are blending butterscotch and Irish crème.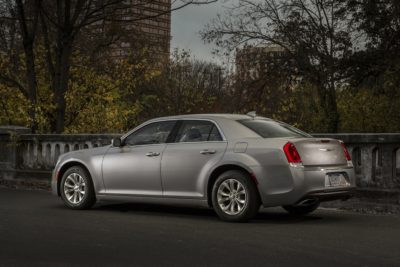 For starters, you can get into the 2016 Chrysler 300 Limited (the base trim) for a little over $32,000. That's a good price for such a big car – but know that mileage is a combined 18 mpg. There is luxury all the way around. Inside, it's not leather (but it can be as an option) and it's not Remington Steele, but it is a nice feeling of comfortable materials on the seats and polished refinement on the dash and doors.  What does that mean? If you're a bit more free-flowing and groovy than a preppie, yuppie or GUPpie, you might feel a bit uncomfortable.  The Car Connection describes the interior as "button-down" and more formal than, say, what you would feel inside a Kia Soul with all those happenin' little hamsters.
Like to feel like you are riding on air? The new 300 has an upgraded suspension, allowing the drive to feel like a nice combination of limousine and hover board. Rear-Wheel Drive is standard, so if you live where adverse weather rules, get the optional All-Wheel Drive. Also standard is a 3.6-liter V6-engine with 292 horses, but if you want the ultimate in smoothness (and aren't too concerned about money or your carbon footprint), a 5.7-liter V8-engine with 363 horses is available, and while that engine is a beast, it's a tame beast that goes in as fossil fuel and comes out as a rich, digestible smoothie.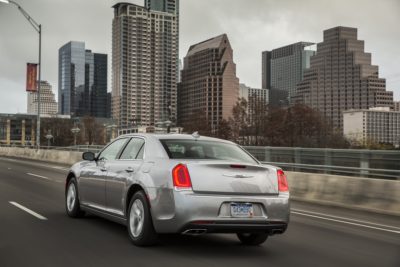 And yes, the 2016 '300' is big and thick. Its full length is 16½ feet, it weighs 2½ tons and its fuel tank can hold 18½ gallons, costing you more to fill-up than dinner for three at Olive Garden. Depending on whom on the internet you consult, it's either a midsized or a large sedan, and its competition includes the Hyundai Genesis, Nissan Maxima and Chevy Impala. Trust me, this is a big car and its far less expensive than its big sedan competitors from Mercedes or BMW. Can't afford a glamor puss like Anderson Cooper?  The 2016 Chrysler 300 is just as pretty and classy as a Vanderbilt, it just won't get upset if you lose your Cheerios or cookies in the backseats.
Society, like bullies, can be cruel.  Sometimes, all you want to do is throw on a boa and some glitter and pretend you are all glitz, but sure enough some kid calls you pretentious, not grounded and uncaring. Well, let 'em whine. You look great, you know you do and, besides, you are having fun in your own little theater in the round.
Depending on the cast, the Chrysler 300 is big enough to host your little show and all the costumes you can glue together.