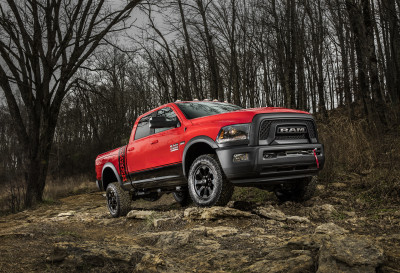 If the 2015 Fiat 500L is the Gayest Car as dubbed by Sam Gomez in his article posted on Gaywheels.com, then a truck of similar heft (in more ways than one) just might be the 2017 Ram Power Wagon.
After World War II, G.I.s returning home wrote to Dodge and asked, "Where can we get a truck like the ones we used in the war?" Dodge responded by building the Power Wagon. The heritage of the Power Wagon goes back to the series based on a Weapons Carrier (WC) Dodge ¾-ton military-use truck. Fast forward to the 1980s and there you saw the 1979 Dodge Power Wagon in the 1980 TV series Simon & Simon. If you are old enough to recall the two brothers (with polar-opposite personalities and lifestyles) team up and form a detective agency, you might remember how Rick's truck always saved the day.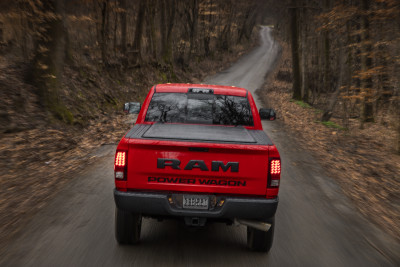 Now maybe it was the fact that Rick was a former Marine, or that the truck holds the No. 6 spot on the PickupTrucks.com Top 10 Television Pickup Trucks (Part 1) …. or probably it was that woofy porno-style mustache that actor Gerald McRaney sported …
Fast forward several generations and take a look at the recent unveiling of the 2017 Ram Power Wagon – The ultimate off-road truck for hunting, sightseeing, and more. It works hard, plays hard and just always seems to be hard. I'm sure the brothers Rick & A.J. would have loved to get their hands on this 21st Century Brawny Beauty.
With styling cues taken from that classic Power Wagon of yore, this new baby has a redesigned snout-like front grille, new lighting and legacy graphics that complement a HEMI 6.4-liter V-8 with 410 horsepower and 5600 rpm and a peak torque rating of 429 lb.-ft. at 4,000 rpms – which is delivered to the unique 17-inch wheels and 33-inch Goodyear Wrangler DuraTrac monster tires….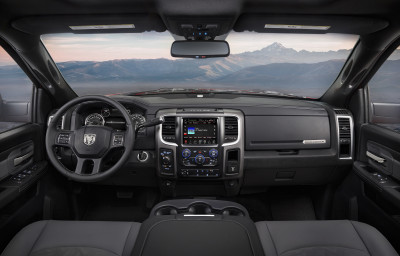 Which of course totally sounds like a press release, so I must concede a bias; last year Ram was kind enough to provide their LongHorn EcoDiesel as a tow vehicle for my club's parade float for the Denver PrideFest 2015. The pictures here show our entry in the Gay Pride Parade and the Front Range Bears 25th anniversary float. FYI, Ram's heavy duty 2017 Power Wagon has a 10,000-pound towing capacity. Needless to say, the Front Range Bears would love to have a truck like this to tow the float again (hint, wink).
But seriously, it doesn't stop there: the list of new features most notably includes the Warn 12,000-pound capacity Winch, which is factory-installed into a heavily power-coated bold front bumper with nothing visible except a single heavy gauge steel cable and a dozer-size hook that attaches to one of the massive front tow mounts. Both are sexy and useful for a guy like me. Anyone with this vehicle, or a similar one also equipped with a winch, may want to consider using carco winch parts if they're in need of replacement parts or simply want to upgrade their vehicle's winch.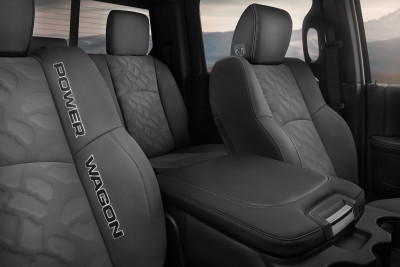 I also really like the Rambox bedside storage systems. They can be used for all sorts of sexy outdoor sports from holding fish, bait, poles, your favorite Remington 30-ought-6 hunting rifle (pop over to these folks if you don't know what that is) or bb guns for the boys. The Ram Power wagon looks like it might be a popular vehicle for getting to that offroad hunting or sporting location and letting the boys go wild. Though there are some out there who prefer Airsoft Sniper rifles for pinpoint accuracy when playing games. You can worry about the big guns later though, other new in-bed options to look at include the tri-fold to09nneau cargo dividers and the exclusive cargo-view camera which allows you to monitor your load from the 8.4″ touch-screen dash display and never need to turn around to check the cargo How cool is that?
If you are looking for a truck with the heart of a warrior that works hard and plays hard, this is it. For more information, check out the 2017 Ram Power Wagon Reveals Highlight video.