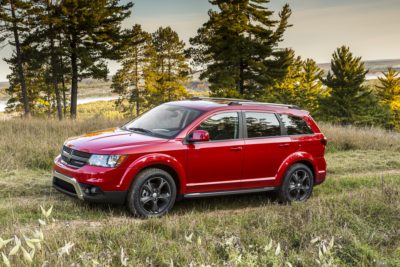 To me, the 2016 Dodge Journey is the Christmas tree that Charlie Brown and Linus found for the Christmas pageant in A Charlie Brown Christmas. All it needs is a little love, and just like the Charlie Brown Christmas tree, the Dodge Journey may be all you need to get your work done or just dart across town for that Grindr hookup who needs proof that you really are as butch as you say you are.
This a plain car, indeed. That's not a slam, because in my book, that's a good thing. Glitter and glam are nice as long as you can get it for a reasonable-to-cheap price, since glitter and glam always have a short shelf life. Well, to say it's plain is understating it a bit ….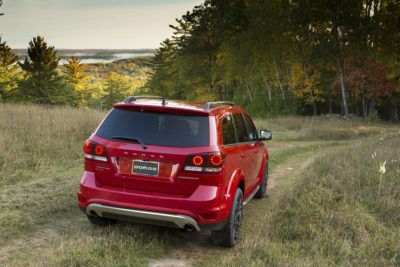 What I like about that Journey is that it's a solid 'midsized' SUV with not a whole lotta WOW but lotsa stability and firmness, and who does like to hop on in something like that? This is big vehicle, IMHO, yet to many, it's in the same league as a Toyota 4Runner, which I think is much smaller, but really, it's hard for me to judge size (really). Just know that you can get the 2016 Journey in five- and seven-passenger configurations, and in my test drive, that room inside seems to actually be there and not just on the press release. Still, parking the Journey in any tight space might prove to be a challenge – anymore, if I don't think I can get it in, I just move on to another opening that will be less challenging.
I can't say I noticed anything bad or great about driving the 2016 Dodge Journey, so that right there is a Seal of Approval. Sure, there wasn't an obvious notion of smoothness, but hey, in a big (midsized, whatever) vehicle like this, I just need it to do its job and leave the stellar impressions to me. Sometimes that works, sometimes it does not.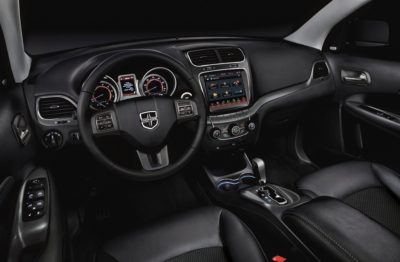 On the great big internet, the only downside for many reviewers was the 4-cylinder engine, which is all you can get when you fish at the bottom end of the food chain of trims, until you go for the top-of-the-line R/T, which comes with a 3.6 liter V6 engine (I tested the Crossroad Plus AWD, which also had the 3.6 liter V6). My best guess is that when you are driving in the city, as you go from school to work to work and then to work at your third job for the night, you really don't notice any sluggishness – naturally, I was just fine with the V6.
Yet what compounds the exacerbation is when you realize that you are effectively getting a combined 21 mpg for all your small engine / conservation efforts (the V6 gets a combined 19 mpg). Heck, back when the Village People really were victims of gay bashing, that kind of mileage was attractive, yet so was an average new car price of under $10,000. Remember, this car is big, so those mpg numbers kinda make sense…..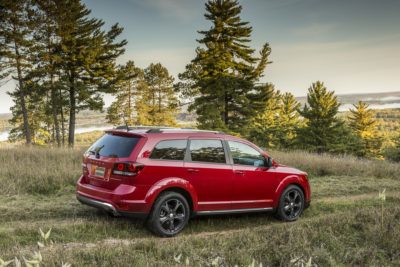 And there you have it.  I like the Dodge Journey, but if you are in the market for an SUV that is more of Trader Joe's bag and less of Marlboro cigarette case, you may want to check out one of my favorites, the Toyota Highlander, but know that you will paying considerably more for one.
To be sure, the Dodge Journey has never been considered a 'hot' or 'car to the stars' kind of vehicle. Back in 2009 when it first appeared, it was actually marketed as a truck with appeal to those big, rugged (and often bigoted) types who needed size and girth from something that drank a lot (of gasoline). As we come full swing into a new presidential election cycle, the 2016 Dodge Journey is in many ways like Hillary Clinton: been around awhile but with some tweaks, these two are ready for anyone and everyone…..
So far, it seems to be working for both.