I readily admit that the Golf Mark VI platform is one of my favorite platforms and I have indeed referred to it as the "Mary Poppins of Compact Cars" — practically perfect in every way. German personality throughout, spirited handling, an amazing ride for its size, excellent space utilization, a choice of efficient drivetrains — really what's not to love?
Well, for one I don't love the fact that for 2016, the delightful TDI option is tied up in a legal hullaballoo with the EPA but I haven't spent any time really in the new SportWagen. So when Volkswagen offered me one with the 170-hp 1.8 TSI to see how we'd get on, I took them up on it — and in all honesty we got on pretty well. In fact, as I write this I'm trying to think of a plausible excuse to explain to VW that I've mislaid it so I won't have to give it back quite so soon.
The Golf SportWagen is entering its second year. It replaced the Jetta wagon when the new Golf Mark VI platform came out, and is slightly wider and longer than its predecessor. In addition, the division of Jetta and Golf into lower and higher level offerings made the timing appropriate to move the wagon version upscale. They gave it a George Jefferson, as we old folks say. The Jetta is a volume offering, and the Golf is more of a baby Audi. And that's really apparent in our SportWagen- it's certainly the classiest looking of the Golf series.
Happily, the driving experience of the SportWagen is all but indistinguishable from the Golf hatchback upon which it is based. Although the wagon is 12" longer, it's the same width and only an inch higher. The wagon version shares the same crisp handling and controlled ride, the same quiet cabin and the same overall feel. The only time you're even aware that it's a wagon is when the rear hatch is opened. We did take the SportWagen on a day trip to Los Angeles, and noted that there's a bit more harshness on grooved pavement than I recall with the hatchback, probably due to the 18 inch wheels on our test car. If it were mine I might lower the tire pressure by a couple of pounds.
In all honesty I liked the 1.8 Turbo better than I expected. It's the new EA888 which features all-aluminum construction, direct injection, and even an integral exhaust manifold in the cylinder head. It was designed from scratch for a turbocharger, and in this application produces 170 horsepower and 184 lb-ft of torque at an amazingly low 1500 rpm. It's quick off the line and the turbo boost is all but instantaneous. It's EPA rated at 25/35 but our test car beat that with just over 26 mpg in our city driving and an impressive 37.4 mpg on a day trip to Los Angeles. While that's not quite TDI territory, I was impressed.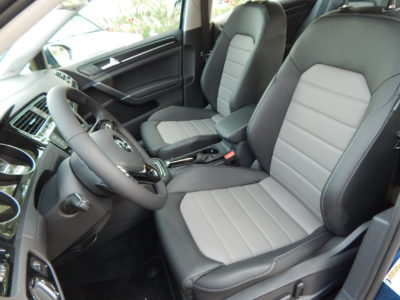 There are a wide range of trims. The base model S starts at $22,445 and is fairly basic with a six-speed manual as standard, but still includes a power seat, app connect and bluetooth. The mid range SE starts at $27,845 and adds the six speed auto, driver assistance, heated seats, keyless entry, premium audio, and a glass sunroof. The top of the line SEL adds 18" wheels, navigation, climate control and sport seats among its enhancements. But luxury comes at a price, and for the SEL the price starts at $30,205.
Our test car was a full spec SEL with both the $995 Lighting Package and the $1495 Driver Assistance Package, which includes adaptive cruise control, forward collision warning and autonomous emergency braking, blind spot monitor, rear traffic alert, lane departure warning, and Park Pilot with Park assist, resulting in an MSRP of $32,695 for our full-spec Wagen, and while that may seem pricey for a VW, it's still over ten grand less than the base price of an Audi A4 Allroad and this SportWagen is no base model.
At this point I need to chime in about the Driver Assistance Package. I 've had mixed feelings about these so-called "nanny devices", but after a week with the SportWagen I must admit that if I had a SportWagen, I would get the Driver's Assistance. The system overall was worth every penny of the $1495 and I was particularly impressed by the Park Pilot and while dodging slower traffic on Interstate 10, the adaptive cruise control worked as well as the system on the Mercedes S550.
My only issue with the model range is the wide gap between the base S and the SE, but VW apparently noticed as well and brought out a SportWagen Limited, a $25,995 offering that takes an S and adds 17" wheels, bright window trim, the glass sunroof, and the Driver's Assistance Package at a screaming deal price of $25,815. All you have to do is pick your color. At that price, the line should be around the block.