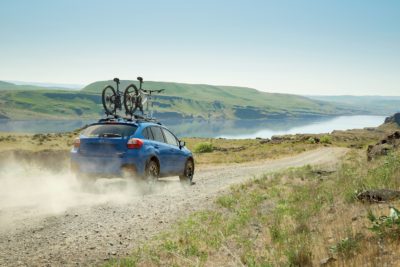 Subaru taking the Legacy station wagon, adding all-wheel-drive, jacking it up, and posing it as a crossover seemed the craziest thing since the AMC Eagle, but has gone down in business annals as one of the shrewdest moves ever. The Outback is a Subaru staple and beloved by customers. Take the formula down one size and you get the Crosstrek. Think of it as Subaru's baby 'Back.
The Crosstrek is essentially a cladded and jacked Impreza five-door, but ride height and plastic lower body protection substantially alters the car's demeanor – like transforming a club boy into a Boy Scout. Both are cool, but the latter will have an easier time in the wilderness.
Or on rutted gravel roads and trails like the ones that took me to a 1800s cemetery near where I grew up. I hadn't been there in years – last time on a Honda ATV. But, the Crosstrek with symmetrical all-wheel-drive, enhanced ground clearance, all-road tires, and 17" wheels just trotted up the road, over rough railroad tracks, and across a grass path to the graveyard. It was a delightful place for a picnic (nobody to raise a ruckus).
Getting to the rough road required three hours of Interstate travel. That gave me time to settle in and exercise the powertrain. Like Porsche, Subaru utilizes horizontally-opposed "Boxer" engines that keep weight low in the chassis. In the Crosstrek, we're talking about a 2.0-liter flat-four that delivers 148 horsepower and 145 lb.-ft. of torque through a continuously-variable automatic transmission. I still think CVTs feel weird as they rev and buzz, but you get used to it. And, that little engine works hard to move the little crossover and its standard AWD system, but fuel economy is an impressive 26/34-MPG city/hwy.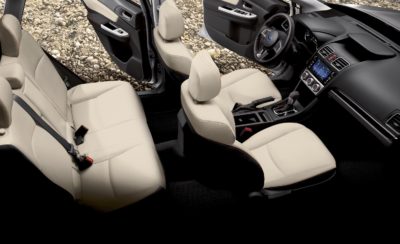 The Crosstrek has a different personality on the road compared to Impreza five-doors. The thicker tires better absorb rough city pavement and Interstate expansion joints – as well as moderate trails. The suspension is also more compliant and the higher seating position makes entering and exiting easier. Crosstreks don't have the razor-sharp handling of Imprezas, but that's a compromise most drivers will take. Compact size makes maneuvering in tight quarters a flip snap.
Inside, five passengers fit comfortably. Our car had heated leather seats, tilt/telescoping leather-wrapped steering wheel, automatic climate control, push button starting, and power sunroof. iThings connect via USBs and Bluetooth. Orange stitching on the steering wheel and seats add a touch of flash. The large cargo area with rubber floor mats and roomy back seat make you wonder why you would really need the larger Outback.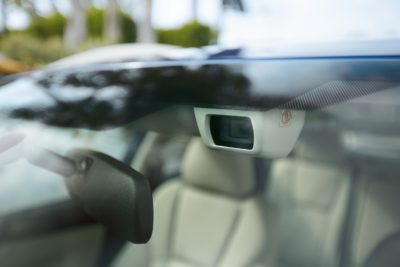 Being a Subaru, safety is paramount. It starts with a rear vision camera, but is topped by the EyeSight Driver-Assist System. Utilizing twin "stereo" cameras above the rearview mirror, the system includes Adaptive Cruise Control, Pre-Collision Braking (will act if you don't), and Lane Departure Warning. There is also blind spot detection.
I've used many adaptive cruise systems, but Subaru's is easy to use with a couple of buttons. When the system detects a slower-moving vehicle ahead, it beeps, shows a car on the instrument screen to say "I've got it", and gives time to change lanes. It's very intuitive and gives drivers a heads-up without a freak-out. Driving home, a semi pulled into my lane. The car immediately put on the brakes and slowed to a safe speed without drama.
So, for pricing. This is where you find why so many people are buying Crosstreks. You could buy a larger and more expensive Outback (and be very happy), but only do so if you need the extra cargo space and enhanced rear legroom. Base Crosstreks start at $21,595. A well-equipped Limited comes to $25,095. Add on navigation plus EyeSight and the sticker rises to $28,848 – still a good value with everything you could want on a car.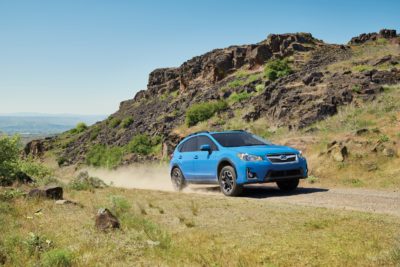 Storm Forward!
2016 Subaru Crosstrek
Five-passenger, AWD crossover
Powertrain: 148 hp 2.0-liter H4, CVT auto trans
Suspension f/r: Ind/Ind
Wheels f/r: 17"/17" alloy
Brakes f/r: disc/disc
Must-have features: Utility, Value
Fuel economy: 26/34 mpg city/hwy
Assembly: Japan
Base/as-tested price: $21,595/28,848