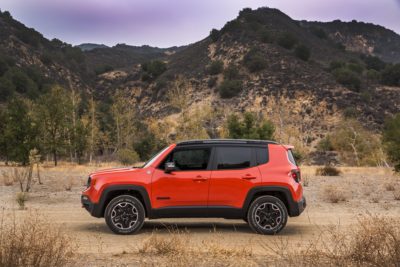 I was a bit harsh on the 2016 Jeep Renegade back in March when Marco Rubio had a shot at being a contender for POTUS. If only I had gotten a hold of the Trailhawk edition. This premium trim is great off-road as well as in-city, and it really brings the Renegade to life. Call me shallow for liking the good-looking, more durable, more manly twin brother that really shows from which gene pool he rises…..
Praise for the Trailhawk edition is seemingly universal. Auto Week says "it's fun to bomb around in". The Californian, a website run by USA Today, says the Renegade-Trailhawk is "a tough little cookie" worthy of consideration. A cute bear named Tom from www.car-revs-daily.com really loved driving it. Heck, everyone loves the Trailhawk, or so it seems.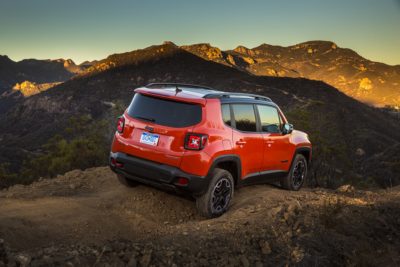 Not that I just go along with whatever the popular car bears are saying, yet in this case, I hole-heartedly concur. I dunno, there was something seemingly lacking in the regular Renegade, but that problem is easily solved by hopping in the Trailhawk trim. You get 4-Wheel Drive with 4WD Accessories and Hill-Descent Control as standard, plus there are tow hooks on the car and skid plates under the car – all you need for just about any disaster you may have while trying to prove to your lesbian friends how butch you are. (Just to be clear, the tow hook should be used only when you need to be pulled out of a ditch, not when your new cowboy boyfriend needs you to tow Flossie and Sparky to the next gay rodeo.)
This trim comes with a standard 2.4-liter four-cylinder engine that can crank out 180 horses with 175 pound-feet of torque. It's peppy, no doubt. The gearing is advanced so that your off-road driving skills don't have to be.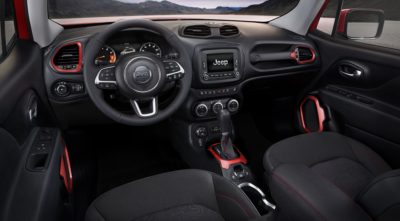 There is plenty of room in the back seat, even for big gays. The rear seats do fold down without having to remove the head rests, and I found that there was ample room to carry those big tackle boxes and steamer trunks that hold any variety of manly or dainty things.
Specifically, Trailhawk is a trim offered up and down the Jeep lineup. It's always a 4×4 truly-sport-utility-vehicle that allows drivers to go off road in confidence while handling that Manic Monday traffic with ease and confidence. While treating yourself to a brand new off-road vehicle might seem like a good idea, you could always upgrade your current car with a 4wd conversion and save yourself some of the expense.
A fully-loaded Renegade-Trailhawk (doesn't that sound like a nice same-sex couple who knows their way around a red state?) can be had for around $30K, which is an average price for any new vehicle that will be all the things you've always wanted in a partner but could never afford. Mileage is average at combined 24 mpg, but for that thirty-thousand, you can get things like navigation, a heated leather steering wheel, something called the Cold Weather group (fairly self-explanatory) and even the Popular Equipment group – how nice it would have been to have had something like that in high school.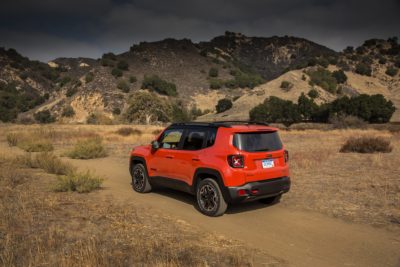 FYI, there are a variety of LGBT 4×4 clubs throughout the country, and many of these 4-players know more about off-roading than even the manufacturers. Often you can join these groups and enjoy an outing without needing a 4×4 (though looking good in skimpy swimwear can improve your chances of riding shotgun). If you've got the money, honey, and the time – and the desire – check out the Jeep Renegade Trailhawk 4×4….
… because sometimes you really do have to pay attention when they shout "Butch it up, Mary."