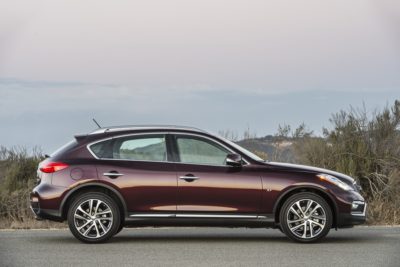 Seems like I just can't keep up with those California gays.
My colleague and fellow Gaywheels.com writer Jeff Stork got a hold of this pocket-bear-of-fast-cars before I did and really gave it a full workout. He noted the luxury and the speed and the agility and all the fun stuff that Nissan likes to put in its cars – and he loved it.  Click here for his review.
In short, I whole-heartedly concur with Jeff's assessment: the 2016 Infiniti QX50 is a big winner.  This pocket bear comes with a 3.7-liter V6 that offers 325 horses and 267 pound-feet of torque.  Combined with a seven-speed automatic transmission, this bear moves fast with athleticism that, as a real bear, I don't have much of. If you are interested in this car, that's something you'll want to know, because the QX50 is not meant for tamely going from day care to daddy care and then for a sugar rush afterward – but it could!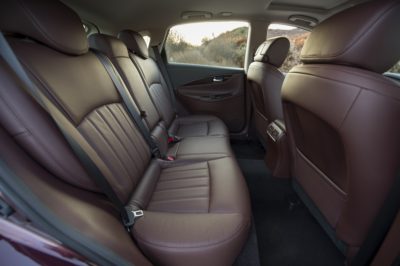 There is plenty of room in the rear seats, and that is always reassuring when you are popular, like orgies, or lean more towards being a father than a daddy. And to keep track of all your charges, there are cameras all around the vehicle, given you a 360-degree view of everything.  Trust me, that's a nice feature, especially when the engine seems like it has a mind of its own.
Luxury is all around as well.  Inside, the materials are nice because they feel nice.  It's one thing to look good but to feel good, like something everyone wants to touch …. you'll want to touch the 2016 QX50 all over. You know you are getting a quality luxury car, so if you have messy friends or are the type to throw your empty Burger King bags in the back seat, this may not be the right car for you.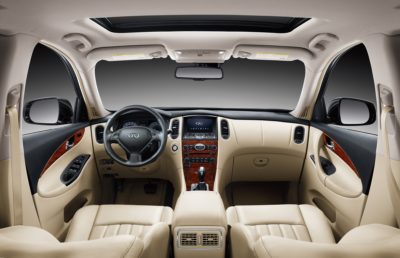 Rest assured, this baby ain't cheap. The base trim, known in this case as Base, starts at $34.5K, but to get all the really cool stuff (i.e. Technology Package, Deluxe Touring Package, Premium and Premium Plus), plan on spending another $10K or so. That's quite a bit for what is considered a Compact SUV, but it is a 'luxury' SUV, on par with what some of the higher-end brands offered, like the Volvo XC60 and the BMW X3, to name a few.  Jeff aptly notes that "there are more choices in this segment than there are bottoms at the White Party." Gosh, what could that possibly mean for buyers?
You can get the QX50 in Rear-Wheel-Drive or All-Wheel-Drive.  There is a snow mode for the RWD but I did not get a chance to check it out because, well, it didn't snow. Let your location be your guide, I'd say: if there is a good chance of snow and ice any time of year, get the AWD.
Again, the refinement is real, and if you can afford it, go for it. Heck, Jeff and I even got to test drive a 2016 QX50 that was the same Midnight Garnet exterior color. I was impressed, even before I knew Jeff was way ahead of me on that California curve of coolness.
Someday I hope to move to where it's always sunny and be a full-time California Gay. I just hope it isn't right before the San Andreas fault decides to let all hell break loose.