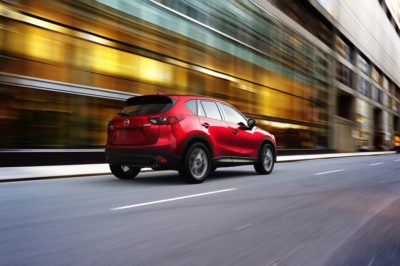 First and foremost, the 2016 Mazda CX-5 is a fun car to drive, at least at the top of the food chain.
I tested the top-tier Grand Touring AWD, which starts at $29,400. All CX-5 engines are 4-cylinder, and this one offers 184 horses (base trim offers 155).  When you give it the gas – and once it kicks in, which may take a second – you will have speed and power at your feet.  Rarely do any of us city folk get the chance to let the car really rip for long stretches, but for that moment when you want to punch it and feel like you are on a rocket to the moon, this year's CX-5 offers that fun and excitement, if only briefly.
What is a CUV, you ask? This car category has been around a few years, and simply put, it's a cross between a Compact car and sport Utility Vehicle. The goal is hopefully to have the best of both in one car, and this year' CX-5 clearly does that. Mileage is impressive at a combined 26 mpg. Handling is great, which adds to your driving pleasure (which, like most self-pleasure, you may need to do alone so you can fully enjoy it). You can get into the base trim starting at $21,700 but that's without automatic transmission.
Inside, there is plenty of room for everything, including people.  For this year's Pride, I was able to put five big boys in the car and all fit nicely. There is plenty of room in the boot even when the second row seats are in use. On top of that, the interior really does look nice.  The materials aren't tres chic, but you can get leather if you so desire (but remember, just because you own leather doesn't mean you are automatically a leather diva). U.S. News and World Report ranked it in a three-way tie for second runner-up (third place), coming in behind the Honda CR-V in first place (I love that car) and the Hyundai Tucson (which I have never driven). That's some pretty good company, so if you are looking for a Compact car with all the sport of a Utility Vehicle, this Mazda is a good bet.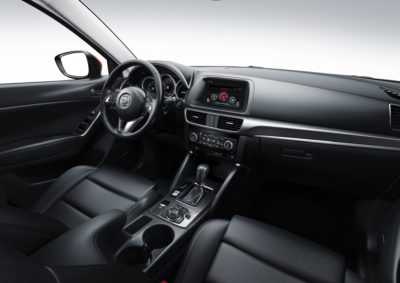 The only real downside (and it may be just me) is I wasn't real wild about their audio / infotainment system.  It worked okay, but you do have to go through a lot of buttons and screens just to get to where you want to go. It just seemed slow to react, taking seconds to respond to my request (hey, in the 21st Century, seconds really do count).  If you are someone who pretty much just uses the radio and like to pull up the map and leave it there, this shouldn't bother you. I guess as we have started racing to the future, that lag time (especially when the car is starting and you have to wait for that little presentation to finish) can be annoying.  Try not to let that take away from the performance, because it really is a powerhouse on the road.
If you live in the city, have medium-sized pets or larger, or have one, maybe two small children – and like speed and fuel efficiency – give the 2016 Mazda CX-5 a test drive. There's a lot to be said for having it all, even though no one truly gets to have it all, at least not for long.
This car may be the closest you will come to that – for a while, anyway.