What is pride?  It's a complex word with both positive and negative connotations.
On the "neg" side it refers to a foolishly and irrationally corrupt sense of one's personal value, status or accomplishment: in a word, hubris.  On the "pos" side, it's almost synonymous with being humble. It implies contentment with your own choices and actions and is a product of independent self-reflection.
Now more than ever, the LGBT community needs to show its pride.  Here in Denver, we try to demonstrate the positive side of pride, and with the help of Steve Parrett of Nissan USA, the Front Range Bears got to do so while using the all-new 2016 Titan XD in the 2016 PrideFest Parade.
It seems rather fitting. Just a few months ago, my first article was published here on Gaywheels.com–a story about the Nissan Titan XD and the debut of the American Titan at the 2016 Denver Auto Show.  Big props to my editor Richard Read for giving me this opportunity and to Sam Gomez for securing the use of a beautiful Titan XD as a tow vehicle for our club's float entry in Denver's gay pride parade.
Redesigned with rugged good looks and the powerful combination of a Cummins Turbo Diesel coupled to an Allison six-speed transmission, it's a perfect blend of form meeting function. The additional tow-package is a must, whether you're maneuvering down a parade route or hauling a boat to the beach. With features like the integrated trailer brake and sway control and the light check-system (which confirms that trailer lights are working), the Titan XD makes towing and hauling projects a heck of a lot easier. Anybody who's ever had to hook up a trailer by themselves knows the challenge of lining up the hitch-ball with the tongue.  Thanks to the rear-view monitor and trailer guidelines, hook-ups in the Titan XD are nearly foolproof.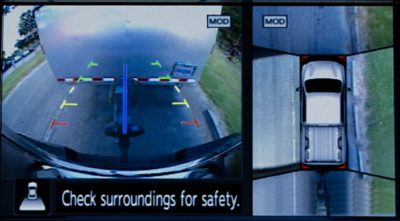 The U-Haul guy was clearly impressed when I backed-it-in perfectly on my first attempt. Just a few years back we had a poor experience in the PrideFest Parade because our tow-truck was overheating and providing a jerky ride, which is tough for the folks on the float.  Luckily that wasn't the case this time around. Our loaner Titan performed flawlessly, making this year's event a complete success.
The model is named for the powerful Titans of Greek mythology.  Since its introduction in late 2003, the truck's full-size F-Alpha platform (on which the Nissan Armada and Infiniti QX56 are also built) has endured plenty of growing pains, with some of the highest initial consumer complaints reported.  Today, however, it appears that the troubled childhood is over and the Titan XD is all grown up and ready to get the job done — with pride.