One thing to know about the 2016 Toyota Highlander Hybrid is that the base trim will cost you more than the top trim on the gasoline-only Highlander.
You can get into the base Highlander LE starting at $32,000, and go all the way up to the luxurious Limited Platinum trim for around $43.5K. The base Limited Hybrid, on the other hand, comes in around $48,000, and if you move up to the Limited Platinum Hybrid with V6, you'll need at least $50K in the bank – or somewhere.  Mileage for the gasoline-only Highlander is 20 / 25, while you get slightly better mileage with the hybrid, at 27 /28 mpg.  I say 'slightly' better because other midsized SUVs in this segment can come in better on gas.
Thus, how badly do you want a hybrid?  Make no mistake, the 2016 Toyota Highlander Hybrid is no ordinary hybrid. This vehicle falls nicely into the luxury category, with nice smooth lines and curves outside and a refined interior inside. The 2016 Highlander is one of the best midsized SUVs on the market.  The ride is smooth, the interior room is excellent and the refinement inside and out is noticeable and inviting.  If you are considering an SUV, it's most likely because you have dependents who you need to transport all around town. (I don't know many swinging singles driving an SUV or minivan, unless it belongs to their parents or their slightly-older lover whose adult children turned it down.)
This is one to research and explore, yet I am a bit torn about whether or not the Highlander Hybrid is worth the extra money.  It's a nice vehicle alright, and the style and options are impressive.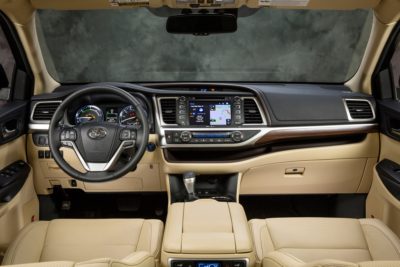 So here's my best advice: test the gas-powered model and then test the hybrid.  For some, buying a hybrid is important for their lifestyle, and if that's the case, you can't go wrong with this baby. If money, however, is a concern, the upfront costs of a hybrid can be prohibitive, so maybe you should stick to just getting gas. Either way, the 2016 Highlander is still one of the best vehicles on the lot this year.
As we stroll into the July 4 weekend, it's an important time to remember that there is more to life than fireworks and weenies. And as we stroll into this election season, more and more of us are looking less like swinging bachelorettes and more like desperate housewives. It's important, then, to have transportation that is reliable, room and ready for whatever life may throw at you…
…to include a wide array of fireworks, weenie drivers and curveballs, the kind that really do burn as they go over the plate.