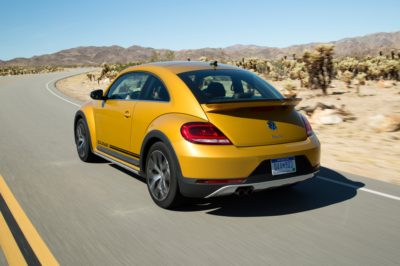 Not long after the Volkswagen Beetle migrated to America, some enterprising sand-loving fool ripped (off most of the body, jacked it up, installed off-road tires, and headed for the beach…and sand dunes. It turned out to be one heck of a dune buggy, virtually indestructible with power in the right place to charge up sand-one hill. Trying to spark slow sales, Volkswagen again pounds sand in an Outback-Meets-Beetle mash-up.
If the Sandstorm Yellow Metallic paint doesn't grab your attention, perhaps the Dune's exclusive beefy bumpers, redesigned air intakes, whale tail spoiler, and bruise-rebuffing black lower body cladding will. An increased ride height and 18" alloy wheels with all-season tires convey adventure beyond its actual ability. It all looks upscale with LED taillamps and driving lights. All of the hiking gear takes this cutie to the elements and makes it acceptable for granola-munching guys and gals.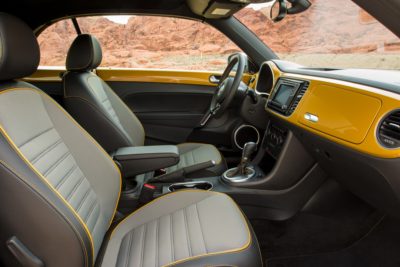 The interior looks like Phyllis Nefler, of Troop Beverly Hills fame, took the Beetle to her personal tailor (or Giorgio Beverly Hills) for a couture reform. Leatherette and canvas seats are ravishing in Dune Gray and Black with Yellow piping. Same for the leather-wrapped steering wheel with contrasting yellow stitching. Exterior paint continues to the dash and doors for a classic metal look. Adjust the ambient interior lighting and rock that runway.
Manual climate control and seat adjustments give the wrong impression that this is an anachronistic car, stuck in another time. While it maintains its long-cultivated appeal, the Beetle Dune is loaded with a 6.3" touchscreen, CD player, USB connection, and Bluetooth. A rearview camera and around-view monitor for front/rear parking assist enhance safety. Crank the 8-speaker audio system, flip the rear seats, toss in your favorite gear, and head for fun. A little Beach Boys would be perfect to get your motor revving.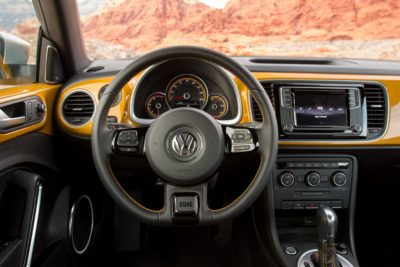 It's a peppy little puppy, driven by a 1.8-liter turbocharged four-cylinder engine that delivers 170 horsepower and 184 lb.-ft. of torque. All-wheel-drive is not available in the Dune, but the front-driven wheels do a good job of managing the power. And, our car had a six-speed automatic transmission with manual shift mode to move power smoothly and help achieve 25/34-MPG city/hwy.
On-road, the Dune drives like, well, a Volkswagen. It handles lightly on its four-wheel independent suspension and seems fit to hammer left lanes of America's autobahns. Increased ride height negligibly affects handling, but it's made up in better rough-pavement behavior. Sitting up in firm bucket seats, gripping the sport steering wheel, and looking at the large speedometer; you feel ready to kick the Dune down the fast lane.
Beetle styling is iconic, but is not everybody's shot of espresso. Some see Porsche while others see Legally Blonde. And, getting in the back seats will make passengers wish for a stretched four-door version. Taking a cue from Subaru, Volkswagen bets jacking up the Beetle, adding body cladding, and enacting the spirit of American dune buggies will increase sales. Get people behind the wheel and it might.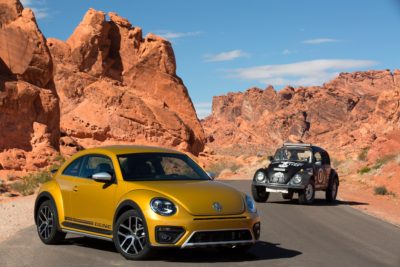 Prices for base Beetles starts at $19,795, but came to $25,065 as-tested. That puts the Beetle Dune against stylish and capable compacts like the Subaru SV Crosstrek, Honda Civic Coupe, Nissan Juke, and Mini Cooper.
Storm Forward!
2016 Volkswagen Beetle Dune
Four-passenger, FWD coupe
Powertrain: 170hp 1.8-liter T4, 6-sped auto
Suspension f/r: Ind/Ind
Wheels f/r: 18"/18" alloy
Brakes f/r: disc/disc
Must-have features: Style, Performance
Fuel economy: 25/34 mpg city/hwy
Assembly: Puebla, Mexico
Base/As-tested price: $19,795/$25,065