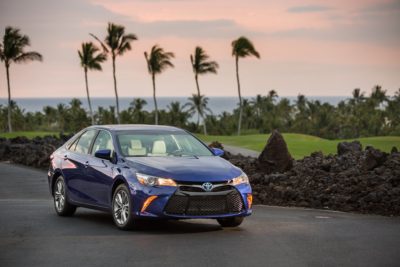 The 2016 Toyota Camry is still one of the hottest cars out there. Literally.
Once again, it ranks as one of the top stolen cars in America. In one sense, that says a lot about a car when every year since its birth it has been stolen by professional and amateur car thieves alike. Indeed, it's a hot car. Plenty of room inside, great on gas (especially the hybrid) and an overall style that is still attractive.
The Camry is now considered a mid-sized car, though it started life last century as a small car – and really, didn't they all?  The name Camry is a slight mutilation of the Japanese word for crown, and while that name would not have been my first choice, all these years later, ask anyone what comes to mind when you say Camry and usually the response is very positive.
The hybrid can get you an average of 40 mph, all for a base price of around $30,000.  The ride is smooth and uneventful, until you hit the gas, and then it really purrs. Fat, fem, fun and festive friends can find plenty of room to enjoy the ride, and should you need to carry all your Gay Pride supplies around the Metroplex (Dallas) or the Loop (Houston), you can do that too. There's very little that's wrong with the Camry: some feel the brakes grab a bit, but when you are as gay as I am, brakes that work well the first time punched is necessary to keep all that fabulous-ness inside the cabin.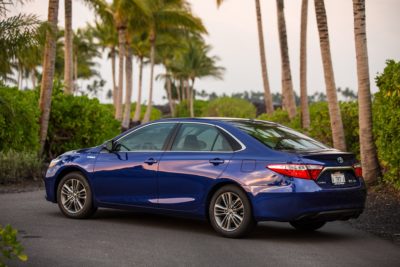 Many reviewers feel the hybrid is a bit better than the regular Camry, and I would agree. To be sure, I still haven't completely gotten used to a hybrid engine.  When you start the car, it often sounds like nothing happened.  It isn't until a bit later when you hear the engine kick in and then you know you are ready to go.  The trick here is not to try to start the engine again; that grinding noise really does hurt.  Caution is always advised and, when possible, turn down the cabin noise so you can listen to your car.  The Camry can help you with adjusting your Pride music; your children and friends who act like children will have to be adjusted separately.
Probably one of the best car audio / infotainment systems available is Toyota's Entune. However your music comes – streaming, wireless, everything but cassette and 8-track – Entune can handle it well. My advice would be to get the optional navigation system to make the package complete, as it all work well together, seamlessly and effortlessly, IMHO. Those special Pride DJ mixes sounds great, as well as songs by those ancient gay favorites Connie Francis (still alive) or Eydie Gorme (deceased). The full infotainment package will cost you an additional $1.3K-plus.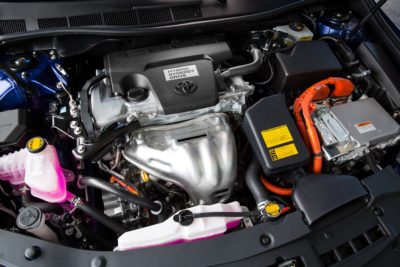 Seriously, the 2016 Toyota Camry Hybrid would be a good compromise for any family wanting the convenience and savings of a small car yet needing the largess and roominess of a minivan. As always, however, don't just take my word for it …. yeah, that does hurt me to say that, but in this case, if you really are wavering between small and large, give the Camry a try first.
As we develop and mature as an LGBT community, our choices are greater and better, but that means that our homework has increased considerably. Yet even if you buy the 2016 Toyota Camry Hybrid on a fluke, you won't be sorry in the slightest …… which is more than you could say if you find yourself this summer going directly from the Pride parade to the county clerk's office with the love of your life whom you met at the volunteer beer truck.
Happy Pride!